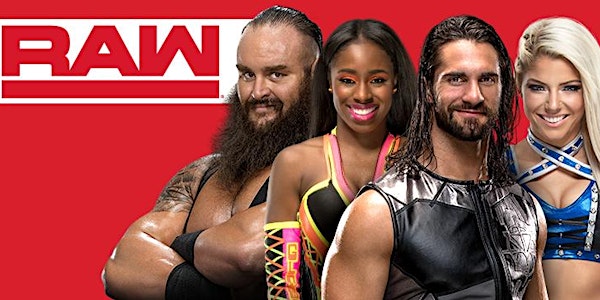 WWE RAW Watch Party - EVERY MONDAY - LUCHA - PRO-WRESTLING
Location
Dave & Buster's
6801 Hollywood Boulevard
#343
Los Angeles, CA 90028
Description
Watch WWE Monday Night RAW with other fans!
WWE RAW viewing party will be held at Dave and Busters in Hollywood every Monday 5-8pm PST!
Join Combat Arts Preservation and Education (CAPE) at Dave & Busters the #BestSportsBarEver as we feature WWE RAW! We have the entire D&B Sports Lounge with over 10 HD TV screens.
Please call Dave and Busters Hollywood (323) 603-2400 directly for groups larger than 5 to reserve a table.
You never know who will show up!
Quick Facts
WWERAW
Main show with sound
Free with purchase of food or drink
Only at Dave and Busters Hollywood
6801 Hollywood Blvd, Ste 343, Los Angeles, California 90028
For reservations (323) 603-2400
combatartsedu@gmail.com
Full bar

happy hour

drink specials

food/restaurant

seats

chairs

sound

multiple screens

arcade

game room

prizes

wings

beer

fun

friends

ski ball

air hockey

shooter games

and more
COSPLAY CONTEST
Hosted by Eric Jackson creator of Combat Arts Preservation & Education
Founded April 18, 2018
Please donate at www.paypal.me/combatartsedu
You read it right.
We will now be at Dave and Busters for all our events.
It's what's best for business.
So STOP WATCHING WRESTLING ALONE!
Come down and connect with fans who appreciate the art of wrestling or bring all your wrestling buds and make it a party. Make sure to be there because it's going to be one to remember!....Believe that!
Links
Facebook @CombatArtsEdu
Twitter @CombatArtsEdu
Instagram @CombatArtsEdu
Eventbrite @CombatArtsEdu
Pintress @CombatArtsEdu
Smore @CombatArtsEdu
Redbubble @CombatArtsEdu
Paypal @CombatArtsEdu
Blog @CombatArtsEdu
Evensi @CombatArtsEdu
Reddit @CombatArtsEdu
Youtube @CombatArtsEdu
Reddit @CombatArtsEdu
www.combatartsedu.com