Description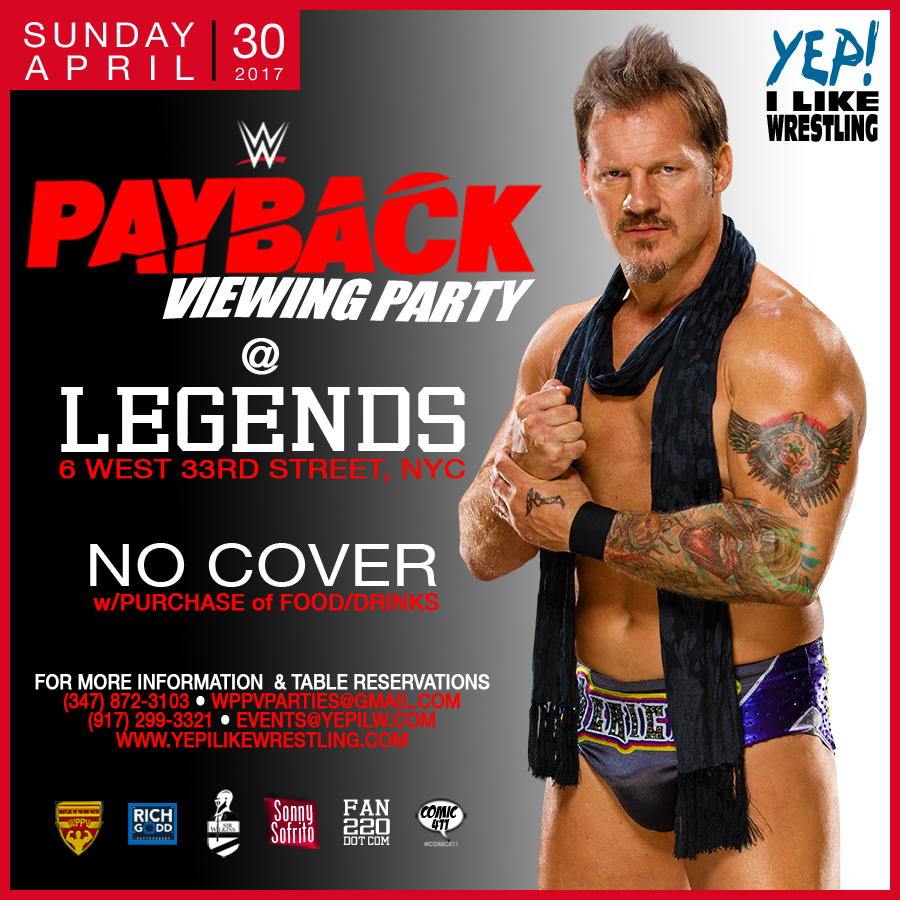 Sunday, April 30th, 2017
WWE PAYBACK VIEWING PARTY
at LEGENDS BAR, 6 West 33rd Street, NYC 10001
DRINK & FOOD SPECIALS ARE AVAILABLE
NO COVER w/purchase of food/drinks ($25 min per person)
PAYBACK will be shown with FULL Audio, beginning with the Pre-Show Kick Off.
MAKE YOUR TABLE RESERVATIONS NOW!
Doors open at 6 pm, Reservations guarantee your table until 6:45 pm.
After that, tables are on a first come, first serve basis.
For Table Reservations & More Info: (917) 299-3321 or email info@yepilw.com
______ About YEP! Viewing Parties ______
Every month, YEP! I LIKE WRESTLING brings you the ultimate wrestling fan viewing party. Nerd out with other fans, wear your favorite wrestling t-shirt, show off your championship belt, or dress up as your favorite wrestler. It's all welcomed here.
______ Travel Info for Legends Bar ______
A,C,E,1,2,3,N,R,Q Trains to 34th Street Station; PATH Train to 33rd Street Station; LIRR & NJ Transit to Penn Station; Street Parking & Nearby Parking Lots are available
______ #YepILikeWrestling Social Media ______
FOLLOW us on INSTAGRAM: https://instagram.com/yepilw
FOLLOW us on TWITTER: https://twitter.com/yepilw
JOIN our FB Discussion Group: http://j.mp/joinyepilw
LIKE our FB Community Page: http://j.mp/likeyepilw
Check us out online: http://yepilw.com