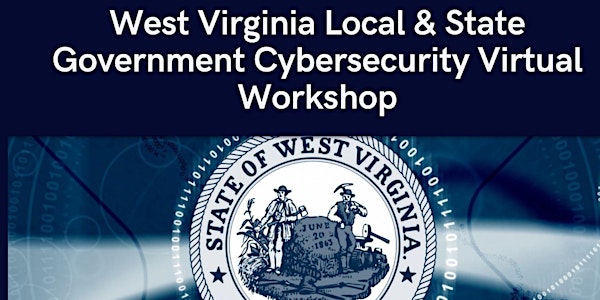 WV Local and State Government Cybersecurity Partnership Virtual Workshop
West Virginia Local and State Government Cybersecurity Partnership Virtual Workshop
About this event
Please join us for the West Virginia Local and State Government Cybersecurity Partnership Virtual Workshop
When: 9:30 am - 12:00pm, Thursday, November 18th, 2021 (Virtual)
-----------------------------------------------------------------------
AGENDA:
9:30 - Welcome and Opening
9:40 - COVID-19 and State and Local Government IT and Cybersecurity Experiences Open Discussion
10:00 - Danielle Cox, CISO, State of West Virginia
10:20 - David Tackett, CIO, West Virginia Secretary of State
10:40 - Dr. Carl Powell, Director, WVNET10:50 - Chelsie Cooper, Intelligence Analyst, West Virginia Fusion Center
11:00 - K - 12 School Discussion and Bobbie Tuggle, Monroe County Schools Technology Director/Testing Coordinator
11:20 - David Ayersman, Director, IT, New River Community and Technical College
11:30 - Jodie Ogle, West Virginia Cybersecurity Advisor, CISA
11:50 - Closing
-------------------------------------------------------------------------
Who should attend: State and local government administrators, state and local government election officials, County Clerks, IT and cybersecurity managers and personnel, election experts, police and emergency IT managers and SCADA systems experts (water, sewer, electricity, etc.)
Hosts and Organizers: West Virginia Office of Technology, West Virginia Secretary of State CIO's Office, George Mason University and the National Science Foundation.
About the Workshop: The increased adoption of IoT devices and the roll-out of wide scale 5G infrastructure; new work from home environment resulting from the COVID-19 pandemic, and dynamic changes in cyber threat including from ransomware are creating an ongoing challenge for state and local governments. In addition, many local governments have limited budgets and face challenges in hiring of IT and cybersecurity talent.
The workshop builds upon the three previous West Virginia state and local government cybersecurity workshops held in 2019 and 2020 with the objective of discussing these current cybersecurity challenges and associated best practices and facilitating local and state government cybersecurity partnering.
The workshop is part of the George Mason-National Science Foundation Cybersecurity City and County Cross Jurisdictional Collaboration project, having the goal of furthering U.S. city and county cybersecurity efforts by developing foundations and policies that enable and foster city and county cybersecurity partnerships.
The workshop will feature talks by Danielle Cox, West Virginia Chief Information Security Officer and Dave Tackett, CIO, West Virginia Secretary of State's Office
The Mason-NSF project has co-hosted ten successful local government cybersecurity partnership workshops in Virginia and West Virginia between 2017 and 2021.
For more information about this event, please go to: https://care.gmu.edu/west-virginia-local-and-state-government-cybersecurity-partnership-workshop/
*Please consider Submitting a Nomination for the Mason Local Government Cybersecurity Partnering Awards
The Mason Local Government Cybersecurity Partnering Awards recognizes local government and local government staff for innovation and excellence in local government cybersecurity in certain categories. For more information, please go to https://care.gmu.edu/first-annual-local-government-cybersecurity-partnering-awards/.