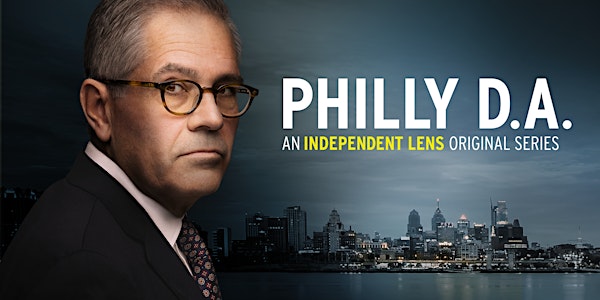 WV Criminal Law Reform - Philly DA Virtual Screening & Conversation
West Virginia Criminal Law Coalition presents this virtual screening and conversation about the new documentary series "Philly DA."
About this event
Join the West Virginia Criminal Law Coalition for an exclusive screening of the first episode of the new docuseries "Philly DA" ahead of its premiere. The post-film panel and Q&A will include criminal justice experts and advocates, Valena Beety, Kenneth Matthews, and Lonnie Simmons and will be moderated by Quenton King (WV Center on Budget and Policy).
Schedule for Tuesday March 30:
6:30PM Join us for a screening of "Philly DA" on OVEE at https://ovee.itvs.org/screenings/6u8as
7:30PM Join us for a panel conversation about the film on Zoom at https://us02web.zoom.us/j/82913073217?pwd=cnhtMHlxWU15VWYyL0NwNTc1ckdHUT09
About the series
A groundbreaking documentary series embedded inside the long shot election and tumultuous first term of Larry Krasner, Philadelphia's unapologetic District Attorney, and his experiment to upend the criminal justice system from the inside out.
Synopsis:
In 2017, Philadelphia, Pennsylvania had one of the highest incarceration rates of any major city in the United States. And it has become the epicenter of a historic experiment that could shape the future of prosecution in America for decades to come. When civil rights attorney Larry Krasner mounted a long shot campaign to become District Attorney, he ran on a bold pledge: to end mass incarceration by changing the culture of the criminal justice system from within. He shocked the establishment by winning in a landslide.
Now, the bureaucrats he spent his campaign denigrating are his co-workers; the police he alienated are his rank-and-file law enforcers. Pressure comes from all sides of a system resistant to reform. Krasner's unapologetic promise to use the power of the D.A.'s office for sweeping change is what got him elected; now that he's in office, that same stubbornness threatens to alienate those he needs to work with the most.
From the eye of this political storm, filmmakers Ted Passon, Yoni Brook, and Nicole Salazar gained unprecedented access into Krasner's office and behind the scenes of the criminal justice system. Over the course of eight episodes, Philly D.A. explores the most pressing social issues of our time—police brutality, the opioid crisis, gun violence, and mass incarceration—through the lens of an idealistic team attempting fundamental overhaul from within the system.
How will I access the screening?
The screening will occur on the OVEE website. Once you register we will automatically send you a link to access the streaming. This link will be sent a couple of days prior the event.
What device can I use to watch the live stream?
A computer or large screen device that you use to watch movies is ideal. As long as your device is able to stream video from the internet you are all set. A tablet or phone that can stream video will also work.
Screening Partners:
American Civil Liberties Union of West Virginia
American Friends Service Committee
Appalachian Prison Book Project
Jefferson County NAACP
Mountain State Justice
West Virginia Center for Budget and Policy
West Virginia Council of Churches
WV Criminal Law Reform Coalition
West Virginia Family of Convicted People
West Virginia Innocence Project
West Virginia Public Broadcasting
West Virginia Reentry Councils
The Philly D.A. docuseries will premiere on April 20th on your local PBS station, and on PBS Passport.
Check your local station for times at the Independent Lens Philly D.A. webpage