Description
Come dance with us, have fun, and support a great cause!
Join us as we dress up like Kate Bush to reenact the 1978 music video for her iconic song, Wuthering Heights. We're part of the second annual, international "Most Wuthering Heights Day, Ever," with events in 19+ cities around the globe. Last year we had a blast at Candler Park with about 75 dancers and several dozen spectators.

This year we'd like to take it a step further to encourage participants to not only have fun, but also help to raise money for Planned Parenthood Southeast Advocates. Planned Parenthood Southeast Advocates is the organizing, advocacy, and electoral arm of Planned Parenthood Southeast. PPSEA supports policies and programs that help women and their families make responsible choices and plan for healthy families, working to educate and mobilize the public and elect lawmakers who support these policies. Planned Parenthood faces challenges from both local and national politicans whose attempts to "defund" Planned Parenthood could eliminate access to healthcare for many families who rely on the compassionate, nonjudgmental care offered at their health centers.
Participation in our event is free and open to the public, but we'd love for you to consider a donation of $25, $50, or $100 (or more!) to help Planned Parenthood Southeast Advocates continue their critical work to ensure affordable, high-quality care for thousands of patients every year in Georgia, Alabama, and Mississippi.
As an added incentive, anyone who donates $25 or more will receive a screen-printed event poster (pictured below, Artwork: www.timbrackmann.de), and the individual who raises the most money (including sponsored donations in their name) will receive a sweet Kate Bush gift basket, which includes albums, a tshirt and other awesome Wuthering swag! The fundraising winnner will be announced at the event.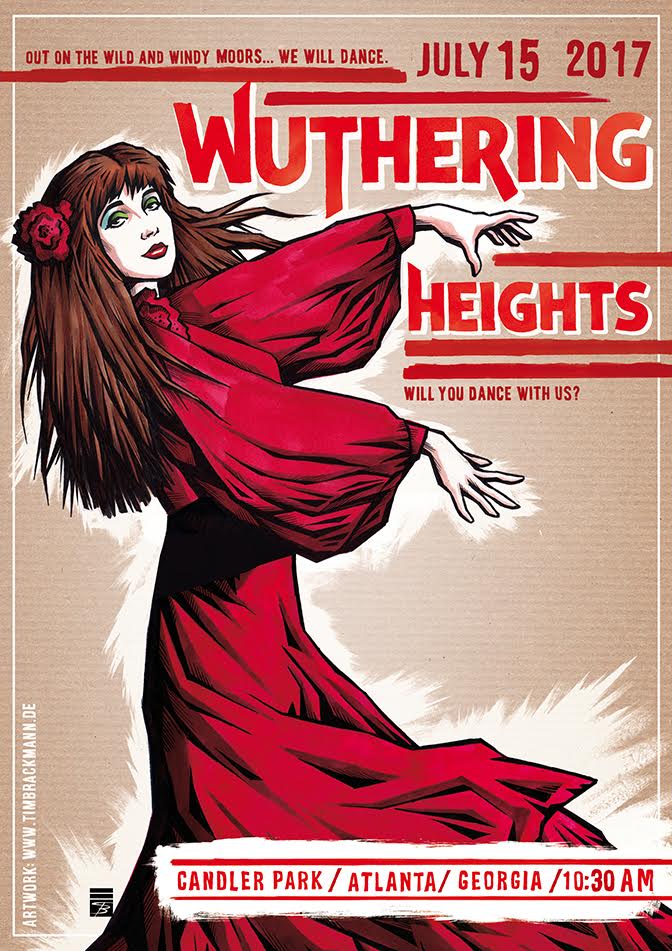 FAQs
How do I sponsor another dancer?
Click on the green "Register" button at the top of the page. It will open a seperate window, where you should choose the third option, "Wuthering sponsor," and enter the amount you would like to donate on your friend's behalf. On the next page it will ask you for your contact and billing information (sorry, we know it says ticket, and we know that you're not purchasing a ticket, but Eventbrite doesn't let us change the wording there!). Finally, the second to last box will ask you to put in the name of the person you are sponsoring. Thank you! (And apologies if the process is not completely intuitive.)
How do I learn the dance?
First of all, participants are welcome to join us regardless of their technical dance skills. Are you a trained dancer? Awesome! Are you someone who has no rhythym or dance skills and just wants to come twirl around with us in a red dress? That's great, too! Practicing with this mirrored video is strongly encouraged ahead of time to help you feel more comfortable and able to follow along on the day of the event. There are several other videos on our Facebook page to help you prepare, and we'll also hold a couple practice dance classes prior to the big day for those who are interested. Check out our Facebook page for more information.
Where is the event and what are my transportation/parking options for getting to and from there?
We have reserved the field between the basketball court and the Candler Park pool. It's an easy 10 min walk (3 blocks away) from the Edgewood-Candler Park MARTA station. Please consider taking public transportation, carpooling or taking Uber/Lyft. There is a small parking lot next to the field with limited parking as well as on-street parking around Candler Park.
What should I wear?
Typically, folks wear a red flowy dress and black belt. Be as Kate as you feel. For inspiration, take a look at this video with clips from other Wuthering events around the world. Please plan to arrive to the event dressed and ready to go.
What happens if it rains?
You ain't made of sugar! We will dance rain or shine. Be prepared for the heat, and don't forget your water and sunscreen.
How can I contact the organizer with any questions?
Connect with us through our Facebook page, or for questions or information about donating to the event, please email wuthering.atlanta@gmail.com