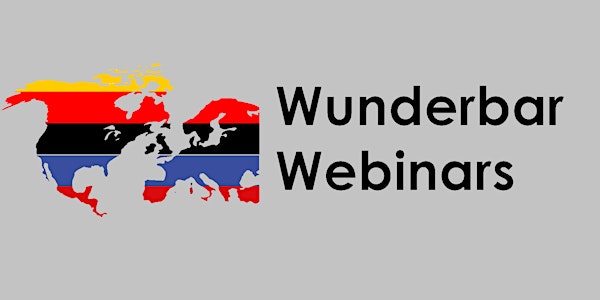 Wunderbar Webinars is a virtual conference series for various German-American alumni groups.
About this event
Introduction
Cultural Vistas and the American Bundestag Network (ABN) are facilitating a virtual conference for members of German-American alumni groups including the American Bundestag Network (ABN), the Congress-Bundestag Youth Exchange Alumni Association (CBYXAA), the DAAD Alumni Association, the German-American Partnership Program (GAPP), the German Fulbright Alumni Association, Heidelberg Alumni U.S., PPP Alumni e.V., and the Universität zu Köln.
We invite you to register for one or more sessions and take advantage of opportunities for professional networking, collaboration between alumni associations, and discussion of current trends and challenges in transatlantic relations.
Webinars will take place once per week from September 14 to October 19. See below for a detailed agenda.
Wunderbar Webinars is a part of the "Wunderbar Together USA 2020" initiative in 2020. Wunderbar Together USA 2020 is a comprehensive and collaborative initiative funded by the German Federal Foreign Office and implemented by the Goethe-Institut.
Sessions
Kick-Off Event
September 14
11:30am ET/17:30 MESZ
featuring speakers:
Robin Quinville, Chargée d'Affaires a.i., U.S. Embassy Berlin
Dagmar Freitag, Member of the German Bundestag
How to Get Ahead: Networking and Mentoring
September 22
12:30pm ET/18:30 MESZ
featuring expert advice for:
Careers in International Politics
Careers in Security and Defense
Careers in Climate Change
Career Advice for Transatlantic Minorities and POC
Women in Transatlantic Careers
Power of Citizen Diplomacy
October 4
2:00pm ET/20:00 MESZ
featuring:
Inspiring alumni stories
Interactive design thinking workshop
Information on grant money for projects
Election Years 2020-2021 and Potential Impacts on the Transatlantic Alliance
October 14
12:00pm ET/18:00 MESZ
Dr. Steven E. Sokol moderates a discussion and Q&A with Dr. Stormy-Annika Mildner and Dr. Andreas Nick MdB
Moving Forward Together
October 19
12:00pm ET/18:00 MESZ
featuring speakers:
Hon. Dr. Emily Haber, German Ambassador to the United States
Hon. John Shimkus (IL-15), U.S. House of Representatives