Description
It's that time of year again! Join Wukkout!® Founder and Athleta Brand Ambassador, Krista Martins, for a special Friends & Family Wukkout!® Class followed by a shop party, on Friday March 9th.


First, wuk up a sweat and wine down low with us and then feel free to stay and join us for a Caribbean Rum Punch tasting provided by Cas Rum Beverages and a Power Posture fashion show, featuring Krista and the new Athleta Spring collection. Additionally, it's Friends & Family weekend at Athleta so that means all class participants will receive 25% off of your entire purchase, including sale and Athleta Girl (some exclusions apply).

The class is free and open to the public however, there is a catch. We would love it if you share the Wukkout!® love and invite one friend or family member to class with you who has never taken Wukkout!® before. When you register for the class, you will have the opportunity to add their name and email address and they will be added to the class list with you and receive the shop discount.

So tell your friends and family to come Wukkout!® and celebrate with us!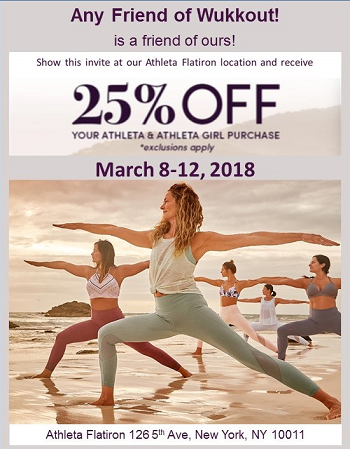 **While space in class is limited, the Friends and Family discount is not! If you're not able to get a spot in class, please join us for Rum Punch and discount shopping from 7-8pm, or show this Wukkout!® Friends and Family invitation that can be used in store at Athleta Flatiron from March 8-12.**


Refreshments provided by: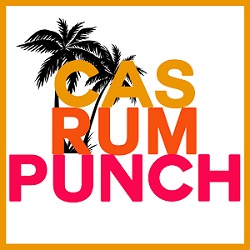 Cas Rum Beverages is a bottled rum cocktail company consisting of Belizean-style rum popo (spiked egg nog), rum punch, & rum sorrel made with love in Brooklyn.


Wukkout!® is a Caribbean based dance fitness class designed by Krista Martins, to make you have fun and sweat just like you would if you were at Carnival! Find your groove while increasing your fitness level with body sculpting "wining" techniques that give you an intense, total-body, aerobic workout to soca, calypso and chutney music. Class begins with a warm-up which will teach you how to "juk", "wuk" and "wine" and continues into a variety of dance combinations to the latest soca music. All levels are welcome and no prior experience is necessary.

Bring yuh rag, bring yuh flag and be ready to Wukkout!®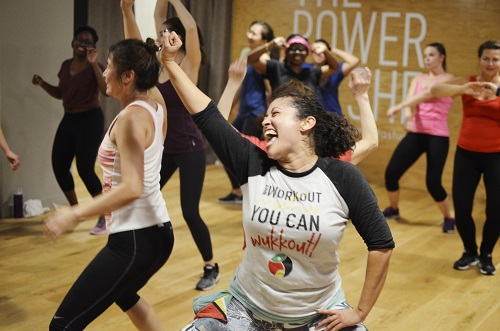 Stay in Contact:
Web: wukkout.com
IG: @wukkout
FB: facebook.com/wukkout
Email: info@wukkout.com
Subscribe to Email List: http://eepurl.com/c04qqX