Hillcrest's new queer tea dance is back! Join us for the official OVERDRIVE pre-party at Rich's San Diego with DJ Blacklow!
About this event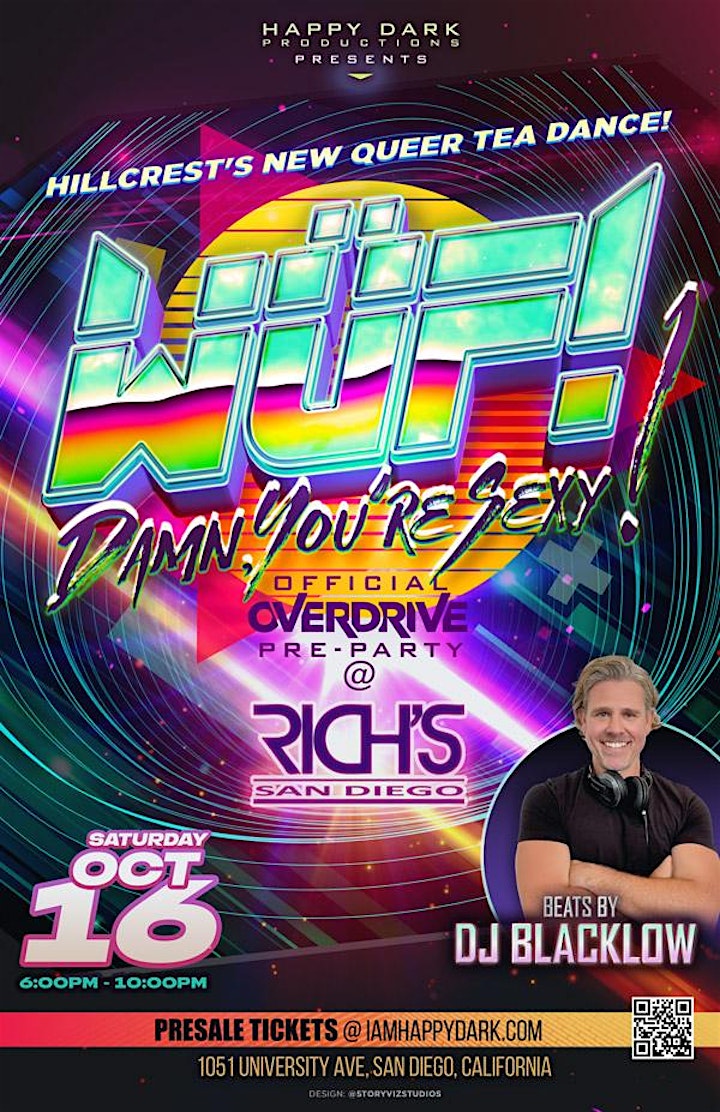 Don't miss the return of Hillcrest's new queer tea dance! Join us at Rich's from 6-10pm before OVERDRIVE for the official pre-party with a special 4-hour set by DJ Blacklow with his high-energy mix of progressive house, classic house, tech house, and tribal house and a trademark of soaring vocals throughout, along with our sexy WÜF! dancers and drink specials!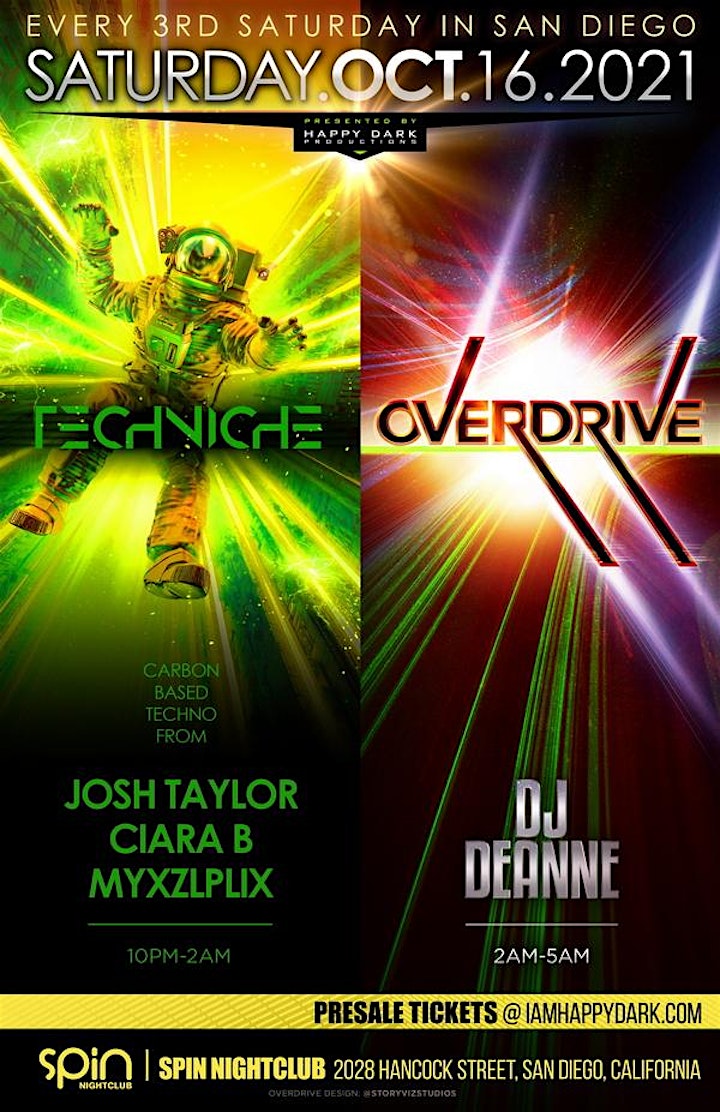 OVERDRIVE is thrilled to feature the San Diego debut of DJ Deanne, a force to be reckoned with and a bright, shining star in our scene! After nearly two decades of pleasing enthusiastic clubbers, Deanne (2AM - 5AM) is more passionate than ever about bringing the party to life and her music to the masses. Her continual evolution of sound provides infectious rhythms to intimate, sexy spaces or big, booming rooms and expansive stages through her signature combinations of big beats, strong synths, dramatic arrangements and a soulful sprinkling of vocals. Tribal, Tech, House, and Progressive House beats and rhythms are combined to take her listeners on a unique journey that is marked with emotion, sensuality, undeniable energy, and a palpable "dance floor drama".
Hailing from Indianapolis, her style and sound set her apart and took her to the top where she commanded the Indy scene for over 10 years. Long-running residencies on internet stations like EnergyRadio.FM, FusionChicago, PartyRadioUSA, WeDanceAs1, GayInternetRadioLive (G.I.R.L.) and FGRadioUSA created a global audience. Looking to expand her audience stateside and catapult her career, Deanne relocated to South Florida in late 2013. Since then, Deanne has secured headlining appearances with WE Party, One Magical Weekend, Winter Party Festival, Peach Party, Miami Beach Pride, Gay Days, White Party Week Miami, IML (Chicago), Distrkt C, Reload (LA), Purple Party, Dallas Pride, Circuit Saturday (Denver) and Joining Hearts (Atlanta), to name a few. Deanne also has regular appearances at legendary clubs Crown & Anchor, The EndUp, Hydrate, Manhole, Jungle, Xion, Heretic, The Cuff, Pavilion, Score, Heart, The Manor, Rich's Houston and more.
As a Producer and # 1 Billboard Remixer, Deanne is also making music to move the masses. With recent releases on record labels like Pump Records, Hammer Music, Big Mouth Music, Gonna Be Records, Radikal and more, Billboard Dance Chart topping remixes and support from colleagues and tastemakers, Deanne's unique sound is pumping through venues and parties all over the world.
This month, Techniche (10PM - 2AM) features Josh Taylor, Ciara B & Myxzlplix. Techniche has remained steadfast in establishing itself as a significant vehicle for quality tech house, techno & the "darker side" of house music, which is currently ruling the local dance scene. Arrive early and hear what all the buzz is about!
☆ Tech house & techno with Techniche from 10pm - 2am
☆ Debut of Miami mixtress DJ Deanne, a force to be reckoned with in our scene!
☆ Our signature production, lighting, lasers and vibe!
☆ All friendly, open-minded communities welcome! #PLUR
Organizer of WÜF! with DJ Blacklow - Hillcrest's New Queer Tea
Overdrive is San Diego's only monthly after hours for the LGBT community (& beyond)! Featuring diverse, international DJ talent, high-energy & fun, friendly festival vibes. Occurs the 3rd Saturday of each month at Spin Nightclub.  Happy Dark Productions also produces San Diego's premier pride events, UNITE! Music Festival.