Description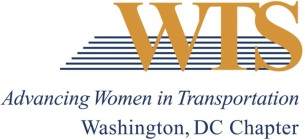 The WTS-DC Chapter hosts an Annual Holiday Party to celebrate the achievements and advancement of women in the transportation industry. At WTS-DC, we feel that education is a vital tool to facilitate that advancement, and, every year, WTS-DC awards scholarships to deserving young women who are studying transportation at undergraduate and graduate programs in the DC area. Additionally, we recognize transportation professionals who have contributed to the transformation of the transportation industry and the advancement of women in this industry. Recipients of both scholarships and recognition awards will be honored at the Holiday Party.
To continue the opportunity to award student scholarships, generous local vendors have donated items to the annual Silent Auction. All proceeds from the bidding of these auction items will go directly to the WTS-DC Scholarship Fund. To view this year's auction items, please see the following link.

http://www.wtsinternational.org/washington-dc/events/holiday-party-silent-auction/
We hope you will join us for this year's celebration!

Ticket prices for this year's event are:

Member: $50*/$60**/$85***
Non-member: $60*/$70**/$95***
Full-Time Student: $30
*Early registration rate ends November 22, 2016
**Regular registration rate ends November 30, 2016
***Walk-in registration rate on December 6, 2016

For more information about this event, please contact Sarah Hardingham at
Sarah.Hardingham@kimley-horn.com
If you have any items you would like to donate to the Holiday Party Silent Auction, please contact Angela Martinez at amariemarti@gmail.com
On-line Registration Closes on December 2, 2016 at 6:00pm and tickets are based on availability.
Cancellations: If you have made a reservation but find you are unable to attend, you must cancel by December 2, 2016 at 6:00pm or find a replacement. Because we must supply the venue a minimum guarantee, those who do not cancel in time or provide a replacement will be charged the full amount. If you need to cancel, please send an email to wtsdchospitality@gmail.com as soon as possible.