Description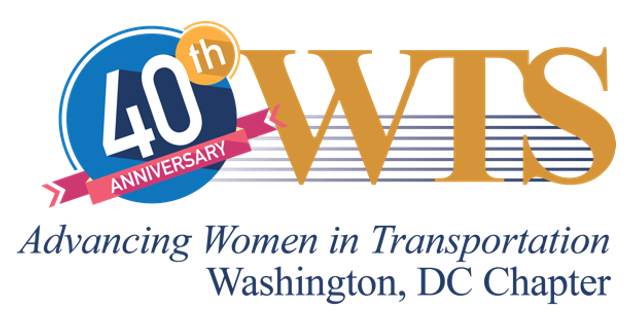 Thank you for attending the WTS-DC 40th Anniversary Celebration on Tuesday, Dec 5th! We hope you enjoyed the panel and the networking reception!
Please use this link to pay for your ticket (purchased after Dec 1). If you have any questions or issues, please reach out to wtsdchospitality@gmail.com.
***********************************************
Founded in 1977 as the first WTS chapter, WTS-DC is excited to celebrate our 40th anniversary this year. The celebration theme, "Honoring the Past, Celebrating the Present and Shaping the Future" has inspired a year of stimulating programs celebrating the past 40 years of accomplishments and the support of people like you.
The highlight of this year will be our 40th Anniversary Celebration on Tuesday evening, December 5, 2017 at the exquisite National Museum of Women in the Arts. Please join us as we celebrate our chapter's rich history and bright future. This premier event will bring together transportation professionals from all modes and sectors to celebrate and enjoy each other's company. Beginning with a panel discussion on issues facing the future of transportation, the evening will feature a special awards ceremony recognizing leaders in the DC transportation community and the awarding of scholarships to an amazing group of aspiring young professionals. The occasion will culminate with a festive celebration accompanied by cocktails, light hors d'oeuvres, and the good cheer of colleagues.
Agenda:
4:30pm Program Registration
5:00-6:00pm Panel Program and Scholarship Awards Presentation
6:00-8:00 Recognition Awards and Reception
A Special WTS-DC Panel
Honoring the Past, Celebrating the Present, and Shaping the Future
Panelists:
K. Jane Williams - Acting Administrator, Federal Transit Administration
Brandye L. Hendrickson - Acting Administrator, Federal Highway Administration
Moderator:
Beverley Swaim-Staley - President and CEO, Union Station Redevelopment Corporation
Ticket prices for this year's event are:
Pay-at-the-door Rate: $90
Regular registration rate ended December 1, 2017 at 11:59pm
For more information about this event, please contact Suzie Zimmerman at suzie.wts@gmail.com