Unleash your legacy. Connect with diverse impact experts and founders to learn how you can ignite and advance your startup fire.
About this event
Registered?
***Use This Link to Attend: meet.google.com/jar-pgaz-peo ***
The 2021Women Tech Founder Conference
Are you a BIPOC founder or technologist?
A tech founder who wants to build a better world?
An ally in the movement to equalize power?
The WTF Conference connects today's diverse female founder community with inspiring and innovative thought leaders who are changing the world. Our speakers share insights and expertise on topics including leadership, innovation, technology, and entrepreneurship. Our events are designed to give ALL female founders, regardless of the challenge, the opportunity to change their lives and communities.
This year's conference features BIPOC female founders. These leaders bring unique perspectives and insights to help you reimagine, create and connect. Join us to learn how you can overcome the challenges underrepresented founders face and use your challenges to open the door to a powerful legacy.
April 28 is National SuperHero Day. Learn how you can be one.
Part 1, April 28 - Problems to Purpose (11 am - 3 pm)
Uncover Your SuperPower - Sandee Kastrul of i.c. stars, Elena Valentine of Skill Scout, and Terri Brax of Women Tech Founders
Busting through Barriers - Tiana Clark of Soci Circle, Cindu Thomas-George of Shakti Diversity and Equity Training
BIPOC Stories and Strategies - Ari Kryzek of Chykalophia Group, Chereesca Bejasa of Zenevate, and Shaniqua Davis of Noirefy
Meet Your Sheroes (Rotating Breakouts)
Part 2, April 29 - Purpose to Profits (11 am - 2 pm)
Startups: The Low-cost Launch - Eileen Murphy of ThinkCerca, Ashley Moy of Cast21, and Jessica Williams of Tech Biz Gurl
Scaling to Sucess: Strategies from Funded Founders - Parminder Batra of TraknProtect, Rinku A. Patel of KloudScript, Hanny Sunarto of Sunartec Inc., Riana Lynn of Journey Foods
Part 3: April 30 - Your SuperHero Legacy (11 am - 1:15 pm)
Find Your Community and Unleash Your Legacy - Desiree Wrigley Vargus of P33, Emilia Dimenco of the WBDC, Sandee Kastrul of i.c.stars, Terri Brax of Women Tech Founders and Riana Lynn of Journey Foods.
Plugin: Female Founder Communities
Interested in learning about our customized sponsorship and partnership opportunities? Contact us at info@womentechfounders.com
"Women Tech Founders' events bring us together to raise each other up."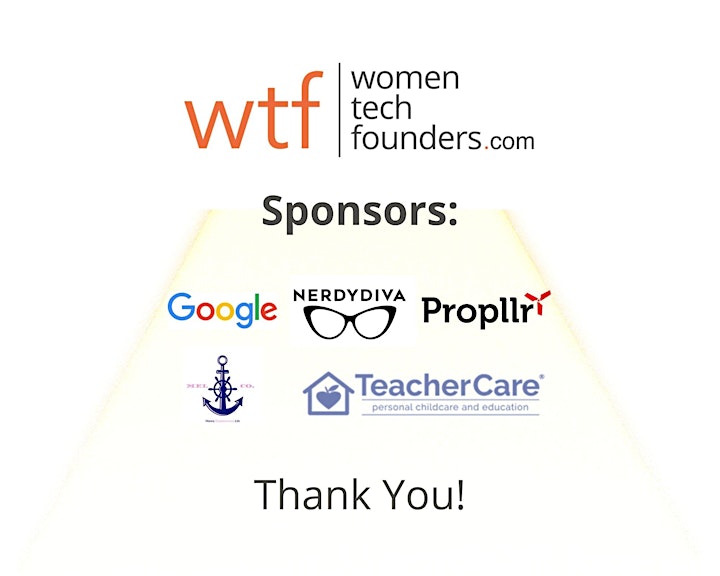 Organizer of WTF's 2021 Conference: Lights on BIPOC Female Founders and Allies
Women Tech Founders celebrates diverse female founders, funders, and leaders.
Our events inspire, advance and connect women in the innovation ecosystem. We connect founders with funders, learners with leaders, and businesses with today and tomorrow's innovators.
Our grassroots organization helps women find solutions to the problems they experience, reach their dreams, advance business and change the world.