Description
BECAUSE WHAT SAYS FINANCIAL FREEDOM LIKE MONEY TALK & GUACAMOLE?
We love fun events as much as the next, and we feel like talking about your financial present and future IS awesome, and important, like reeeealllly important. And if we're being honest, we barely know what a 401K really is, or IRA, Roth, or is it Roth IRA? What if I don't have one, or if I do, what do I do with it? We can't be alone in this. That's why this Fiesta was born, because it's knowledge we deserve to have and in a way thats digestible (pun intended), memorable and fun. For that, we've brought in one of the best in the business to shine light on the topic. Alison Fyhrie will be discussing the 5 actions you need to take when beginning your financial planning. Continue down the page to learn more about our wonderful presenter!
In addition, have tacos and guacamole with one of Chicago's premier private Chefs, Rick Paniagua. Fun Fact: Rick was chef of the World Series winning 2016 Chicago Cubs (imagine if his tacos have that same magical effect on your finances!?!)
BYOB! Bring your tequila and we'll bring the margarita mix!
---
On the Menu for the Evening: Tacos + Guacamole / Refreshments / $$$ Knowledge / Tunes / Piggy Banks (You'll See) / Community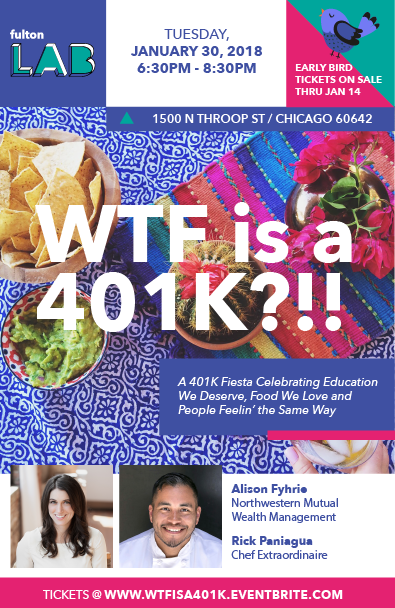 ---
Alison Fyhrie
In the traditionally male-dominated financial services industry, Alison is proud to be a trailblazing female Financial Advisor with Northwestern Mutual Chicago.
Her interest in financial planning started after a conversation with her Mom, when Alison felt a need for women to feel educated and empowered about their own financial future. Although she was currently pursuing a career in the arts, the seed was planted. In 2012, Alison decided to start taking courses towards her CFP through Northwestern University, and began working as a financial advisor at Northwestern Mutual Chicago in 2014.
Nationally, she ranks in the top 50 for young advisors in her tenure category, and this year she was selected to join "1872" her firm's leadership development program.
Alison's mission is to shatter the silence and taboo that surrounds discussing finances, and create a healthy dialogue about money between generations.
She recently moved to Elmhurst, where she resides with her husband Adam and their daughter Scarlett.