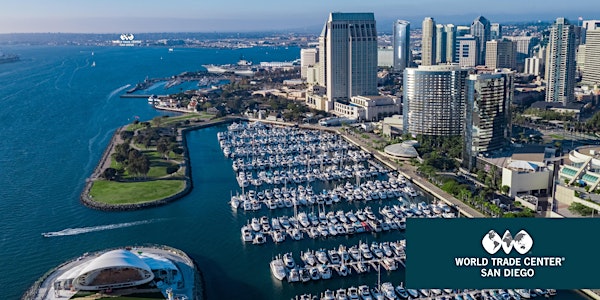 WTC San Diego: Q1 Global Competitiveness Council Virtual Meeting
Global Competitiveness Council Virtual Meeting: Go Global Launch
About this event
Let's Go Global, San Diego
Join our virtual Global Competitiveness Council meeting on Thursday, April 1 from 8:30 a.m. to 10:00 a.m. We'll share key findings from our new strategic plan and learn how trade and investment will help San Diego its global competitiveness and domestic resilience.
This has been an unprecedented year. In a recent survey of 200 San Diego businesses, 82 percent agreed that their industry—and their companies—will look fundamentally different as a result of the pandemic. Many have adopted new processes, with 87 percent of innovation cluster companies believing that pandemic-driven changes will make them stronger in the long term. As the "next normal" takes shape, it is clear that some trends are here to stay, and these trends have significant implications for the region's global agenda. Hear from executives from some of San Diego's most global companies on how this moment has impacted their industries and what that means for global growth in the years ahead.
Opening remarks:
Mayor Todd Gloria, City of San Diego
Congressman Scott Peters, CA 52nd Congressional District, US House of Representatives
Speaker lineup:
Moderator: Dr. Renee Bowen Director, Center for Commerce and Diplomacy, UC San Diego
Garry Ridge, Chairman of the Board & CEO, WD-40
Kathleen Lynch, Vice President, Global Government Affairs & Public Policy, Illumina
Maritza Diaz, CEO, iTjuana
Dr. Vivek Lall, Chief Executive, General Atomics Global
Details: Once you have registered, the online webinar link will be sent to your email prior to the event.
Please note meeting etiquette:
• Participants are muted upon entry
• Once meeting is called to order, please remain muted unless presenting to prevent background noise distraction
• To avoid speaking over each other, please submit questions via the Q&A function and WTCSD will call on participants in turn.