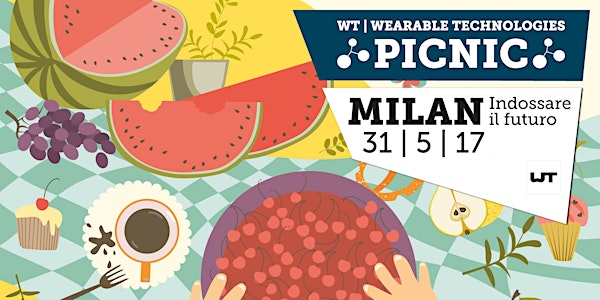 WT | Wearable Technologies Picnic 2017 Milan
When and where
Location
FabriQ Via Val Trompia 45/A 20157 Milano Italy
Description
Since 2014 the WT | Wearable Technologies Picnic is an informal and fun gathering for everyone interested in wearable technologies, organized by local WT partners. This annual global happening will be organized throughout the entire month of May to gather with other Wearable Techies from local communities to celebrate Wearables and New Technologies.
On May 31st, 2017 WT | supporters and enthusiast are invited to meet in Milan to exchange dialogue about the future of wearables!
Program:

09:00 - 09:30 Welcome and Introduction
09:30 - 11:00 Panel Discussion : The Technology in our daily lives, moderated by Luca Barbieri, expert journalist about innovations and accelerations of the editorial system.
11:00 - 11:30 Coffe Break
11:30 - 12:45 Panel Discussion 2 : The Market and Trends of the Future, moderated by Francesco Quartuccio, XMetrics VP Marketing&Sales
12:45 - 13:00 Conclussions by Cristina Tajani, Assessore Politiche del lavoro, Attività produttive, Commercio e Risorse umane del Comune di Milano
13:00 - 14:00 Light Lunch
14:00 - 15:00 Design and test end-users: The Role of FabLabs, moderated by Antonio Dell'Atti, FabriQ Project Manager
15:00 - 17:00 Legal -Up Workshop. 3D Printing: Realization, Merchandising, Distribution, and Responsibilities
****Demos from GlassUp, Deed, E-EYE Contatto, SharkNet, Captiks.****
This edition of the WT | Picnic in Italy will take place at FabriQ
Join us and celebrate the world of wearables with WT community in Italy! Participation is free of charge!
This event is kindly supported by Impact Hub Milano, Fondazione Giacomo Brodoloni, Comune di Milano and FabriQ.