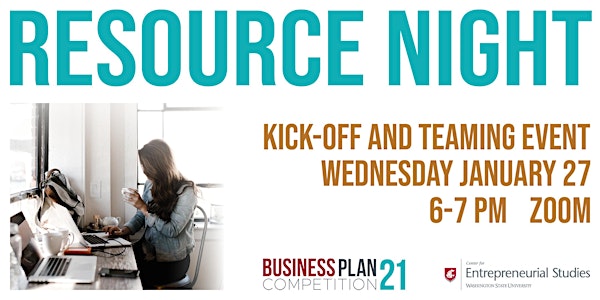 WSU Business Plan Competition Resource Night Kick-Off and Teaming Event
An evening of networking, partnerships, and new ideas! Join a team! Build a team! Guest Speaker Trey Lauderdale.
About this event
The WSU Center for Entrepreneurial Studies invites you to hear from industry experts during the Business Plan Competition Resource Night Series. Hear from guest speaker Trey Lauderdale, VP and GM of Care Communications at Hillrom. The online program begins at 6:00 PM with time to network for team members or join a team.
Held on Zoom; link will be sent to the email address you RSVP with here.
Trey Lauderdale
Trey Lauderdale is the visionary leader behind Voalte, founding the company in 2008 and propelling annual revenue to $40 million before a successful acquisition by Hillrom for $180 million. At Hillrom, Trey leads the Care Communications business unit, including Voalte communications, nurse call and digital products. Prior to Voalte, Trey rotated through the inside sales support, product marketing and distribution management teams in the Sales Leadership and Development Program at Siemens. In 2007, he joined Emergin, where he was the top revenue producer in the first and second quarters of 2008, before he left to form Voalte. Trey graduated from University of Florida with a Bachelor's degree in Industrial Engineering and earned his Master's degree in Entrepreneurship from University of Florida Warrington College of Business, where he, along with Oscar Callejas, won the top prize in the school's Business Plan Competition.
The WSU Business Plan Competition
If you're a student entrepreneur or aspiring business owner, the Center for Entrepreneurial Studies presents the WSU Business Plan Competition – an unparalleled opportunity to practice entrepreneurship in a real-world setting and receive guidance as you launch a new venture, plus a chance to win thousands of dollars in prize money!The 2021 WSU Business Plan Competition will be happening in a virtual format. Participating in a business plan competition can be a rewarding experience and we are excited to continue to showcase student innovation! To learn more, go to https://entrepreneurship.wsu.edu/pursue/wsu-bpc/
WSU Center for Entrepreneurial Studies
The WSU Center for Entrepreneurial Studies provides a resource epicenter for students to learn, collaborate, create, and launch ventures. You can find out more and view the event schedule at entrepreneurship@wsu.edu