WSU Arts Integration Conference 2018: Exploring Our Universe!

Friday, January 26, 2018 from 8:00 AM to 3:30 PM (MST)
Event Details
WSU Arts Integration Conference 2018:
Exploring Our Universe!
Friday, January 26, 2018
WSU Ogden Campus, Shepherd Union, Ballroom B
8 am - 3:30 pm
Join us for the fifth annual WSU Arts Integration Conference on Friday, January 26, 2018!  This year's theme is Exploring Our Universe!  Attendees will participate in hands-on arts integrated workshops with guest artists in dance, drama, music, and visual arts to explore our theme and address Utah Core Standards.  Participants will rotate through a series of arts integration workshops this year.
Your registration fee ($15) will include all conference materials, parking (not applicable for WSU students), a light breakfast, and lunch.  We are able to reimburse schools/districts for substitutes for the 80 registered participants who attend the conference.  Attendees can receive refunds up to 7 days before the event start date.  Refunds will not be given if you register and do not attend. Please see the bottom of this page for information on parking.
Relicensure hours are available for licensed educators.
---
Keynote Presentations
The Interstellar Interloper - Stacy Palen
Recently, an object passed near to Earth that did not come from our Solar System, but has been traveling for many millions of years to arrive here.  Astronomers were lucky to be looking in the right direction at the right time!  How do we know the object is not "from here"? How is it different from objects in our Solar System? What does this discovery mean to mankind?  Dr. Palen will talk about all of these questions, and describe how astronomers are trying to find the answers.
Virtually Riding on the Backs of the World's Largest Whales Using New Tags - Jeremy Goldbogen
Whales spend more than 95% of their time underwater, far from where it is possible to observe them, so much of what whales do and why has been completely unknown until recently. New tag technology attached to whales with suction cups allows us to track their three-dimensional paths and behaviors. The recent addition of multiple cameras into the tags also provides us with a unique perspective of virtually riding on the backs of large whales as they swim through the deep ocean. Our studies on the world's largest whales, including blue whales and humpback whales, reveal a wide range of underwater acrobatic behaviors as whales search for and capture prey. We have obtained a diverse set of new discoveries from Antarctica to Greenland that show how whales swim, feed, and interact with other whales.
Conference Workshops
Fire in the Utah Forest (Drama) - Katie Dawson
In this workshop, we will explore the Utah forest and consider how plants and animals adapt to and interact within an ecosystem. Participants will investigate how simple drama strategies (like theatre games and role play) can be used to explore the impact of a fire on a Utah forest ecosystem. 


Exploring the Solar System Through Singing, Playing, and Creating Music (Music) - Brittany Nixon May
In this interactive session we will explore how music applies to our student's learning about the solar system as we listen and move to Gustov Holst's masterwork, compare and contrast musical works inspired by space, and apply knowledge of scale and properties of objects in the solar system to create original compositions. The standards-based activities integrate music, science, social studies, and language arts, and can be applied to students of all ages.
Ebbs, Flows, and Creating Webs of Connection (Dance) - Alyssa Herzog Melby
This workshop will deeply explore the connection between the moon and our oceans, and how the ebbs and flows of the tides create a cascade of effects felt throughout the ocean ecosystem. Participants will be asked to use their pre-existing knowledge of the moon and ocean life to make hypotheses of this cause-effect web, and then activate those hypotheses and newly acquired knowledge through movement stories. Participants will leave with a deeper understanding of dance vocabulary (BASTE) and how to assess learning through the use of dance and movement in the classroom.    
Everything Matters! (Visual Arts) - Erinne Roundy
In this workshop we will be looking at the three forms of matter - solids, liquids, and gases - as they relate to our universe and then explore them from the perspective of the visual arts in the creation of a set of minibooks that will be used to collect data.
---
Conference Team
Stacy Palen - Professor of Physics and Director of the Ott Planetarium, Weber State University - Keynote Speaker

Director of the Ott Planetarium and physics professor Stacy Palen has enabled countless others to reach for the stars. Through her guidance, the Ott Planetarium has instilled inspiration in thousands of school children and other audiences. Palen has also led Science Saturdays in partnership with Weber County RAMP and supported WSU's annual Physics Open House. Her interactions with the community are not limited to those, however. She has presented "Nature's Creation Story," at both the Weber State University Storytelling Festival and the university's TEDx event.
Palen is revered for her ability to make an impact on students from within the College of Science or elsewhere on campus. It is commonplace for her to work with students on various astronomy projects, one of which is to develop the infrastructure and program for two observatories on top of the Tracy Hall Science Center. Her dedication to students was made evident in 2006, when she won the Crystal Crest Master Teacher Award, the highest teaching distinction at the university.
Jeremy Goldbogen - Assistant Professor of Biology, Stanford University - Keynote Speaker

Jeremy Goldbogen is a comparative physiologist who studies the integrative biology of marine organisms. He started his research career studying the biomechanics of locomotion in hummingbirds and Antarctic sea butterflies (pteropods) as an undergraduate student at the University of Texas at Austin. Jeremy then completed a M.Sc. degree in marine biology from the Scripps Institution of Oceanography at the University of California - San Diego. He later moved on to earn his Ph.D. from the University of British Columbia in Vancouver, Canada, with a thesis titled "Mechanics and energetics of rorqual lunge feeding". He returned to Scripps as a postdoctoral researcher for one year before joining the Cascadia Research Collective in Olympia, WA for two years. He is now Assistant Professor of Biology at Stanford University, located at the Hopkins Marine Station in Pacific Grove, CA.
Katie Dawson - Assistant Professor of Arts Integration/Teaching Artist Practice and Director for Drama for Schools, The University of Texas at Austin - "Fire in the Utah Forest"

Katie Dawson is an Assistant Professor at The University of Texas at Austin and serves as the Director for Drama for Schools, a community-engaged professional learning model in drama-based pedagogy. She is an internationally recognized consultant in creative learning and teaching artist practice. Her scholarship has appeared in numerous US and international journals. Katie's co-authored book, The Reflexive Teaching Artist: Collective Wisdom from the Drama/Theatre Field, received the 2015 Distinguished Book Award from the American Alliance of Theatre and Education. Her new book Drama-Based Pedagogy: Activating Learning Through the Arts will be published in April of 2018.
Katie received numerous teaching awards from her university where she serves as a Provost's Teaching Fellow. She also received the 2013 Creative Drama Award and the 2006 Winifred Ward Scholar Award from the American Alliance of Theatre and Education. Prior to her time in academia, Katie was a professional actor, a classroom teacher and a museum theatre educator.
Brittany Nixon May - Assistant Professor of Music Education, Brigham Young University - "Exploring the Solar System Through Singing, Playing, and Creating Music"
Brittany Nixon May is an Assistant Professor in the School of Music at Brigham Young University where she teaches undergraduate and graduate courses in music education. Prior to her doctoral studies, Dr. May taught in the Syracuse, New York and Washington, D.C. public schools systems. From 2009 to 2011, she was recognized as a District of Columbia Public Schools Highly Effective Educator, and she and her elementary music students were invited to perform in the White House for the President and First Lady as part of the Presidential Active Lifestyle Awards.
 Dr. May's research interests include early childhood music education and arts integration. She has presented her research at conferences in the United States and abroad, and has published in General Music Today and the Journal of Music Teacher Education, among others. Dr. May holds a PhD from the University of Utah, a Masters in Music Education from Boston University, and a BA in Music Education from the University of Utah.
Alyssa Herzog Melby - Assistant Director for Academic Civic Engagement, St. Olaf College (MN) - "Ebbs, Flows, and Creating Webs of Connection"
Alyssa Herzog Melby has taught creative movement, dance, and theater to just about every age group (preK-older adults) in nearly every type of community (urban, suburban, rural) over her 10 years as a teaching artist and arts administrator. She formerly worked as the Director of Education and Community Engagement at Pittsburgh Ballet Theater and as teaching artist for many arts organizations in the Pittsburgh area, including where she was trained in the Wolf Trap Institute's Early Learning Through the Arts method. One big highlight of her arts education career was starting the nation's first-ever Sensory-Friendly performance of The Nutcracker. Recently she finished up a tenure as Executive Director of the Northfield Arts Guild, a 57-year old community arts center in Northfield, MN before moving on to her current position St. Olaf College. Alyssa has three kids who provide a great ongoing movement laboratory and an engineering husband who demonstrates every day the lifelong effects of STEAM. She holds an MA in Theater Arts from the University of Pittsburgh and a BA in English and Theater from the University of MN, Morris.
Erinne Roundy - Jr. High Art Teacher at North Davis Preparatory Academy & Program Assistant for the Arts Learning Collaborative, Weber State University - "Cause + Effect = Ecosystems"
From the moment Erinne could pick up a writing utensil (which I'm sure was a black Pilot G2 pen) she has been doodling and writing in sketchbook after sketchbook after sketchbook after sketchbook…(well, you get the picture).  Which is no surprise that when she originally graduated from WSU way back when it was with a B.S. in Visual Communications/Design and she was pretty content with this career choice until her own kids started school.  It was then that she realized how much she really enjoyed the educational atmosphere of young minds and wanted to be surrounded by them all the time so she decided to get her secondary teaching license via the ARL (which is what she is currently doing and will have her license this coming spring.  Yippee!)  Right now she is teaching junior high Art Foundations at NDPA, a K-12 Spanish Immersion charter school in Layton as well as the Program Assistant for the Arts Learning Collaborative.
Amy Miner, Arts Integration Consultant
Dr. Amy Miner taught elementary school in Jordan School District before going on to receive her Masters degree in children's literature at BYU and her PhD from Utah State University in curriculum and instruction. For over 20 years, in Utah, Texas, and Colorado Dr. Miner has been an advocate for integrated curriculum design, and engaging students in deep learning tasks. Dr. Miner taught integrated methods in her courses as an Assistant Professor in teacher education at Brigham Young University, and her research and professional development with the BYU ARTS Partnership. Dr. Miner has provided professional development, curriculum, and STEAM school implementation through all stages of the learning process including assessment and research across the state of Utah. She is currently working with Utah State University (Beverly Taylor Sorenson Arts Learning Partnership), Weber State University, Brigham Young University, Alpine School District, Provo City School District, and multiple charter schools. Dr. Miner's research, teaching, and consulting reflect her deep passion for curriculum design, integration, and the arts.
Tamara Goldbogen, Beverley Taylor Sorenson Endowed Chair for Arts Learning and Director of the Arts Learning Collaborative, Weber State Univeristy - Conference Director and Coordinator
Tamara Goldbogen is the Beverley Taylor Sorenson Endowed Chair for Arts Learning and director of the award-winning Arts Learning Collaborative at Weber State University. She teaches graduate and undergraduate courses in the College of Arts & Humanities, the College of Education, and the Honors Program. Tamara's creative and scholarly work focuses on theatre for young audiences, puppetry, creative learning and arts integration. She holds an MFA in Drama and Theatre for Youth from the University of Texas at Austin.
Monica Pendergast, Beverley Taylor Sorenson Arts Learning Program Coordinator, Weber State Univeristy - Conference Coordinator
Monica Pendergast is the BTSALP Program Coordinator at Weber State University and is an active vocal solo and choral adjudicator in Central Utah. She received her Master in Music Education and her Bachelor in Music Education with a Choral Emphasis from Florida State University. While in Florida, Monica taught elementary and middle school choir and guitar. Her students performed in top auditioned ensembles both at the local and state levels and choirs under her direction consistently received high ratings at district choral performance evaluations. 
---
Parking
Parking for the conference is included in your registration fee (not applicable for WSU students).  Participants who register by Monday, January 22 will be on a list with the parking attendance in the Pay Lot.  When you enter the pay lot, please give the attendant your name and say that you are with the conference.  You may need to give your name to the attendant again when you leave.  Please see the map below for details on where to park: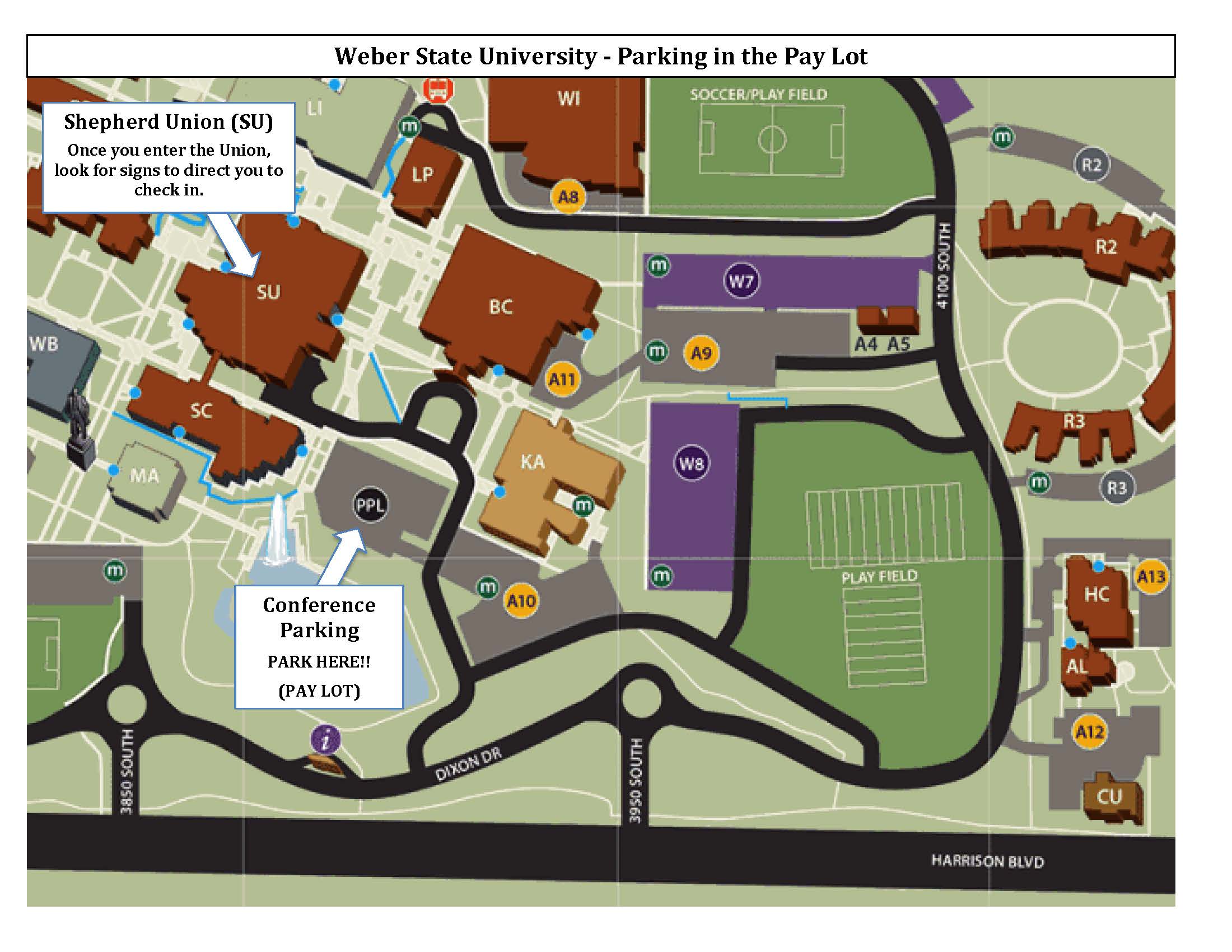 When & Where

Weber State University, Shepherd Union, Ballroom B
3848 Harrison Boulevard
Ogden, UT 84408


Friday, January 26, 2018 from 8:00 AM to 3:30 PM (MST)
Add to my calendar
Organizer
 The Arts Learning Collaborative is a partnership between the Telitha E. Lindquist College of Arts & Humanities and the Jerry & Vickie Moyes College of Education that provides high-quality professional development and workshops in arts integration for Northern Utah students, educators, administrators and WSU students.