Description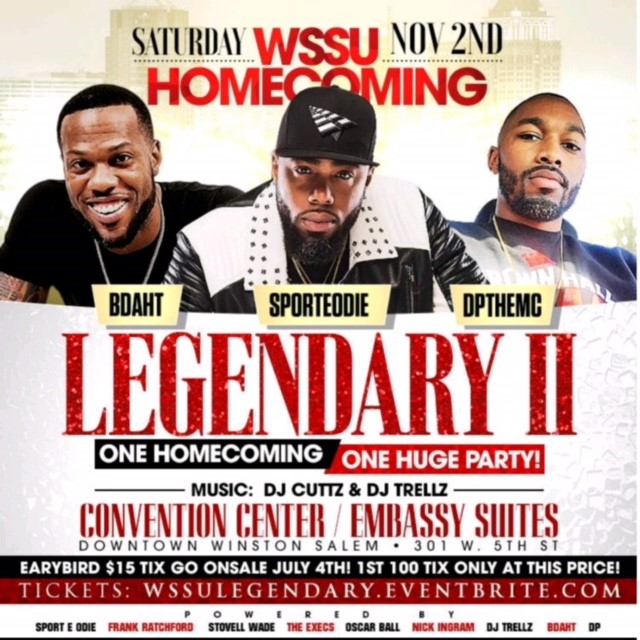 OVER 550 TIX ALREADY SOLD TO THIS EVENT!! RAMS UNITE FOR ONE HOMECOMING, ONE PARTY!!
WSSU HOMECOMING
"LEGENDARY II"
HOSTED BY: LEGENDARY HOSTS SPORT E ODIE, BDAHT & DP!!
2 PARTIES, 2 BALLROOMS, 4 DJS, 3 HOST, 1 PRICE
BALLROOM 1 "ICON PARTY" - 21 + Hosted by DPtheMC & @Pinkkissess_12 | Music: DJ Trellz / DJ Deron Juan
BALLROOM 2 "G.O.A.T (Greatest of All Time) PARTY" - 30 + preferred Hosted by Bdaht & SportEOdie | Music: Dj Cuttz / DJ Ern
All ticket options gain access to both parties! Party Hop back in forth if you like! It's your choice!
DRESS CODE: MATURE & EXQUISTE (No Athletic Wear)
@EMBASSY SUITES & BENTON CONVENTION BALLROOM
460 N. Cherry St - Winston Salem, NC
LEGENDARY PROMOTION:
FAB 5 ENT, SPORTEODIE, FRANK RATCHFORD, STOVELL WADE, WSNAA, THE EXECS, PRIMETIME, DJ TRELLZ, OSCAR BALL, BDAHT, DP
21 + mature crowd
Over 1,500 in attendance last year! This year will be more than Legendary! It will be history!
HEROES GET REMEMBERED....LEGENDS NEVER DIE!!!