Description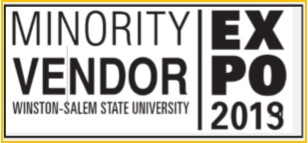 Registration Fee: $25.00 - Must be paid by check, information provided below.
Theme: Creating Connections Through Relationships
Greetings:
You are invited to attend the WSSU Minority Vendor Expo on Thursday, March 07, 2019, at the Anderson Center McNeil Banquet Hall from 9:30 - 4:00 PM. The expo will bring together existing and new vendors to network with local businesses, build relationships and pursue business opportunities. We strive to increase Historically Underutilized Businesses (HUB) participation in our sourcing process to achieve the goals set forth in our Action Plan. Bringing together business leaders and decision makers to introduce our vendors, provide education, information and opportunities.
Day-at-a-Glance:
Morning Session:
State of North Carolina Purchasing and Contracting

State of North Carolina Dept. of Administration HUB Office

Learn how to get Certified as a Historically Underutilized Business (HUB) Firm

How to do business with Winston-Salem State University?
How can the Small Business Technology Development Centers (PTAC) be helpful to businesses?
Is bonding an issue? Let's have a conversation.
Match-Making Session
Expo Vendor and Match Making Session
Majority Firms interested in speaking with possible vendors, submit the following:

Name, type of products or services purchased (Complete the M/M Session Interest Form.) Please email me for the form.
We will schedule time for supplier firms to meet with you at the expo.
Minority firms or small businesses that are interested in doing business with a majority firm, please submit your targeted companies you are intersted in pursing a business relationship.
Registration Fee: $25.00 (Includes Booth and Lunch)
---
Mail checks to:
Winston Salem State University
Attn: Brenda Fulmore
1604-B Lowery St., Room #205
Winston-Salem, NC 27110
For more information, please contact:
Sharon Hill at hillsd@wssu.edu and cc: Brenda Fulmore at fulmoreb@wssu.edu.