Description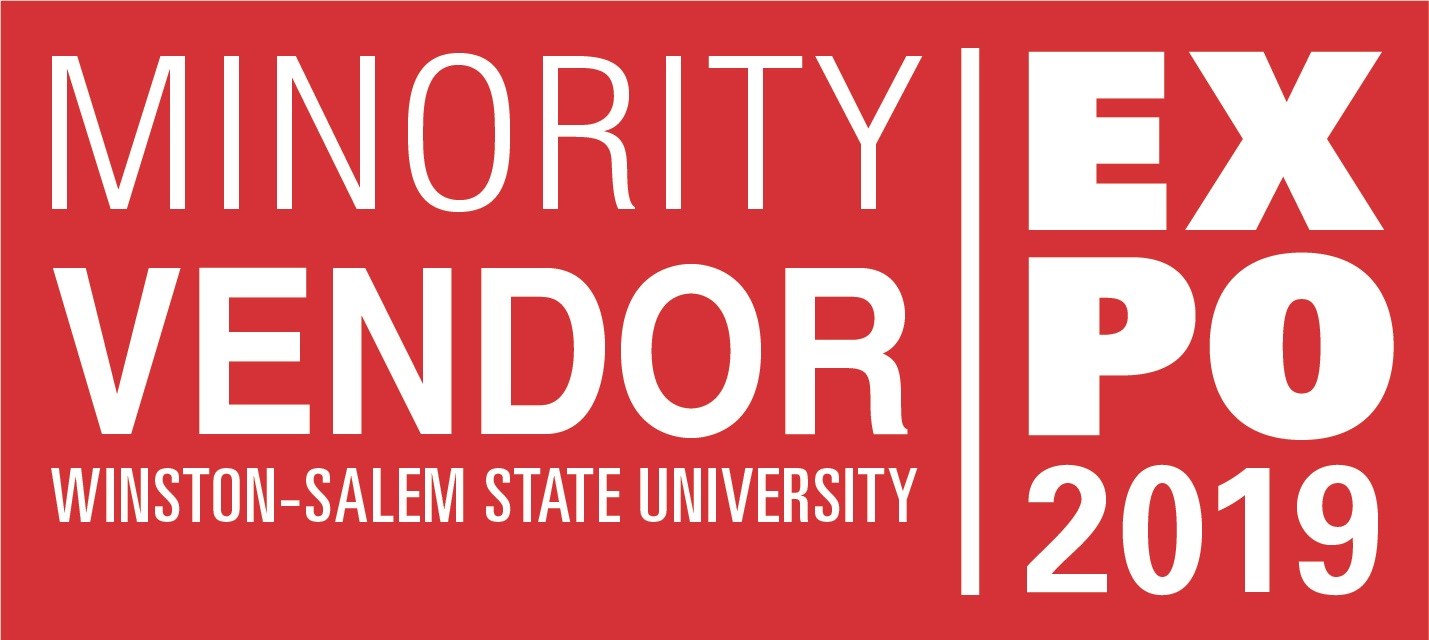 Only 91 spaces are available for Booths on a first come first serve basis. Only those who has paid and money received will be secured a booth.
---
Registration Fee: $25.88 - www.wssu.edu\tickets
Click on the calendar, select March, select Minority Vendor Expo, Click Buy Now button, select green bar-General Admission, Click Find Seat, Click Confirmation Reservation, Fill in New Customer information, enter Billing Information, and Credit Card information then Click Register. This is a secure site.
Registration fee covers one registration, match making, exhibit booth and lunch. Please note: Space is limited and filling up quickly.
New location: WSSU - Donald J. Reaves (DJR) Center - Gym / Parking at Bowman Gray Fieldhouse - Shuttle Service Provided starting at 8:00 am. Please drop off your expo displays at DJR, drive to BG Fieldhouse to park and shuttle will pick up and drop off in front of DJR.
Theme: Creating Connections Through Relationships
Greetings:
You are invited to attend the WSSU Minority Vendor Expo on Thursday, March 07, 2019, at the Donald J. Reaves Center-Gym from 9:00 - 4:00 PM.
The expo will bring new vendors, business leaders, decision makers, existing vendors together under one roof to network, build relationships, and pursue business opportunities. The expo will help WSSU increase Historically Underutilized Businesses (HUB) participation in our sourcing process to achieve the goals set forth in our Action Plan. Vendors will learn how to do business with WSSU and state agencies.
Day-at-a-Glance:
Morning Session:
State of North Carolina Purchasing and Contracting, Angie Dunaway

State of North Carolina Dept. of Administration HUB Office, Tammie Hall

Learn how to get Certified as a Historically Underutilized Business (HUB) Firm

How to do business with Winston-Salem State University? Tim Jackson
How can the Small Business Technology Development Centers (PTAC) be helpful to businesses? Sharonetta McIntyre
Is bonding an issue? Let's have a conversation.

Nielson Hoover & Company, Jessica Reno

Match-Making Session, Brenda Fulmore
Expo Vendor and Match Making Session
Majority Firms interested in speaking with possible vendors, submit the following:

Name, type of products or services purchased (Complete the M/M Session Interest Form.) Please email Brenda Fulmore to obtain form.
We will schedule time for supplier firms to meet with you at the expo.
Minority firms or small businesses that are interested in doing business with a majority firm, please submit your targeted companies you are intersted in pursing a business relationship.
Registration Fee online is $25.88, please indicate on email which option you have selected:

Registration Only - Full day and lunch (exclude booth)

Booth and Lunch

Match Making Session (Limited time slots)
Disclaimer: WSSU reserve the right to limit the number of same commodities, products, and/or services. If space is available, exceptions may be considered.
WSSU reserve the right to refuse/return booth registration fee, if paid by potential vendor if too many of the same commodity or service firms register.
---
Directions to WSSU are listed at the bottom of
this page.
Vendors: Shuttle service will be provided from Bowman Gray Fieldhouse to DJR (every 15 minutes), starting from 8:00 am - 5:00 pm.
---
Pay Online: www.wssu.edu\tickets
For more information, please contact:
Sharon Hill at hillsd@wssu.edu and cc: Brenda Fulmore at fulmoreb@wssu.edu.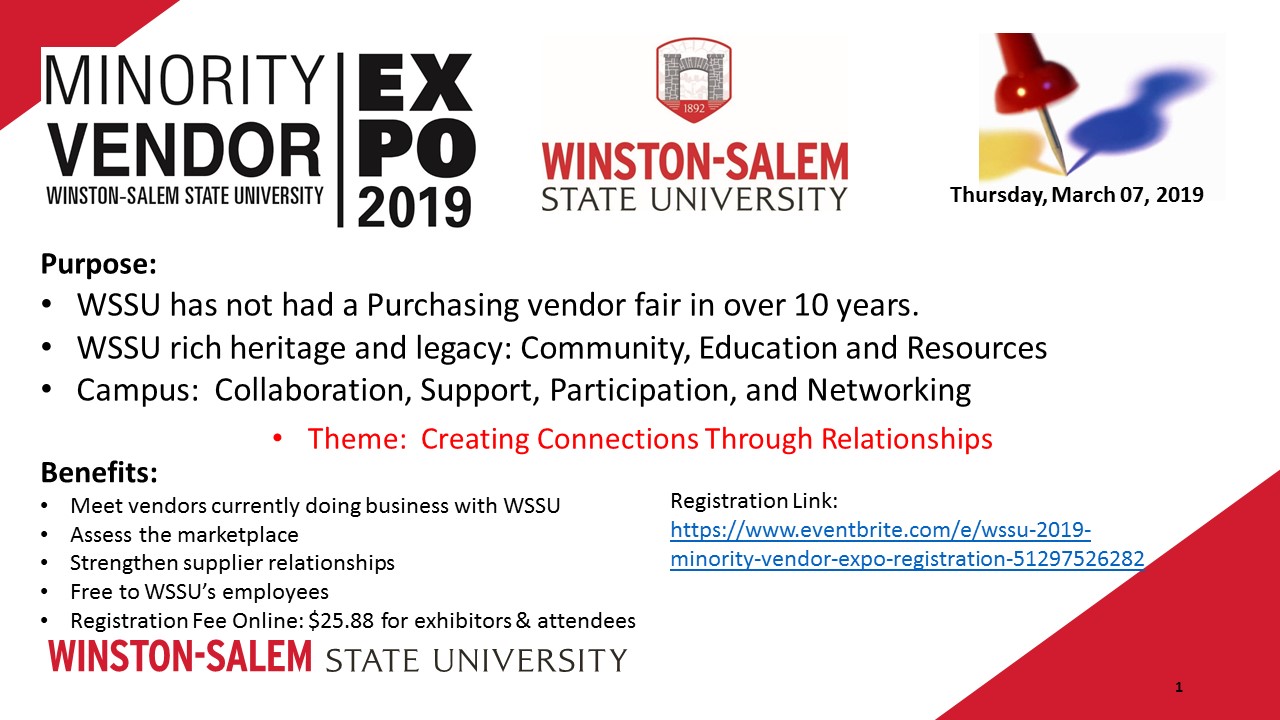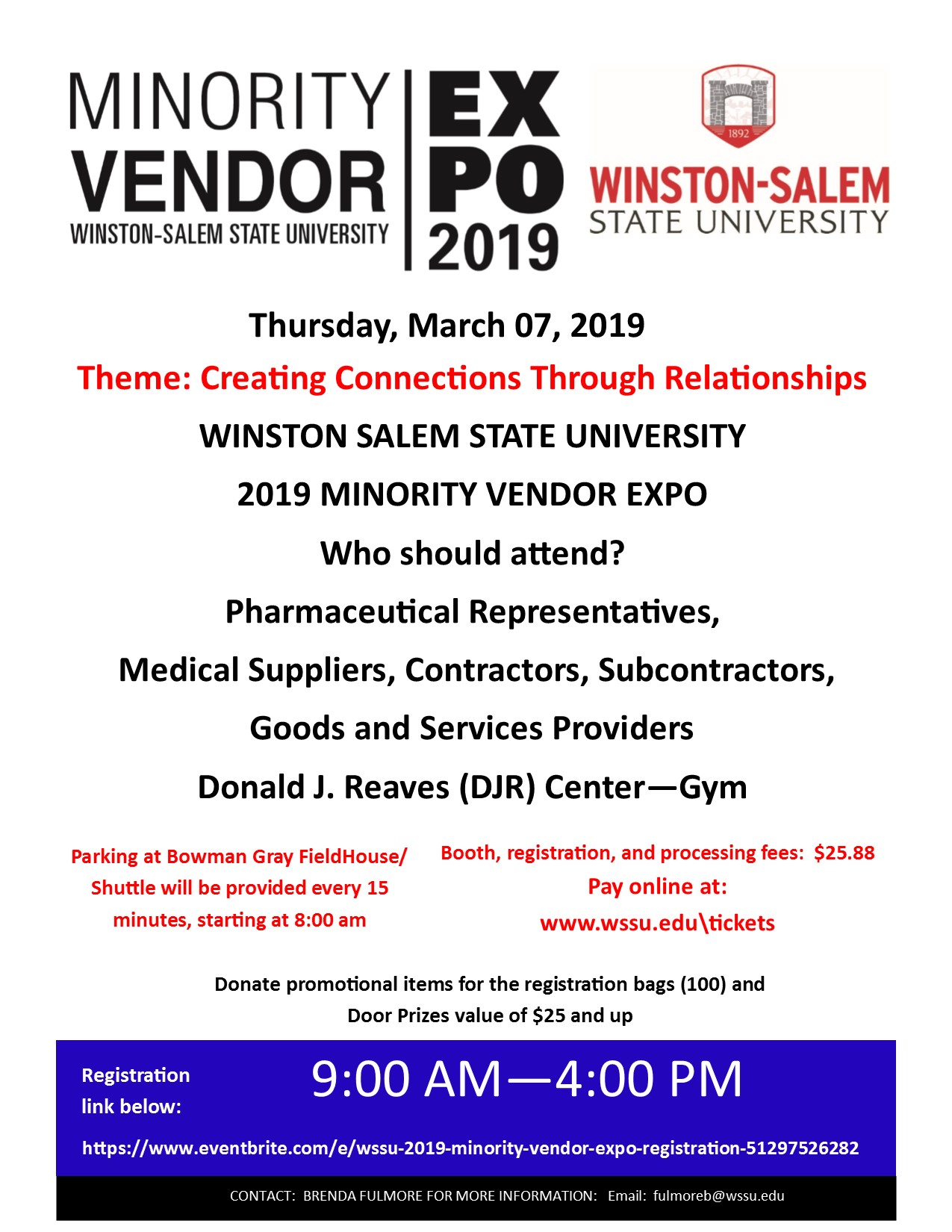 ---
Directions from Salisbury, NC:
I 85 North; US 52 North, I 285 North; US 52 North; NC 8 North
Head southeast on West Innes Street
Take the ramp on the left
Continue onto I 85
Continue onto I 85 North
Continue onto I 85 North
Keep right towards I 285 North: Lexington
Keep left onto I 285 North
Continue onto US 52 North
Take the ramp
Keep left at the fork
Go straight onto Research Parkway
Turn right onto Rams Drive
Turn left onto South Martin Luther King Jr Drive
You have arrived at your destination, on the right
Directions from Mt. Airy, NC:
US 52 South, John Gold Memorial Expressway
Head northeast on West Pine Street
Turn right onto South Main Street
Make a slight right to stay on South Main Street
Turn left onto South Andy Griffith Parkway (US 52 South)
Keep left onto US 52 South
Take the ramp
Keep right at the fork
Go straight onto Research Parkway
Turn right onto Rams Drive
Turn left onto South Martin Luther King Jr Drive
You have arrived at your destination, on the right
Directions from Raleigh, NC:
I 40, I 40; I 85 South
Head west on Hillsborough Street
Turn right onto North McDowell Street (US 70)
Continue onto Capital Boulevard (US 70)
Take the ramp
Continue onto Wade Avenue (US 70)
Merge left onto Dan K Moore Freeway (I 40)
Keep right towards I 40 West: Greensboro
Keep right onto I 40
Keep right towards I 40 Business: Kernersville
Continue onto I 40 Business West
Take exit 6C towards Martin Luther King Junior Drive
Turn left onto South Martin Luther King Junior Drive
Make a U-turn and continue on South Martin Luther King Jr Drive
You have arrived at your destination
Directions from Charlotte, NC:
I 85 North, I 85 North; US 601 North
Head northeast on South Tryon Street
Turn left onto West 6th Street
Go straight onto West 5th Street
Make a slight right
Take the ramp
Merge left onto I 77 North
Take exit 13A towards I 85 North: Greensboro
Keep left towards I 85 North: Greensboro
Merge left onto I 85 North
Continue onto I 85
Continue onto I 85 North
Continue onto I 85 North
Keep right towards I 285 North: Lexington
Keep left onto I 285 North
Continue onto US 52 North
Take the ramp
Keep left at the fork
Go straight onto Research Parkway
Turn right onto Rams Drive
Turn left onto South Martin Luther King Jr Drive
You have arrived at your destination, on the right