Description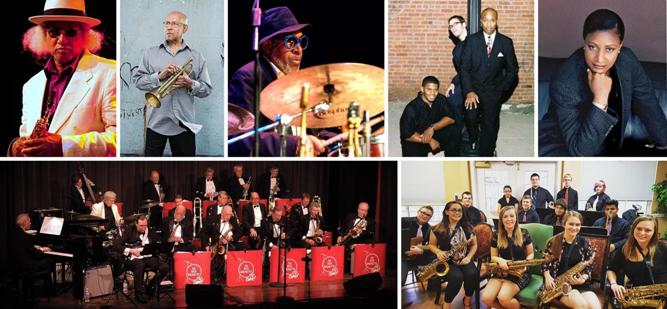 April is Jazz Appreciation Month. April 30th is recognized as International Jazz Day. On Saturday, April 27th from 11:00am to 10:00pm, in recognition of the United Nations UNESCO Herbie Hancock Institute Worldwide International Jazz Day Celebration, SEMM Foundation and Jazz 98.5 FM, WSAX proudly presents International Jazz Day Ohio.
International Jazz Day Ohio will offer an exciting all day celebration of the art of jazz. The event will feature a Tribute to the Life, Music and Legacy of Nancy Wilson, a spectacular professional and student art exhibition, vintage album exhibition, workshop discussions, awards ceremony, multiple vendors, keynote speakers, and an all star line-up of multiple live jazz performances, and dance and poetry reading performances, all on two stages throughout the day. Food and refreshments will be available, including an Eggs and Pancakes brunch.
Expect great performances from regional, national and international jazz superstars including saxophonist, Gary Bartz, trumpeter Eddie Henderson, drummer Greg Bandy, 2019 Grammy Award Nominee, pianist & organist Bobby Floyd, Vanessa Rubin, Priscilla Woodson, J. London & the Band of Friends, Copacetic, and a special big band show and dance by The Rick Brunetto Big Band, featuring vocalists Tia Harris, Michael Phillips and Jeremy Lahman. International Jazz Day Ohio will also showcase student performances by the Whitehall Yearling High School Jazz Band, and the St. Charles Preparatory Jazz Band.
Tickets are available now. All Access tickets are $15 for entry to all events, including late afternoon and evening auditorium performances. General Admission tickets are $10 for entry to all events except for late afternoon and evening auditorium performances occuring after 4pm. Student tickets are $5. Children under 12 are free when accompanied by a paid adult. Tickets for the Eggs and Pancakes Brunch may be purchased separately in advance.
Tickets and more information are available online on the International Jazz Day Ohio website at www.jazzdayohio.com, or on eventbrite.com.
This celebration is presented by SEMM Foundation and your jazz station, Jazz 98.5 FM, WSAX.

Join us for an All Day event featuring great live jazz brewed just the way you like it. Bring your heart, soul and passion and support keeping jazz alive.
For complete concert details, visit www.jazzdayohio.com. Central Ohio deserves a great jazz radio station. Thank you for supporting your 24 hour non-profit jazz radio station, Jazz 98.5 FM, WSAX-LP and for helping keep jazz alive.
About International Jazz Day Worldwide
In November 2011, the United Nations Educational, Scientific and Cultural Organization (UNESCO) officially designated April 30 as International Jazz Day in order to highlight jazz and its diplomatic role of uniting people in all corners of the globe. International Jazz Day is chaired and led by UNESCO Director General Audrey Azoulay and legendary jazz pianist and composer Herbie Hancock, who serves as a UNESCO Ambassador for Intercultural Dialogue and Chairman of the Herbie Hancock Institute of Jazz. Since 2012, organizers from over 190 countries have produced a record number of Jazz Day events every year.
International Jazz Day brings together communities, schools, artists, historians, academics and jazz enthusiasts all over the world to celebrate and learn about jazz and its roots, future and impact; raise awareness of the need for intercultural dialogue and mutual understanding; and reinforce international cooperation and communication. Each year on April 30, this international art form is recognized for promoting peace, dialogue among cultures, diversity, and respect for human rights and human dignity; eradicating discrimination; promoting freedom of expression; fostering gender equality; and reinforcing the role of youth in enacting social change.
International Jazz Day is the culmination of Jazz Appreciation Month, which draws public attention to jazz and its extraordinary heritage throughout April. In December 2012, the United Nations General Assembly formally welcomed the decision by the UNESCO General Conference to proclaim April 30 as International Jazz Day. The United Nations and UNESCO now both recognize International Jazz Day on their official calendars.