About this Event
The Winston Starts Tech Talk is a recurring event, on the third Wednesday of every month, to highlight Winston Starts as a hub for technology through a variety of conversations, engagements and learning opportunities that happen around innovative leaders in tech. Aligning with Triad Women in Tech, Winston Starts will exemplify diversity, community and leadership, while uplifting the under acknowledged group: women in technology. While this event is powered by Triad Women in Tech …..
It is also a networking and learning opportunity for all who are interested.
All are welcome.
It is open to everyone.
Talks start at 5:30 and will feature a question and answer session afterwords with our expert speaker. Food, drinks and schmoozing before, during and after the speaker.
June 19th will feature our honored guest speaker, Ashley Blackwell, part of the digital creative team of Ettain Group. Delivering talent solutions tailored to the unique qualities of technical artistry, the Ettain Group knows where to look because they put themselves into the worlds of their clients. From events and meet-ups to reviews of the portfolios, they bring us leading trends from all corners of the country.
Ashley's expertise and in-depth knowledge of the technical industry will give you unique insight into tech trends, both regional and national. With this high-level vantage point that Ashley brings, you will learn what technology firms are looking for, in regards to skill set and talent.
If you want to learn what is coming next in the world of tech, you don't want to miss this event.
The first 40 tickets are free, thanks to our generous sponsors:
Once these free tickets are snatched up, the ticket price of $15 per person helps us cover the added food and drink costs.
Parking info: Free visitor parking cornered between 4 and 1/2 street 5th and poplar street.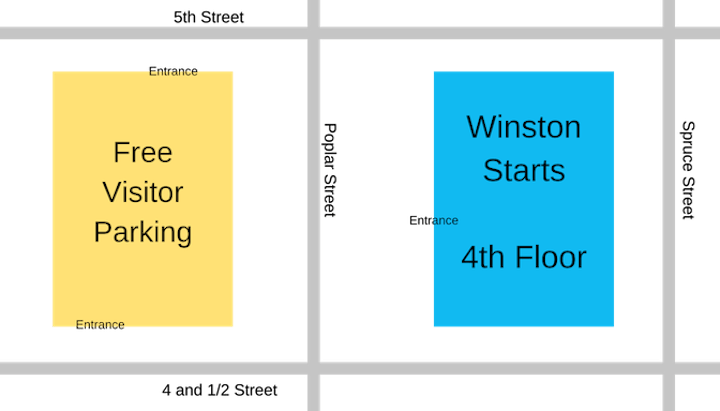 The Winston Starts Tech Talk was created to encourage the continuous communication between all individuals in the technology field and to open the doors and inspire those who are not.
Please join us for an evening of fundamentals and fun!
Another huge thanks to our sponsors!