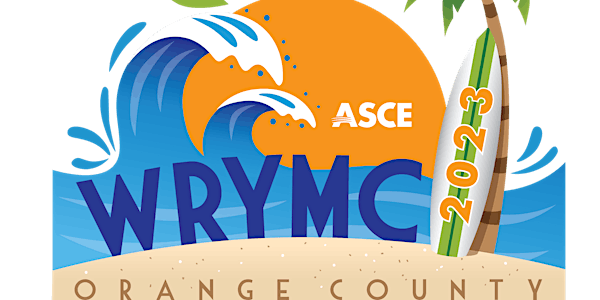 WRYMC 2023: Technical Tours! (Sign Up for ONE Tour)
Sign Up Today for a WRYMC Technical Tour! There are 5 options relating to different disciplines of our industry!
When and where
Location
DoubleTree by Hilton Hotel Anaheim - Orange County 100 The City Drive North Orange, CA 92868
About this event
ASCE Orange County YMF welcome all WRYMC 2023 attendees for our great selection of Technical Tours on Saturday, February 18th, 2023! Please see the descriptions below and select ONE tour by the ticket type. Hurry as seats are limited! All tours will pick up and drop-off at the conference hotel.
Technical Tour #1: OC Street Car
When the 4.15 mile OC Streetcar makes its debut in 2024, a new horizon of mobility will be revealed. The streetcar will operate between the Santa Ana Regional Transportation Center to a new Harbor Transit Center in Garden Grove, offering a link between the Metrolink station and downtown Santa Ana, one of Orange County's largest urban centers for employment, arts, and entertainment, as well as nearby residential neighborhoods, parks, and trails. Sign up today for this tour of the construction! See their website here: https://www.octa.net/Projects-and-Programs/All-Projects/Rail-Projects/OC-Streetcar/?frm=7683
Technical Tour #2: Yorba Linda PFAS Water Treatment Plant
Yorba Linda Water District is partnering with the Orange County Water District to construct a treatment plant, the largest plant of its kind in the nation.The District decided to construct an Ion Exchange (IX) plant, a well-established treatment technology. The plant will have pre-filters and more to remove any remaining PFOA and PFOS to below the applicable regulatory limits. The plant will then distribute the treated water to the community at an operating capacity of 19 million gallons of water per day. Sign up today for this tour of this unique water treatment plant! See their website here: https://www.ylwd.com/pfas-water-treatment-plant/
Technical Tour #3: Environmental Nature Center
The Environment Nature Center is the first LEED platinum building in Orange County and has been recognized on many levels for its outstanding accomplishments. It has a nature preserve, emphasizes sustainability, has a zero waste policy & more. If you want to tour the facility and reserve, sign up today! See their website here: https://encenter.org/
Technical Tour #4: Groundwater Replenishment System (GWRS)
The GWRS is the result of a collaborative effort between OCWD and OC San. The GWRS is the world's largest advanced water purification system for potable reuse. OC San treats wastewater and produces water clean enough to undergo purification at the GWRS, instead of discharging it into the Pacific Ocean. This water is then purified at the GWRS using a three-step advanced process. If you want to tour this process and more, sign up for this tour today! See their website here: https://www.ocwd.com/gwrs
Technical Tour #5: Caltrans Transportation Management Center
The Transportation Management Center (TMC) team of engineers and technicians monitor highway conditions around the clock on massive video panels. The team compiles information and coordinates construction activity, roadway advisories and incident management — in real time — to minimize your delays while on the road. If you want to see the behind the scenes of the TMC, sign up for this tour today!
Please contact WRYMC 2023 Chairs, Nestor Godinez and Chuck Karunathilake, at wrymc2023chairs@ymf-oc.org.