Join the Arizona Justice Project on October 2nd for a full day of #WrongfulConvictionDay learning and connection!
About this event
Wrongful Conviction Day
Friday | October 2 | 2020
International Wrongful Conviction Day is a day to raise awareness of the causes and remedies of wrongful conviction and to recognize the tremendous personal, social, and emotional costs of wrongful conviction for innocent people and their families.
1:00PM - 2:00PM: Sign Making and Virtual Discussion about Wrongful Convictions in Arizona
Join the AJP virtually at 1pm for sign making for the Walk Out for Justice and a discussion about wrongful convictions in Arizona.
5:00PM - 5:30PM: Walk Out for Justice
Arizona Justice Project is excited to be partnering with other Western Innocence Project organizations to host a Walk Out for Justice at 5pm!
Be sure to register on this page to stay updated on these Wrongful Conviction Day activities and to receive the Zoom links as we get closer! Follow us on social media to join the conversation.
For more information about Wrongful Conviction Day and to see what other events are happening around the country, visit https://wrongfulconvictionday.org/.
Test your wrongful conviction knowledge with this #WrongfulConvictionDay quiz! https://www.qzzr.com/c/quiz/479011/how-much-do-you-know-about-the-issue-of-wrongful-conviction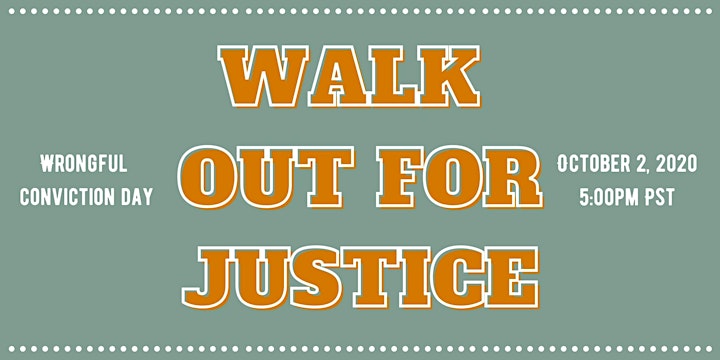 It's time we take a stand against wrongful convictions and let the public know that October 2nd is Wrongful Conviction Day! Take this a step further and "Walk Out For Justice" in the convenience of your own community. Wherever you are in the country (following the safety of Covid precautions) walk out at 5:00 PST (8:00 ET) and join the Innocence Network's live broadcast on your smartphone to show your support. Share with your friends and family on social media using the hashtag #walkout4justice and take a stand against wrongful convictions.
Zoom link and live streaming info will be available for all registered participants.
Walkout Ideas
Where:
Neighborhood walk
City hall
Community parks
Downtown locations
Or join us in the comfort of your own home using a computer if walking isn't your style!
Sign phrases:
#walkout4justice for the wrongfully convicted
Justice for the innocent
October 2nd is International Wrongful Conviction Day #walkout4justice
143 exonerations in 2019! #walkout4justice
Justice for exonerees! #walkout4justice
Official misconduct leads to wrongful convictions #walkout4justice
Free the innocent! #walkoutforjustice
**Please follow your local COVID safety measures**
Organizer of Wrongful Conviction Day
The Arizona Justice Project was established in 1998 and became the fifth organization in the United States created to help inmates overturn wrongful convictions. Today, there are more than 60 similar organizations worldwide.
Indigence is frequently associated with injustice and the quality of justice suffers as a result. To prevent denial of access to justice, members from the Arizona Attorneys for Criminal Justice founded the Arizona Justice Project in 1998. Its mission is to represent indigent Arizona inmates whose claims of innocence or manifest injustice have gone unheeded. Every time an accused goes to prison without having received a fair trial, we are one step closer to the loss of our own freedoms. In fact, there is no greater punishment than that imposed on the innocent.
Cases Of Innocence Of Manifest Injustice
The Arizona Justice Project reviews and assists in cases of actual innocence or cases in which a manifest injustice has occurred. To date, the Arizona Justice Project has received over 5,000 requests for assistance, and currently has between 40 to 50 cases in post-conviction relief proceedings under the supervision of a review team. Oftentimes, the Arizona Justice Project is a last resort for men and women who have been failed by our justice system. Their voices would go unheard and sadly, many innocent people would remain wrongfully behind bars without the hard work of our Arizona Justice Project staff and volunteers.