Description
---
The Power of Connection
Join us as we celebrate our connection as women of WRJ Southwest District at our 6th Biennial Convention in New Orleans, Louisiana



When: 5:30pm Thursday, November 1 to Sunday, November 4 at 10:30am
Outgoing Executive Committee Members are asked to arrive by 3:00pm Thursday
Incoming Executive Committee Members are asked to arrive by 10:00am Thursday
Biennial add-on, Speakers Development Workshop attendees are asked to arrive by 2:00pm Thursday
Biennial add-on, Jazz Brunch Support Our Sisterhoods (SOS) Fundraiser at Brennan's in the French Quarter is Sunday at Noon


Where: DoubleTree by Hilton Hotel, New Orleans

The room rate for all nights of the convention is $139 per night (+ tax), which includes up to quadruple occupancy. Rooms with 2 queen beds and 1 king bed are available in the WRJSW block.
You can book your reservation now by calling 800-222-TREE with the group code WRJSW.
Hotel registration cut-off is October 10, 2018


Early Bird Registration Cost
(through October 1, 2018): $325*

Full Registration Cost
(Begins October 2, 2018): $350* (Hotel registration cut-off October 10th)
* Your total will include up to an additional 5% service fee surcharge for our online registration and payment system.


To Register, click the green TICKETS button above.
Additional Biennial Convention Highlights:
WRJ Southwest District gatherings always include dynamic speakers, prayerful Shabbat Services, educational and inspirational workshops, and an assortment of projects, advocacy opportunities, WRJ business and entertainment.
Step Up to the Mic: Speaker Development Training (Biennial add-on) -- Thursday, November 1 at 2:30pm. This pre-conference workshop will be facilitated by Southwest District's own WRJ President Susan Bass. "Step Up to the Mic" is an opportunity for you to improve your public speaking and workshop delivery skills for your sisterhood, congregation, District or WRJ at large. Sign up for this special training session to help you present with confidence & assurance. This seminar will include short presentations by participants (you will receive instructions beforehand). Light snacks and drinks will be served. Space is limited and reserved on a first come, first serve basis.


Visit to the critically acclaimed World War II Museum in downtown New Orleans on Saturday afternoon. Tickets and transportation included in biennial conference registration.

Presentation from Kenneth Hoffman, Executive Director of the Museum of the Southern Jewish Experience will speak on the journey to opening the new museum in downtown New Orleans, formerly housed at Henry S. Jacobs Camp in Utica, MS

Y.E.S. Fund Karaoke Mardi Gras Masquerade Party -- Saturday evening, wear your best costume and join us for a fun Mardi Gras evening, while we raise money for WRJ's Y.E.S. Fund!
Jazz Brunch Fundraiser (Biennial add-on) -- Join us for a traditional New Orleans Jazz Brunch at the famous Brennan's in the heart of the French Quarter, while we raise money for the Southwest District's Support Our Sisterhoods Fund (S.O.S.). S.O.S was created by Congregation Gates of Prayer Sisterhood of Metairie, LA to aid other sisterhoods with leadership scholarships and dues relief. Brennan's New Orleans, 417 Royal St. Transportation provided. Sunday, November 4, 12:00pm-2:00pm
Featured WRJ Guest:
WRJ Vice President of Affiliate Services,
Madi Hoesten
Sisterhood Kol Tikvah -- Coral Springs, Florida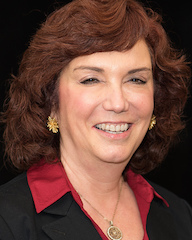 FAQs
What is included in the price of my registration?
In addition to all meals Thursday dinner through Sunday morning, your registration will also include exciting workshops, inspiring worship services, transportation and admission to the World War II Museum, Installation of the 2018-2020 WRJ Southwest District Board and Mardi Gras Masquerade Saturday night.


What are my transportation/parking options getting to the event?
We are excited to be in New Orleans for our convention, but parking can be a challenge. There is a parking garage connected to the hotel, but not owned by Doubletree, and current overnight parking rates are $30 per night. If you would prefer, Congregation Gates of Prayer in Metairie (20 minutes away) has offered their FREE parking lot for the weekend. Conference attendees may park at CGoP and then take a taxi, Uber or Lyft ($17 to the Doubletree) to the hotel. Uber and Lyft from the New Orleans Louis Armstrong Airport to the Doubletree hotel is $33.
How can I pay?

First, click the green TICKETS button above to register. Then, you will have the option to pay by credit card or by check.


Please note that all prices will include up to an additional 5% service fee surcharge for our online registration and payment system.


What is the refund policy?
On or before October 1, 2018, full refunds will be issued. For those registrations originally paid via credit card, a $54 administrative fee. will be assessed. For those paid by check, there will be a $36 administrative fee.

No cancellations after October 1, 2018 can be refunded.
Returned checks will have a $36 administrative fee assessed.


What if I have special needs or dietary restrictions?
When you register, there is a place to give that information. Please fill in that box in order to ensure a less-frustrating convention.
How can I support the WRJ Southwest District Biennial Convention?
The most important way you can support the Convention is by your attendance. We want to see YOU there!

You can also support the Convention by purchasing a Tribute Ad in our Program Book or contributing at a Sponsorship Level for the Biennial Conference. Purchasing your ad or contributing as a sponsor can be done by clicking the green TICKETS button above. All tribute ads and artwork is due by October 15, 2018 and emailed to: Phyllis Gregory at psg1973@gmail.com.
You can add one or more of these options within your conference registration, or simply mail a check to our WRJ Southwest District Convention Treasurer, Sue Berne, 5746 Holmes Street, Kansas City, MO 64110. Email: susanlberne@gmail.com.
If you have further questions, please feel free to contact:
Jennifer Daley, WRJ Southwest District, First Vice President and Biennial Convention Chair
Yael Sasley, Biennial Convention Coordinator
Susan Scharff, Local Arrangements Chair
Please note that all prices will include up to an additional 5% service fee surcharge for our online registration and payment system.