Description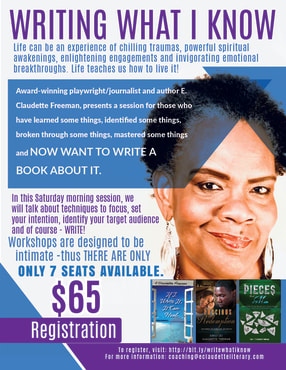 LIFE!
We all experience it.
For some, it has been an experience of trauma, distress and chilling occurrences.
For others, it has afforded the opportunity to powerful spiritual awakenings and emotional breakthroughs.
For all of us - life teaches us how to live it - hopefully, on our own terms.
WRITING WHAT I KNOW is the workshop for aspiring authors who have learned some things, identified some things, broken through some things, mastered some things and NOW - WANT TO WRITE A BOOK ABOUT IT.
In this Saturday morning session, we will talk about techniques to fully bring out your book's focus and intention; tailor it for your target audience, identify that target audience and of course - we will get some writing done!
Our workshops are designed to be intimate - thus THERE ARE ONLY 7 SEATS AVAILABLE.
Don't procrastinate! A book never gets written when you do.