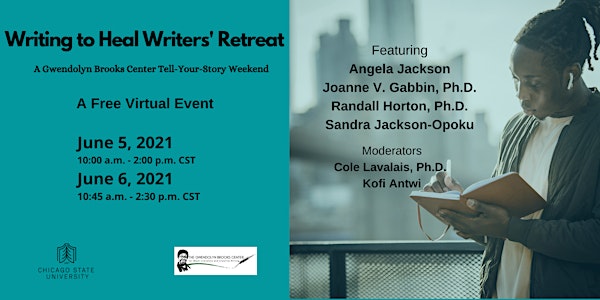 Writing to Heal Writers' Retreat A Gwendolyn Brooks Tell-Your-Story Weekend
CSU's Gwendolyn Brooks Center Writers' Retreat focusing on personal narratives and stories for healing.
About this event
About This Event
The Writing to Heal Writers' Retreat is an invigorating virtual experience, providing an opportunity to work with like-minded writers and master instructors over the course of two days. The focus of these guided sessions is to generate new poetry, fiction and nonfiction, using Gwendolyn Brooks, social justice and other life-impacting cultural topics as inspiration. Each day includes two workshops and a group "dare- to- share" breakout session. Each workshop and breakout session works as a standalone but if you join us for the entire event you'll discover threads which weave them together.
The Writing to Heal Writers' Retreat is a safe space where writers utilize virtual lectures and writing prompts to create new work that will be useful in your literary journey. Be a part of this exploration of the manifestations and curative properties of healing and self-expression through Black literature in the worlds of yesterday, today and tomorrow.
To participate you will need a quiet space and access to a computer with a camera and a microphone. All levels of writers and genres are welcome.
Tentative Schedule – Central Standard Time
Saturday, June 5, 2021
10:00 a.m. Opening by Cole Lavalais, Ph.D.
10:30 a.m. Angela Jackson
12:00 noon Joanne Gabbin, Ph.D.
1:00 p.m. Dare to Share moderated by Kofi Antwi
Sunday, June 6, 2021
10:45 a.m. Welcome by Cole Lavalais, Ph.D.
11:00 a.m. Randall Horton, Ph.D.
12:30 p.m. Sandra Jackson-Opoku
1:30 p.m. Dare to Share moderated by Kofi Antwi