Explore writing about trauma and emotionally charged personal stories and find your own voice, agency and healing.
About this event
*Workshop will be conducted on Zoom. Link to the Zoom meeting will be shared with registered participants before the workshop or click "View the Event" in your order confirmation.
The hard poem is the poem that deals with difficult subjects and deeply personal material that may seem too challenging to unpack in a poem. It is often, if not always, the poem no one wants to write but can be an empowering tool in finding voice, agency and healing. In this generative workshop, D. Colin pulls from her own work as well as exemplary work from other poets to explore writing about trauma and emotionally charged personal stories.
About D. Colin
D. Colin is a poet, actor, and visual artist living in Troy, NY. As a multidisciplinary artist, she aims to inspire, empower and educate through poetry, paint and performance and is passionate about cultivating space for stories, healing and community. She is the author of two poetry collections, Dreaming in Kreyol and Said the Swing to the Hoop. She is also a Cave Canem, VONA and New York State Writers Institute fellow with degrees in English and Africana Studies. Since 2016, D. Colin has been running Poetic Vibe, a weekly open mic voted best in the Capital Region in 2019.
For more information on D. Colin, visit: https://www.dcolin.com/
Special thanks to our Albany Book Festival Sponsors:
Premier: Bruce Piasecki & The Creative Force Fund
Presenting: Pernille Ægidius Dake; George and Kathleen McNamee; Renaissance Corporation of Albany; Charles Touhey and Alice Green; University Auxiliary Services
Supporting: Ellen Jabbur; Stuyvesant Plaza; Times Union
Friend: Laurie Bank and Stuart Freyer; The Book House of Stuyvesant Plaza/ Susan Novotny; A. Andrew Casano, MD & Bella Pipas; Bernard F. Conners Foundation; CDPHP; Fenimore Asset Management / FAM Funds; Doris Fischer Malesardi; The Foy Fund; Henry Greenberg; Paul and Mary Grondahl; Heslin Rothenberg Farley & Mesiti P.C.; William and Dana Kennedy; William & Mary Jean Krackeler; Betsy Lopez; Mackin & Casey; Modern Press; Jeffrey Pollard / Janney Montgomery Scott, LLC; Roberta and Bob Redmond; Mary Scanlan; Herb and Cynthia Shultz; Jim and Teresa Stellar; Steve McKee Foundation; UAlbany William L. Reese Emeritus Center Three Voices Grant Program
For more information on the Albany Book Festival, visit: https://www.albanybookfestival.com/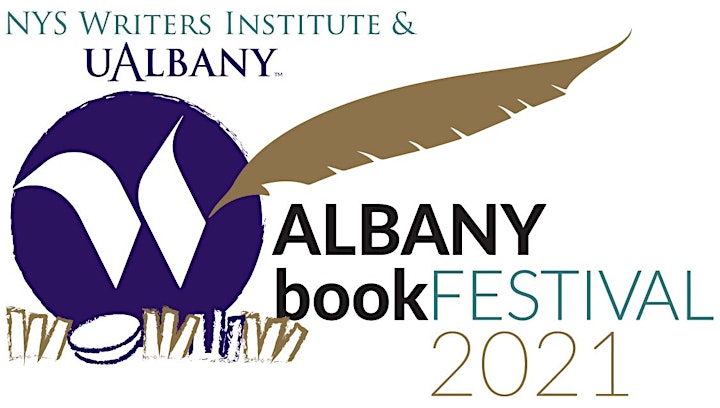 Organizer of Writing the Hard Poem with D. Colin
The New York State Writers Institute, based at the University at Albany, has brought more than 2,000 acclaimed writers and filmmakers to Albany for readings, lectures, book signings, and panel discussions. The state-funded non-profit organization encourages residents in the Capital Region to attend its events and help it fulfill its mission to enhance and celebrate literature, writing, and performance, and to recognize the position of writers as a community within the larger community.