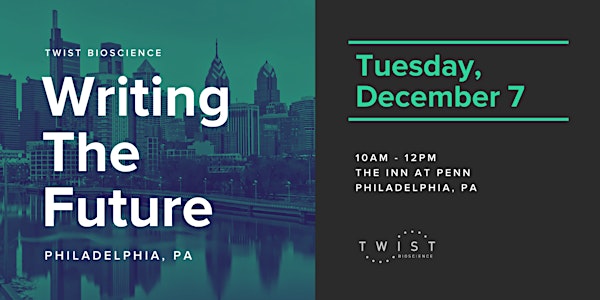 Writing The Future: Philadelphia, PA
The WRITE Call for NGS Diagnostics
When and where
Location
The Inn at Penn, a Hilton Hotel 3600 Sansom Street Philadelphia, PA 19104
About this event
Hybrid capture sequencing allows scientists to focus on genomic regions of interest and simultaneously interrogate hundreds thousands of targets, with applications in cancer biomarker detection, viral evolution monitoring and more.
Join us to hear from experts in the field to learn how they are optimizing their sequencing workflows and tuning their panels to maximize sensitivity and sequencing efficiency.
You'll learn how:
Interpace Diagnostics is combining unique molecular identifiers with hybrid capture to maximize mutation detection sensitivity in pancreatic precancerous neoplasia patients.
The Children's Hospital of Philadelphia (CHOP) are using whole exome sequencing and improvements in disease identification to make innovative associations between biological entities, determine important biomarkers and correlate them to diseases, physiology and phenotypes.
Researchers are moving from sample to sequencer in a single day using Twist's faster solution to hybridization.
Twist Custom Panel design allows scientists to truly focus on their regions of interest without compromising on sequencing uniformity and data quality.
Speakers:
Renata Pellegrino da Silva, PhD | Laboratory Director, Center for Applied Genomics (CAG) | The Children's Hospital of Philadelphia (CHOP)
Dr. Sydney Finkelstein | Chief Scientific and Medical Officer | Interpace Diagnostics
Alan J. Fox | Field Application Specialist | Twist Bioscience