Event Information
Refund policy
Contact the organizer to request a refund.
Eventbrite's fee is nonrefundable.
Goddess Storytelling Workshop: Honoring the Divine Feminine Art of Storytelling.
About this event
This sacred Goddess Gathering invites women to come together to share their own sacred stories with the Goddess! It is so important to take the opportunity to use this cosmic gateway to anchor in the Goddess Energy, to celebrate the Goddess, and to honor the divine feminine art of storytelling.
Radhaa will start with a Sarswati Goddess Activation to ignite and open our hearts, activate confidence and creativity. Goddess Saraswati is the Goddess of learning, speech, and creativity. After the transmission, we will move into fireside storytelling, where each woman gets a chance to share HER story. It is so important to express women's voices, experiences, and love affairs with the Goddess in her many forms and faces. This is a powerful transmission for everyone joining, bringing in sisterhood and healing on the deepest levels.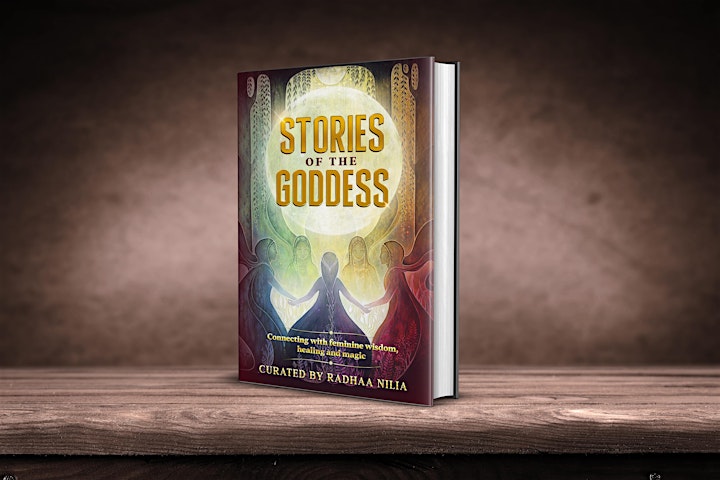 Receive:
Saraswati Goddess Activation
Fireside Storytelling
Sisterhood Connection
Opportunity to contribute to "Stories of the Goddess" book.
Your Host: Radhaa Nilia is the curator of the Awakening Starseeds Book series. She is a multimedia artist, coach, healer, teacher. She works with women to activate their inner Goddess, heal their heart and soul wounds to find their higher purpose at Goddess Code Academy™: A mystical school for the divine feminine that provides certification programs and teaches Radhaa's original healing modality called Goddess Activations™. Radhaa is the founder of Radhaa Publishing House and a contributing writer for various online magazines such as Huffington Post, Elephant Journal, and Splash Magazine. To find Radhaa go to:
www.RadhaaNilia.net
www.GoddessCodeAcademy.com
About "Stories of the Goddess" Anthology:
The Goddess is Divine, completely unlimited, and Eternal. She knows herself well and is fearless in the face of challenges. She trusts herself fully and believes in her strength to move through the many cycles of her life as Maiden, Mother, and Crone. This collaborative book is dedicated to HER.
We are looking for you to share your teachings, writing, miracles, healings, poems, experiences that relate to The Goddess, Wild Woman, Womb Healing, Conscious Awakening, Moon Circles, Ascension, Crafts, Alternative and Progressive Education, Medicine, Business, Famous Goddesses, Philosophy, Sacred Rituals, Spirituality, Wisdom about the World, Women Rising, Ancestral Healing, Prayers, and things that relate to the Goddess.
This Anthology is all about women taking up space, being seen and heard, using precious talents, knowledge, wisdom, healing, rituals, and offerings to create change, impact, and betterment in the world. The collaborative book with women worldwide will inspire others to RISE and transcend the pain of our past into Goddess wisdom.
You will receive a $597 voucher to be a part of this Goddess Anthology by joining this workshop. But the workshop is a stand-alone event that honors the Goddess in her many forms, through many voices.
Thank you so much! Radhaa Nilia and the RPH Team.
Date and time
Location
Refund policy
Contact the organizer to request a refund.
Eventbrite's fee is nonrefundable.