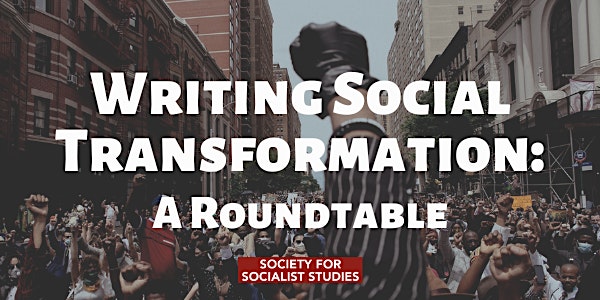 Writing Social Transformation: A Roundtable
Please join the Society for Socialist Studies in a roundtable discussion of the lessons and challenges of "Writing Social Transformation."
About this event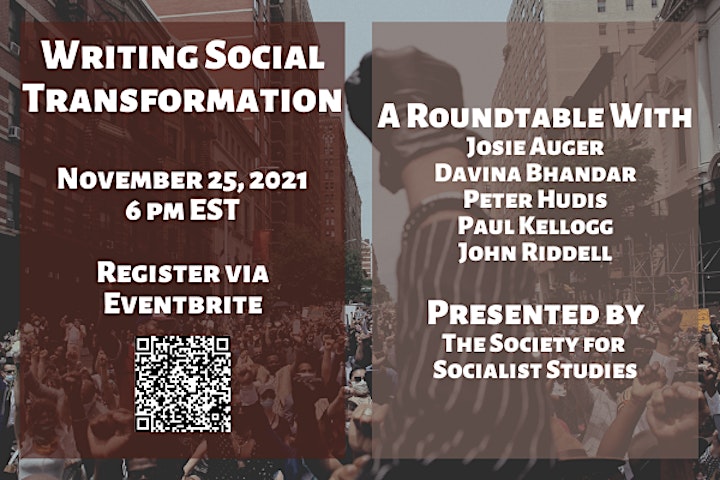 Every generation is confronted with the challenge of social transformation – the attempt to challenge oppression and exploitation in multiple forms. Today these include colonialism, climate change, capitalism and imperialism. This roundtable brings together authors whose research has examined both the issues which animate the need for social transformation, as well as the dynamics of movements for social transformation. The authors will reflect on the lessons and challenges they have experienced in "Writing Social Transformation", discuss some of the core arguments of their work, and make some observations as to the relevance of those arguments for contemporary events.
Roundtable participants:
Josie Auger – author of My People's Blood: Indigenous Sexual Health Recovery (2014)
Davina Bhandar – co-editor, Unmooring the Komagata Maru: Charting Colonial Trajectories (2020)
Peter Hudis – author of Marx's Concept of the Alternative to Capitalism (2012) and Frantz Fanon, Philosopher of the Barricade (2015).
Paul Kellogg – author of Truth Behind Bars: Reflections on the Fate of the Russian Revolution (2021).
John Riddell – editor of The Communist International in Lenin's Time (multiple volumes) and co-author of Clara Zetkin, Fighting Fascism: How to Struggle and How to Win (2017)
To Access the Event:
After registering, you can access the event a number of ways:
1. If you have an eventbrite account, you can view your tickets by selecting "My Tickets" from the dropdown menu at the right-hand side of the webpage. Select this event, then to the right-hand side select "View Links" then "Zoom Access"
2. If you do not have an eventbrite account, please following the instructions above, but by following the "View and manage your order online" link at the bottom of your registration confirmation email.
3. All registrants will be emailed 24 hours, then 1 hour before the beginning of the event with a direct link to the Zoom session. If you register less than one hour before the event, please email Megan at membershipsocialiststudies@gmail.com if you would like a direct link sent.
If you have any other questions about accessing the event, please email Megan at membershipsocialiststudies@gmail.com.
About the Society for Socialist Studies
The Society for Socialist Studies (SSS) is an association of progressive academics, students, activists and members of the general public. Formed in 1967, the Society's purpose is to facilitate and encourage research and analysis with an emphasis on socialist, feminist, anti-racist and ecological points of view.
This event is free for all, but we do ask that you consider becoming a member of the Society. Please visit our website, here, for more information on membership.