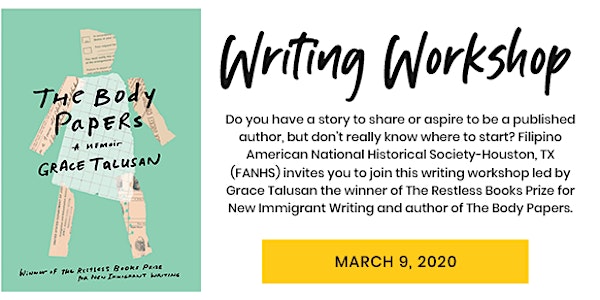 Writing Our Stories: True Stories Inspired by Papers and Photographs
Event Information
Location
Impact Hub Houston
1801 Main St, 13th Floor
Houston, TX 77002
Writing Our Stories: True Stories Inspired by Papers and Photographs
About this event
Do you have a story to share or aspire to be a published author, but don't really know where to start?
Filipino American National Historical Society-Houston, TX (FANHS)co-hosted with Impact Hub Houston, invites you to join this writing workshop led by Grace Talusan the winner of The Restless Books Prize for New Immigrant Writing and author of The Body Papers.
This 90-minute generative writing workshop is open to all backgrounds, including those who are exploring writing for the first time, as well as aspiring writers who want to publish their work. We will generate and share new writing from the photographs and papers of our lives, images and documents that hint at a larger story that an official form alone can't tell.
What story does this piece of paper tell? What is outside the frame of the photo?
We will write the stories of these papers and photographs into existence. You will practice a writing and feedback process that you can continue after the workshop.
Participants Should Bring:
your favorite writing tool (notebook or laptop)
a photograph, image, or document from your life. Examples of documents include a diploma, a passport or other identification, a pay stub, or a letter (if you don't have anything, just look for an image on your phone)
***
-SCHEDULE-
CHECK-IN REGISTRATION: 6:30 p.m.
WRITING WORKSHOP : 7:00 p.m. sharp
***
PARKING INFORMATION:
Metered parking is available in the surrounding areas and is FREE starting at 6PM. Surface lots are also available within one block from the Amegy Building, on Fannin Street and Travis Street. If you work in midtown or downtown, we encourage you to take the MetroRail and hop off at the Downton Transit stop which is at the intersection of Main and St. Joseph's.
Visit Us: http://houston.impacthub.net/visit/
BUILDING ACCESS:
Due to construction, please enter the building from the Jefferson Street entrance. Check-in with the guard in the lobby and take the elevator up to the 13th floor.
***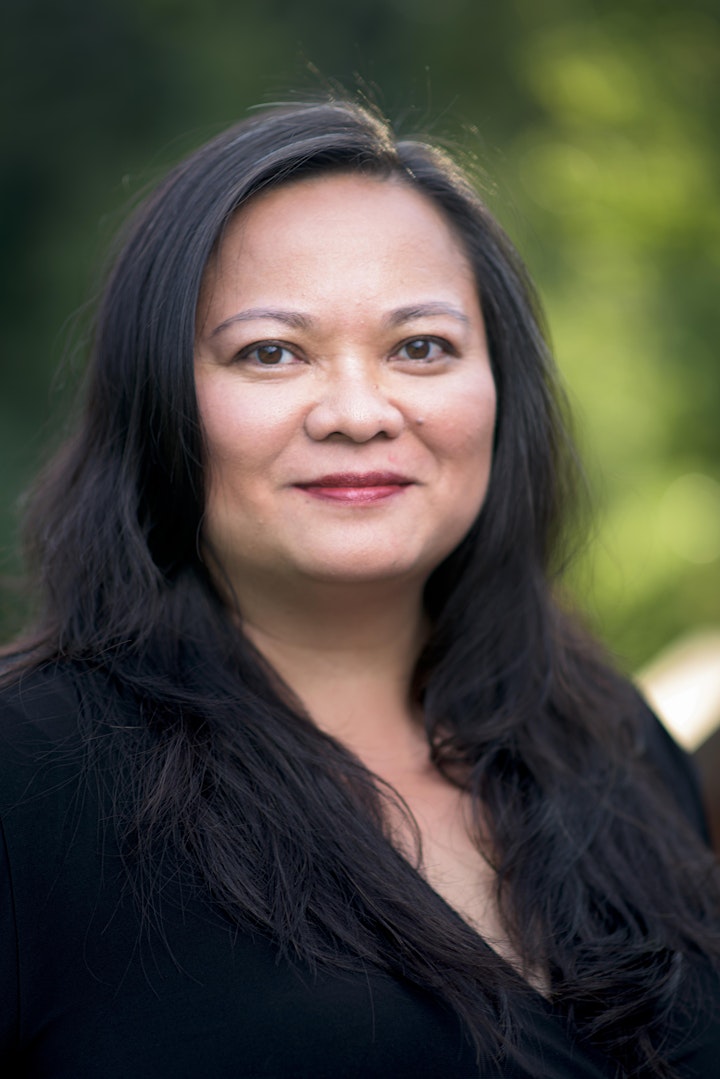 Grace Talusan was born in the Philippines and raised in New England. She graduated from Tufts University and the MFA Program in Writing at UC Irvine. She is the recipient of a U.S. Fulbright Fellowship to the Philippines and an Artist Fellowship Award from the Massachusetts Cultural Council. Talusan is the Fannie Hurst Writer-in-Residence at Brandeis University. She is a longtime member and teacher at Grub Street. The Body Papers, winner of the Restless Books Prize for New Immigrant Writing, is her first book. For more, go to http://gracetalusan.com/
"Grace Talusan writes eloquently about the most unsayable things: the deep gravitational pull of family, the complexity of navigating identity as an immigrant, and the ways we move forward even as we carry our traumas with us. Equal parts compassion and confession, The Body Papers is a stunning work by a powerful new writer who—like the best memoirists—transcends the personal to speak on a universal level. "
—Celeste Ng, author of Little Fires Everywhere
Date and time
Location
Impact Hub Houston
1801 Main St, 13th Floor
Houston, TX 77002