Description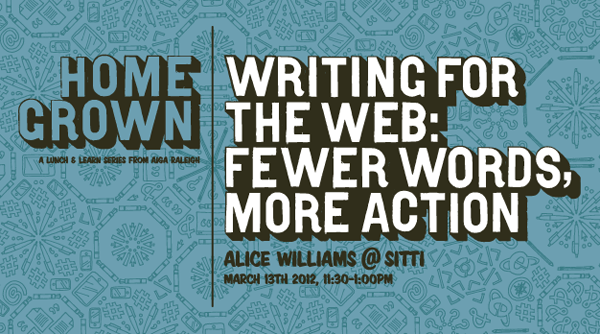 If you're reading this, you're probably a designer, which means you're more likely to express yourself visually than with words. That also means attending a writing workshop is probably not your first choice on how to spend a perfectly good Tuesday lunch.
But wait! What if we told you that today's designers are destined to become web writers? True – you may not feel comfortable with words, but neither do most web audiences! These days, communicating verbally is part of the job description for all of us. Let Alice Williams show you how to communicate what your next web visitor wants to know as painlessly as possible – for both of you. Listen, have a nice lunch, make friends with fellow designers – and maybe even cozy up to words. All in all, it's not too bad for a Tuesday lunch.
Watch this video from Alice. And j
oin us for the next AIGA Homegrown* Lunch & Learn series event on March 13th.
Connect with Alice before the event

(

@StratChick or email) and let her know what you'd like to learn about writing for the web.
Lunch includes your choice of appetizer:
•hummus
•fattoush
•baba ghanouj
Your choice of entree:
•chicken kabob
•beef shawarma
•falafel & vegetables
•sitti rice
Desert: Baklava
Beverages: Iced tea and water
Seating is limited so register today!

* So, what is Homegrown? It's a Lunch & Learn series from AIGA Raleigh.
Things change fast in our industry, and it's important for us to grow our non-traditional design skills. This monthly lunch series brings local, "homegrown" experts together with designers for an intimate, indepth discussion of different skills or topics that will help designers add a few skills to their toolbox. Homegrown is your opportunity to have lunch with the smartest people in town.
Organizer of Writing for the Web: Fewer Words, More Action | AIGA Homegrown Series