Description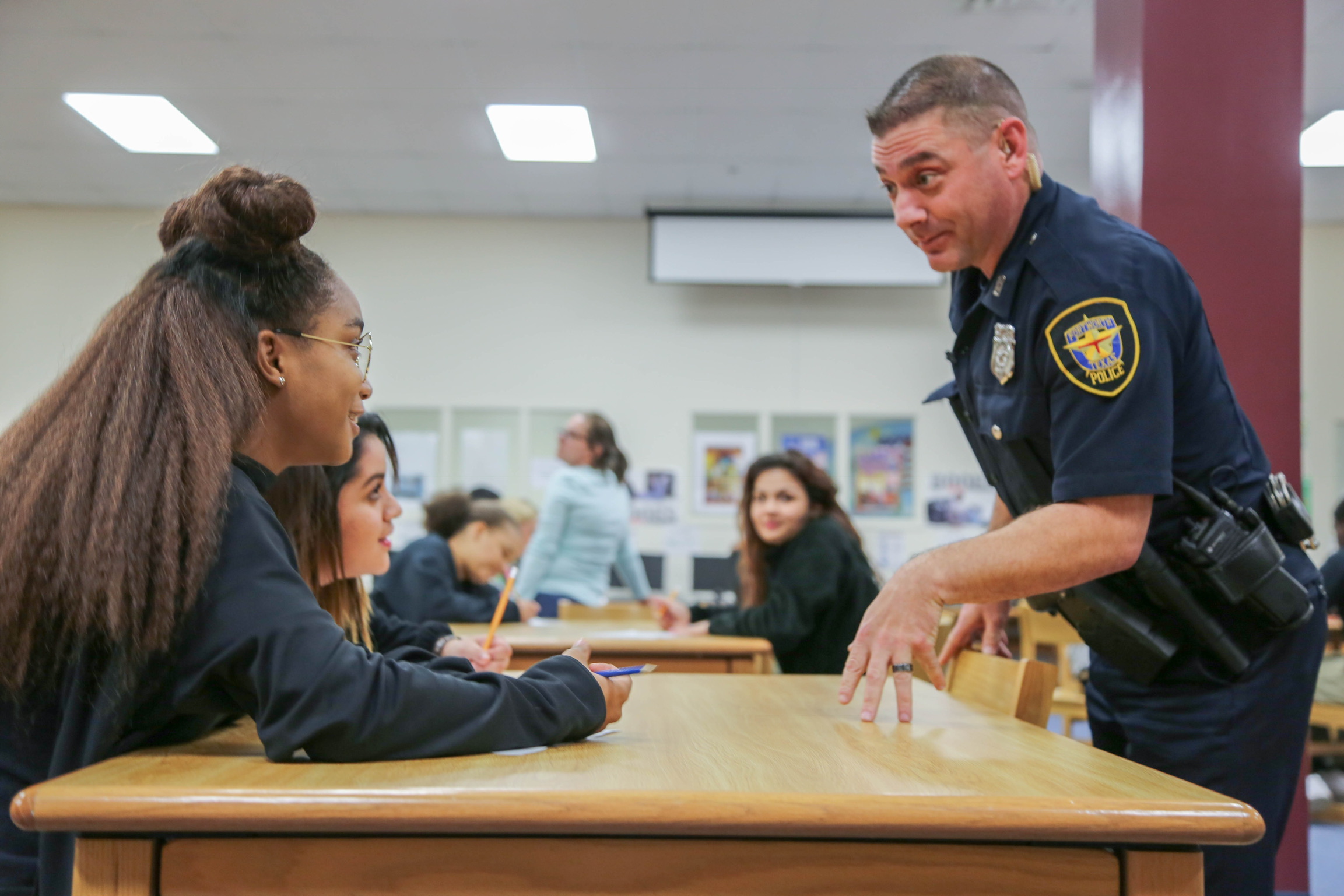 Above, is a picture from our Writing for the Soul Workshop ™ at Metro Opportunity High School. We challenged the students and Fort Worth Police Officers to share their individual stories. Sharing our experiences allows others to "walk a mile in our shoes" and better understand the lens by which we gauge the effectiveness of our police and our own personal safety. During certification, you will have the option for your story to be published in the book, Walk a Mile In My Shoes. Set for release Summer 2017.
This is just one way our Writing for the Soul Workshop™ program is helping youth in Fort Worth to deal with challenges in their community. What challenges do the individuals you serve face in your community? Whether you are looking to offer our program to individuals with behavioral issues, to improve academic success, peer support, ministry or even to the disabled -we customize it to fit your mission and vision for those you serve.
Your successful completion of our certification program is required for your organization to be a Certified Provider of Writing for the Soul Workshop™. We call our ceritification program: A.P.R.I.L.© (Accelerated Program for Readiness, Interaction and Leadership.)
A.P.R.I.L.© contains the required processes, training and procedures your organization needs to execute while providing Writing for the Soul Workshop™, and maintain your Certified Provider status.
A.P.R.I.L.© was designed to drive success as your organization identifies, trains, and develops your support staff for Writing for the Soul Workshop™ ensuring consistent, continued success for your participants.
Our core program philosophy is based on the fact that powerful emotions have a powerful voice; and that when we get what is on the inside out, we make amazing breakthroughs in gaining control of those feelings. Once we control those emotions, we can harness their power.
After harnessing this power, we then empower participants with an array of tools and resources. Our Writing for the Soul Workshop™ Curriculum walks participants through an entirely new set of skills, from editing to marketing to sales skills, participants learn about writing and publishing; and at the same time, start making forward thinking choices, rejecting bad habits, and changing their behavior based on a different perspective for the future.
Depending on your participants, this shift in thinking and behavior can mean reversing or avoiding things like poor school performance, behavioral issues in school or at home, and potential criminal activities.
Who is certification for?
1. Schools
2. Nonprofits
3. Churches
4. State Agencies
5. Advocates
6. Home Schoolers
7. Community Leaders
This event will be facilitated online by Eric L. Jones, Sr., creator of Writing for the Soul Workshop ™. It is important to note that our program is a source funding vehicle for your organization. Your participants will have the option to publish their content. These books are distributed around the world. Program Providers recieve a portion of book sales. Need more info? Contact us at: 682.235.TGIM (8446).