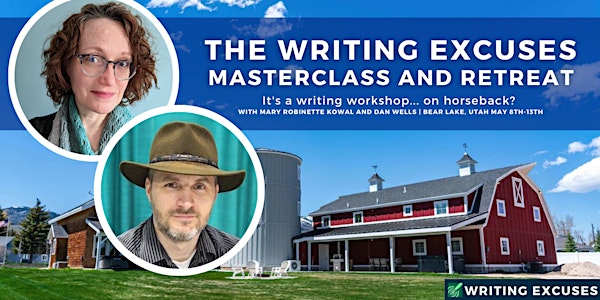 Writing Excuses Workshop and Retreat: Bear Lake
Writing Excuses hosts Mary Robinette Kowal and Dan Wells teach writing workshops at Bear Lake in Utah, May 8th-13th.
Refund Policy
Contact the organizer to request a refund.
About this event
Join Mary Robinette Kowal, Dan Wells, Mikki Helmer, and our dedicated Trail Guide, Montana, to learn all about riding, caring for, and writing about horses at "Riding Excuses!" Montana will bring us to her ranch to walk us through her stables, show us how to feed and care for the horses, and even hold a live ferrier (blacksmith) demonstration--plus, every attendee will have the chance to go on two horseback rides: one on a trail and one on a beach. We want to give you all the tools and experience you need to write about horses as accurately as possible, for your fantasy, historical, and other fiction. To expand our animal curriculum even further, we will have a falconry expert visit us to give a live demonstration and answer questions.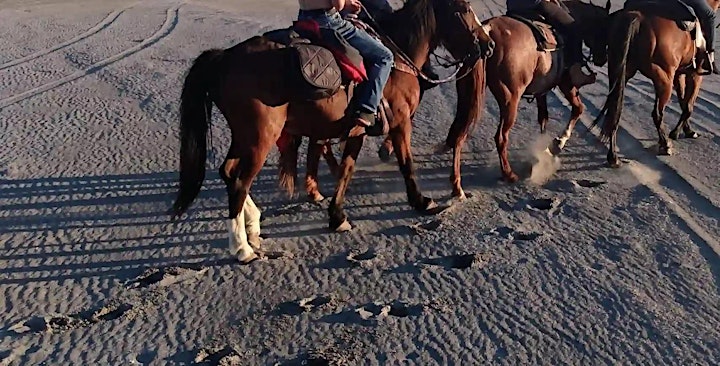 This is a 6 day retreat that will include workshops, beautiful scenery, and dedicated writing time. You'll also be able to get feedback from instructors during one-on-one office hours and small group critique sessions.
We will be staying in bunkhouse style accommodations; please see below for more details and accessibility. All meals are included in the price, but transportation to Salt Lake City is up to you to arrange. Once in Salt Lake, we will have a shuttle to bring everyone to Bear Lake. If you wish to drive yourself directly to Bear Lake, let us know upon registration and we will provide you with the address.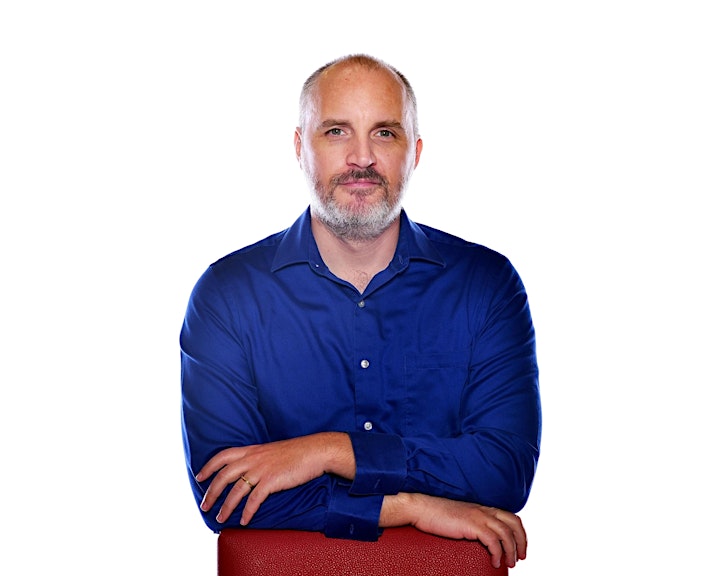 New York Times bestselling author Dan Wells is best known for his horror series I AM NOT A SERIAL KILLER, of which the first book is now an award-winning movie. His most recent work is THE ZERO CHRONICLES, an audible-only best-selling middle grade science fiction series. His other novels include THE HOLLOW CITY, EXTREME MAKEOVER, and two science fiction series: PARTIALS and MIRADOR. He cohosts the Hugo-winning podcast Writing Excuses, which has expanded to include its own writing conference, WXR. He has written for television and the stage, writes short fiction and game fiction, edited the anthology ALTERED PERCEPTIONS, and is a professional gamemaster for online RPGs. Dan lives in northern Utah with his wife, 6 children, and more than 450 board games. Visit his website here.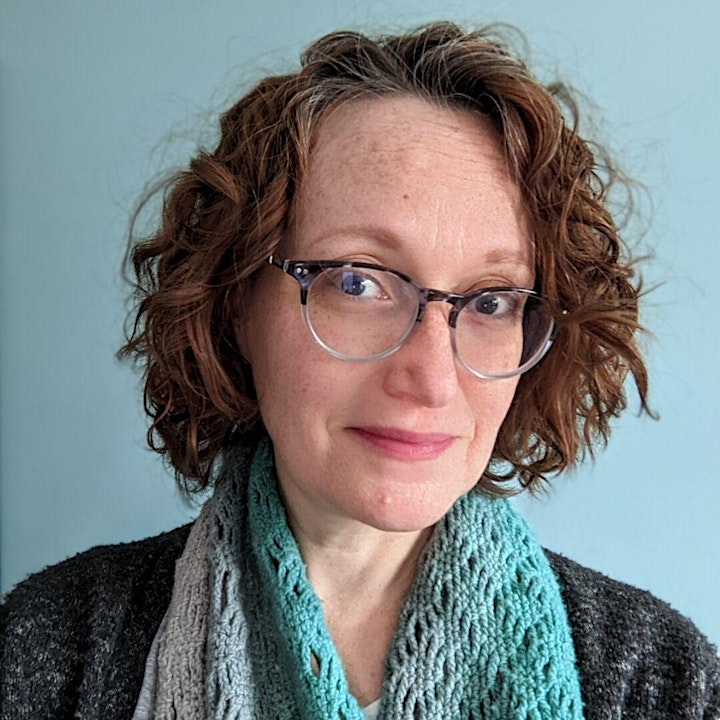 Mary Robinette Kowal is the author of the Lady Astronaut duology and historical fantasy novels: The Glamourist Histories series and Ghost Talkers. She's a member of the award-winning podcast Writing Excuses and has received the Astounding Award for Best New Writer, four Hugo awards, the RT Reviews award for Best Fantasy Novel, the Nebula, and Locus awards. Stories have appeared in Strange Horizons, Asimov's, several Year's Best anthologies and her collections Word Puppets and Scenting the Dark and Other Stories.
Her novel Calculating Stars is one of only eighteen novels to win the Hugo, Nebula and Locus awards in a single year. As a professional puppeteer and voice actor (SAG/AFTRA), Mary Robinette has performed for LazyTown (CBS), the Center for Puppetry Arts, Jim Henson Pictures, and founded Other Hand Productions. Her designs have garnered two UNIMA-USA Citations of Excellence, the highest award an American puppeteer can achieve. She records fiction for authors such as Seanan McGuire, Cory Doctorow and John Scalzi.
Mary Robinette lives in Nashville with her husband Rob and over a dozen manual typewriters. Visit her website here.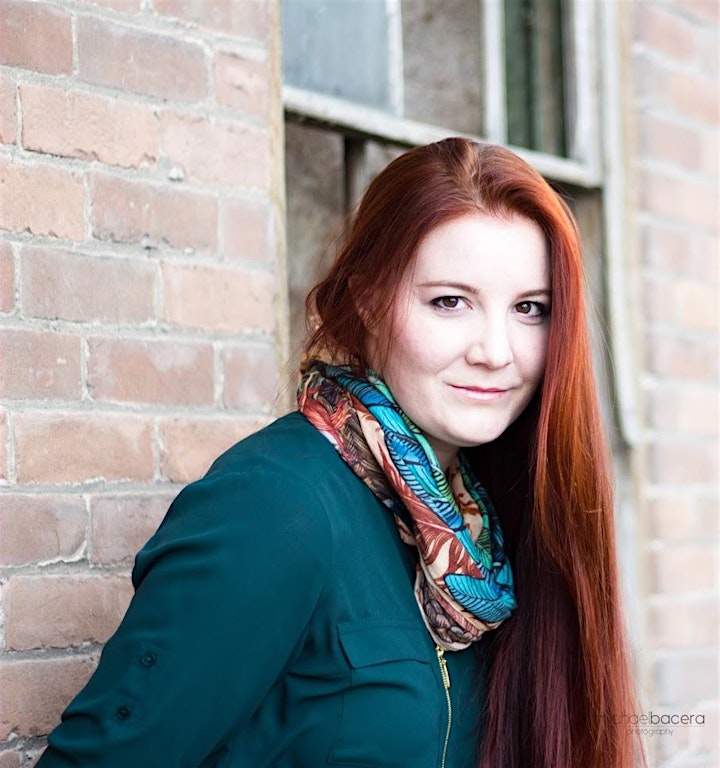 Mikki Helmer is both a writer and a rider. She spends her nights crafting fantastical stories and her afternoons bowing to the demands of her beloved horses. Her interests in fantasy, science fiction, and the paranormal developed from a childhood of imaginary exploits and continues to influence her professional career. She resides in central Utah. Check out her website here.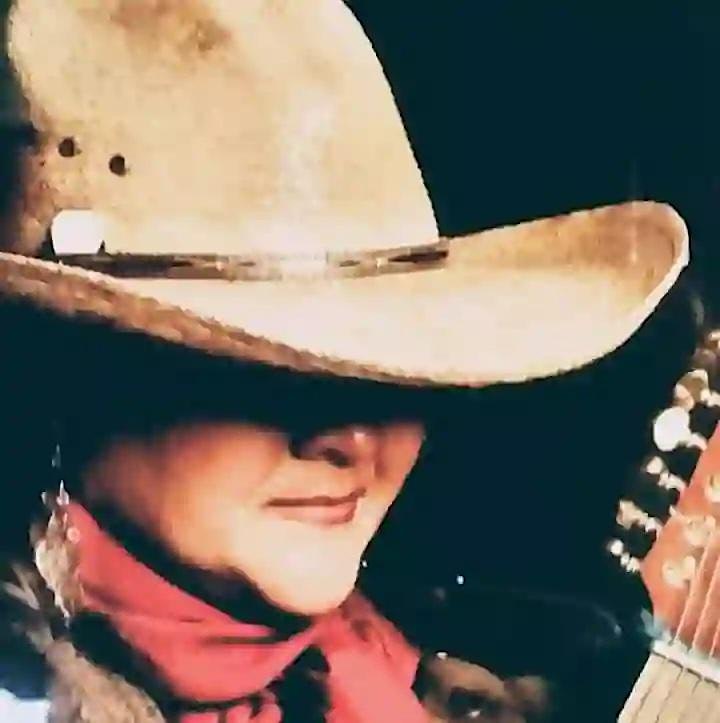 Montana is a dedicated Trail Guide who has had the good fortune of transforming her passion for the mind and the works of a horse, traveling, and working with people, into a successful career. She has guided clients from all over the world on tours both locally and abroad. Her mission is to show a different side of the world to her clients, and to help them gain a Zest, passion, and a true, forget about all stressors, mind set for the moments we ride in another world…
Montana will be taking the group on two rides, one on a trail and the other on the beach! She will also be coming onsite for lessons and workshops. Check out more about her work and what she does here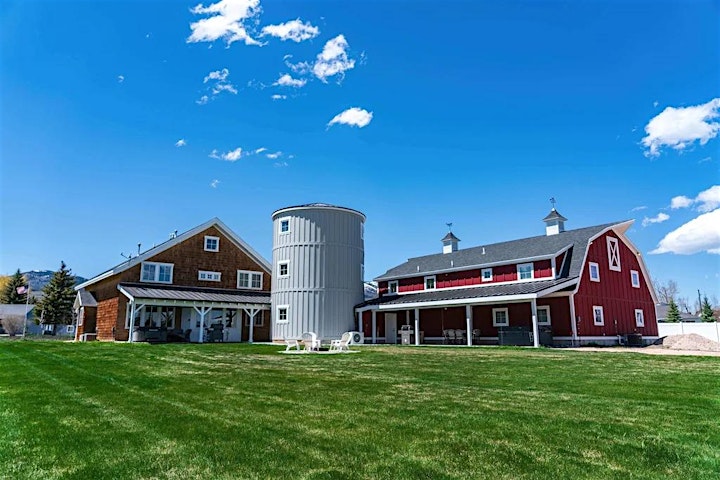 Breakout Sessions
Participants will be able to sign up for a limited number of breakout sessions, critique groups, or one-on-one discussions with our instructors, Mary Robinette Kowal and Dan Wells. There is no additional charge for these, but we may not be able to accommodate everyone with their first choice. The breakout sessions typically include:
6-member critique groups: Members will submit novel or short-story excerpts up to 3000 words for critique by the group as well as one of the instructors. (Please note that this means you are committing to critique the stories of the other group members.)
Unlocking sessions: These small group sessions are places to brainstorm with a group about your writing project or process. Unlocking sessions in the past have included discussion on everything from how to make time to write to the intricacies of a specific magic system.
"Office Hours": There will be designated times that the instructors are available for individual drop-in sessions to cover those questions that come up mid-retreat. This is excellent for some one on one time with the instructors!
Accommodation
All classes, workshops (except for the two horse rides), and sleeping arrangements will be at a VRBO rental cabin in Bear Lake, Utah. The cabin sleeps in mostly bunkhouse style and you will be sharing rooms of 4 to 6. If you need a ground floor accommodation because of a mobility device, please let us know. If for any reason you cannot use a top bunk please reach out so we can plan for that as we make room assignments.
When you register, please indicate if you are an early to bed or late to bed person and we will do our best to group you accordingly.
From VRBO listing: Rosemary Grove is a beautiful haven to bring your group and make lasting memories. This resort is perfectly built for extended family, friends, a corporate retreat, weddings, or a luxurious couples getaway. We're nestled right in the heart of Garden City, Utah, walking distance to the beach, Raspberry Square, and Garden City Pond with the Garden City bike path right outside the door.
Sample room picture below and more pictures at end of page.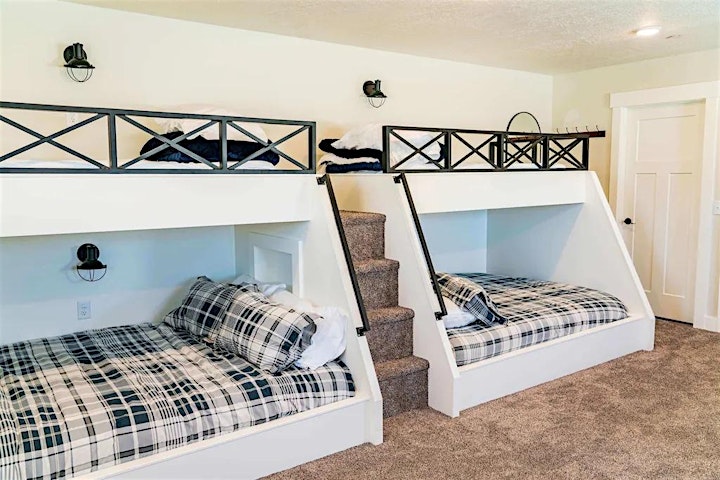 Accessibility
The ground floor of the Cabin is fully accessible and has accessible sleeping rooms. For riding, please send in any barriers it might present for you. We are working on an option for any who cannot ride astride the horse so you can have the full experience at the retreat.
The access policy of Writing Excuses follows the Social Model of Disability. This regards barriers to the full participation of disabled people as the fault of society (and more immediately we as the organizers), not the 'fault' of the person with a disability. We further reject any negative value placed on a person because of their disability, or indeed on their disability. Disability isn't good or bad, it just is. Please respect our disabled members by engaging in neither negative stereotyping (eg 'If I was you I'd kill myself' or 'I'd rather be dead than in a wheelchair) nor pity ("I'll pray for you to be cured') - many disabled people do not want to be cured and regard their disability is a fundamental part of their identity.
Additionally, please note that person-first language ("person with disability") is not the universally preferred form of address for disabled people. Many prefer the Social Model and 'disabled person'. Please treat the appropriate form of address for disabled people as you would treat preferred pronoun usage, by asking for their preferred form of address and using it.
Harassment Policy
Writing Excuses is dedicated to providing a harassment-free conference experience for everyone, regardless of gender, gender identity and expression, sexual orientation, disability, physical appearance, body size, race, age, or religion. We do not tolerate harassment of conference participants in any form. Event participants violating these rules may be sanctioned or expelled from the event without a refund at the discretion of the conference organizers.
Harassment includes offensive verbal comments related to gender, gender identity and expression, sexual orientation, disability, physical appearance, body size, race, age, religion, sexual images in public spaces, deliberate intimidation, stalking, following, harassing photography or recording, sustained disruption of talks or other events, inappropriate physical contact, and unwelcome sexual attention. Participants asked to stop any harassing behavior are expected to comply immediately.
Instructors, staff, volunteers, and family members are also subject to the anti-harassment policy.
If a participant engages in harassing behavior in person or online, the event organizers may take any action they deem appropriate, including warning the offender or expulsion from the event with no refund. If you are being harassed, notice that someone else is being harassed, or have any other concerns, please contact a member of event staff immediately.
We expect participants to follow these rules at all venues and social events.
Refund Policy
Note: Refunds do not include Eventbrite fees.
Full Refund until March 31st
50% Refund from April 1st - April 7th
25% Refund from April 8th - April 24th
No Refunds after April 24th
If you contract COVID within two weeks of the event, we will offer a refund with proof of a positive COVID test.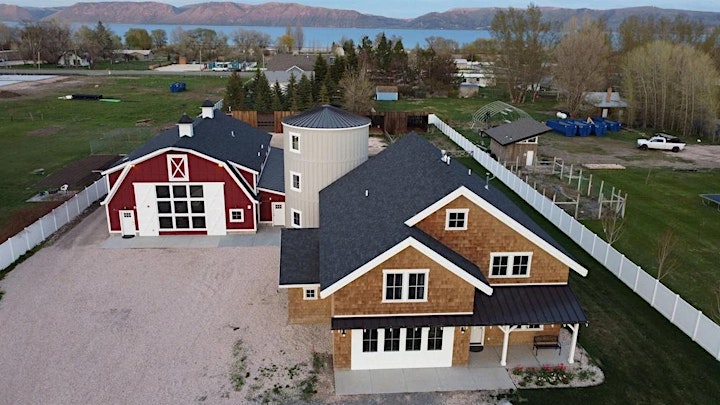 Covid Policy
This retreat requires proof of vaccination and testing within 24 hours of arrival. We will also have tests available onsite. Masking is encouraged but due to the shared nature of the accommodations, please be aware that it will not be possible to be masked at all times. We will have air purifiers running to try to improve the air quailty.
We will have an isolation space available if anyone begins to feel poorly onsite and all sessions will be streamed and/or recorded so you can still participate as much as possible.
Arrival Details
Bear Lake is just over 2 hrs away from Salt Lake City (the main airport hub). Here are the options for getting there.
Drive on your own
Meet at a hotel near the SLC airport we designate and catch a ride with us
Meet at a hotel near the SLC airport we designate and caravan with us in your own vehicle
Have more questions? Our FAQ will be updated shortly but until then, you can also message with at "Contact the Organizer"
Scholarships
This year, as always, we are offering scholarships: two for Bear Lake and four for the Alaskan cruise*. Half of the scholarships for each event will be awarded to those in financial need, and half will be awarded to writers of color. Both categories have introduced us to some incredible writers in the past, and we can't wait to see who we get to meet this year. Share this post with everyone you know, read the rules carefully, and apply!
Information and Entry Rules
Each scholarship offers full tuition, $500 of travel expenses, a bed in a shared room, and hotel expenses in the destination city for one night before the event. Because the food on each retreat is free, this covers essentially all your expenses for the week, though depending on the flights you arrange, you might need to cover some of the travel yourself.
You may apply to either scholarship, but not to both—even if you qualify for both. Your application can count for both Bear Lake AND the cruise, so you don't have to choose between them: we will assign each winner to one of the retreats (you will have the option upon application to specify one or both).
These scholarships are very popular, and get a lot of applicants, so please read the instructions carefully and follow them exactly; incomplete applications will be disqualified.
Application
To apply, please prepare the following scholarship package and submit it via the google form.
Scholarship Documents
There will be two documents to upload as part of the application. The first is a single PDF file containing your personal essay and your letters of recommendation. The second document should be your writing sample.
1. Personal Essay & Letters of Recommendation
The document should be sent as a PDF: [Name of Scholarship]-[Your Name]-essay
a. Examples:
Out of Excuses Scholarship-Jane Doe-essay.pdf
Writer of Color Scholarship-John Doe-essay.pdf
b. A Personal Essay: A 450-700 word personal essay explaining why you are a good candidate for the scholarship. What makes you unique? What can you bring to our group that no one else can? Keep in mind that even as we focus on "need," the panel will also be reviewing your writing in terms of "merit."
c. Letters of Recommendation: Three brief letters of recommendation (no more than 300 words each) from people who are not your relatives: friends, bosses, people from your writing group, or anyone who can tell us exactly how awesome you are. Please note that we would like all three letters to be included in the scholarship package, and not to be emailed individually; we've had too many letters go astray, and we want to give you the chance to personally make sure every aspect of your scholarship package is complete before submitting it. If you have a concern with this, please contact Dawn at writingxcuses@gmail.com.
2. Writing Sample
A single document in either document format (.docx, .doc, or .rtf only) or PDF, saved as [Type of Scholarship]-[Your Name]-writing-sample
a. Examples:
Out of Excuses Scholarship-Jane Doe-writing sample.doc
Writer of Color Scholarship-John Doe-writing sample.docx
b. Writing Samples: A brief example of your writing, consisting of 1-3 separate pieces and totaling no more than 5,000 words. These can be short stories or novel excerpts. Don't feel obligated to fill the word count: if you can wow us in less, more power to you.
Again: make sure to send everything in one submission or your application will be disqualified!
Please review your application several times or have a friend or family member review it for you, because we will reject applications on technicalities, just like an editor or publisher would. We would much prefer to read your awesome writing and give you a scholarship.
You may apply for the scholarship anytime between now and midnight PST, February 28th. We will contact the winners on March 30th and announce them officially on April 3rd**. That gives applicants one month to get their packets ready, gives us a month to review, and a month before the first retreat.
If you have any questions regarding the scholarship, please email Dawn at writingxcuses@gmail.com.
Scroll to the end after the pictures to read through the Scholarship Q&A.
*While at this time the Alaskan cruise retreat is not available to buy tickets for, we will be announcing it shortly.
**Dates for the announcement of the scholarship may have some slight fluctuation, we will do our best to give the winners as much time as possible between the announcement and the start of the first retreat.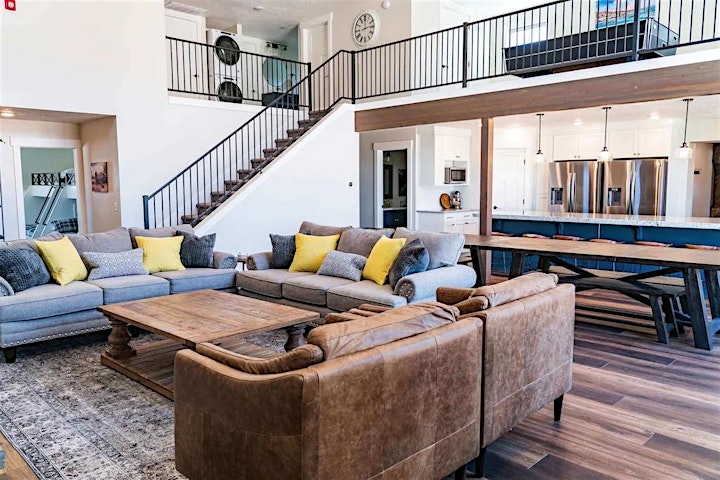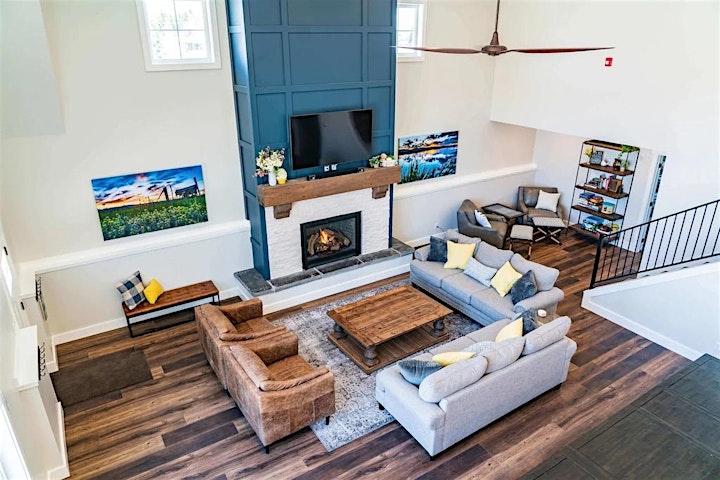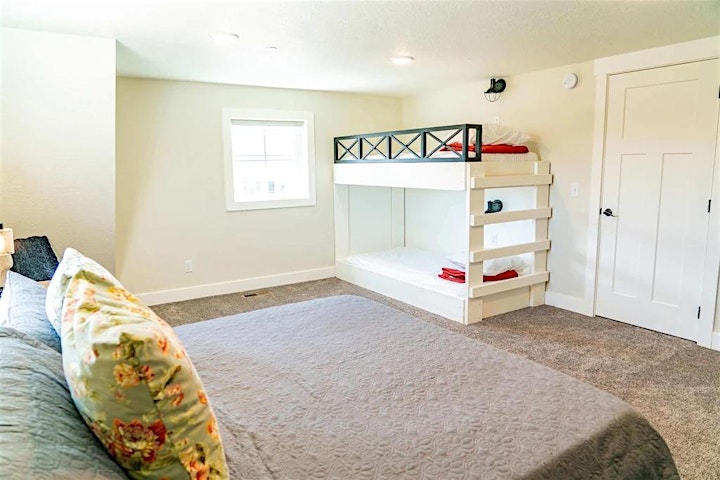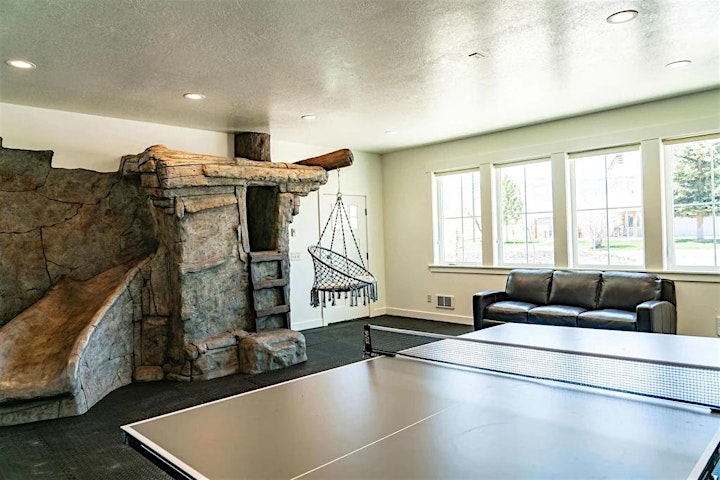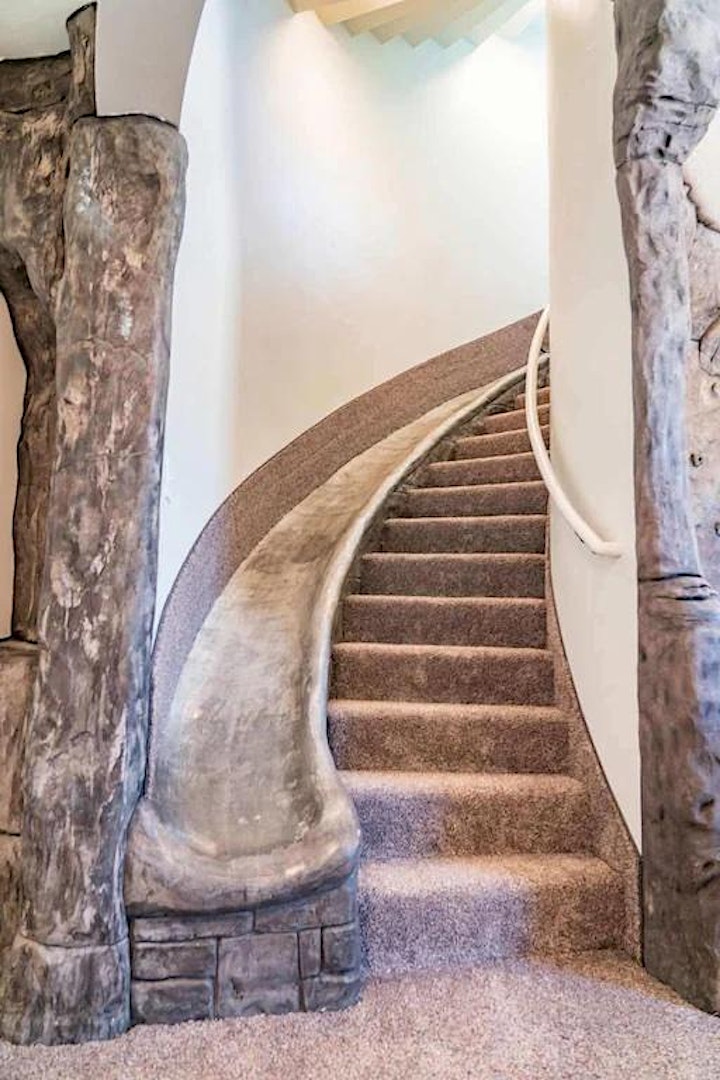 Scholarship Q&A
FAQ:
Q: What do the Letters of Recommendation need?
A: Think of this like a college entry application letter. Have your recommenders tell us why you are the best candidate for this scholarship. They can point out what they think might be relevant to the decision that the committee would otherwise not know. The letters help us round out the picture for each candidate.
Q: Do I need famous people or industry professionals to recommend me?
A: Absolutely not. The status or prestige of the recommenders is not really a factor; they can be international bestsellers or they can be college roommates.
Q: Do you have any specific formatting requirements?
A: Other than what's listed above, no. You can use whatever typeface or point size you like, as long as it looks professional and is easy to read. No glitter, weird colors, blinking text, etc.
Q: Are the scholarships open to anyone?
A: Provided you meet the basic qualifications, yes. We welcome writers from any country anywhere in the world, though remember that a) the classes will be taught in English, and b) the scholarships only cover $500 of travel, so anything beyond that you will need to cover yourself.
Q: But what if I'm already published?
A: Apply anyway. The way this industry works, it's entirely possible to be published and talented and still poor and unsuccessful (spoiler warning). But the things you learn and the contacts you make on our retreat can still help in that situation, and we're not going to disqualify anyone just because their first break wasn't a smashing success.
Q: But that doesn't sound fair to the rest of us.
A: You're competing against all of these people in the real world anyway, every time you submit a book or story for publication, and this is no different. Your writing has to be the very best it can be no matter what you're trying to do with it. But we're confident that you are up to the challenge, so do your best and knock our socks off. We believe in you!
Q: Ah, but what if I know one of you personally? THAT's got to disqualify me, right?
A: Not at all, though it does change the way we read and rank the applications. As soon as one of our judges realizes that they know an applicant in real life, they pull themselves off of that application and send it back to us. We strip that application of identifying info and send it out to new judges, completely blind, to get their unbiased opinion. The final decisions are made by people who do not know who the applicants are. We take this seriously, and strive to keep the process as fair and balanced as possible.
Q: Okay, so remind me of the basic qualifications again.
A: The financial need scholarships: if you can't afford the scholarship on your own, you qualify. The writer of color scholarships: if you're a person of color who writes, you qualify.
Q: What about kids? Can I win the scholarship as a teenager?
A: Teens are welcome on the cruise and in the classes, but will need to be accompanied by an adult (who will have to pay their own way, as the scholarship only covers one person). If you have questions, please contact Dawn at.
Q: The description of the scholarship says it comes with a "shared occupancy room." What does that mean?
A: On the cruise, you'll have a roommate; in Bear Lake, you might share a room with four or five other people. If you know someone else on the retreat, you can let us know and we can probably put you together, but otherwise the assignments are made at random, and you will make a new best friend.
Q: How can I contribute to the scholarship fund?
A: The easiest way is through our Patreon. We have a pledge level specifically designed for scholarship donations, and of course you are always allowed to pledge more than the recommended minimum.
Q: If I apply to the scholarship and don't get picked, will there still be time to buy a ticket?
A: We discourage this for two reasons: first of all, no, there might not be time to buy a ticket. Some years we sell out incredibly quickly, and people who wait often end up out of luck. We always try to get more rooms on the cruise, but it's not always possible. Second of all, if you can afford to just buy a ticket, go ahead and buy a ticket, so we can give the scholarship to someone who can't. That said, we recognize that there's a difference between "I can afford this no problem" and "I can afford this but it will be a very painful sacrifice." If you're among the latter, you are welcome to try for the scholarship first and buy a ticket later if you don't get picked; we will not look down on you at all, and we'll do everything we can to make the retreat worth it.
Q: I sent in my application, but I'm not sure it arrived and/or I got an automated response saying it was too late and/or something else happened and I want to be sure we're cool. What do I do?
A: Email Dawn at writingxcuses@gmail.com. She can look through the inbox and tell you for sure whether your application arrived safely.
Q: I have a question not covered in this FAQ.
A: Email Dawn at writingxcuses@gmail.com. If you post the question online (whether here or on Facebook or on Patreon or wherever), there is no guarantee that we will see and answer it quickly.