Writing and Assembling a Competitive SBIR or STTR Proposal

Monday, August 26, 2013 from 3:00 PM to 5:00 PM (PDT)
Event Details
TriTech SBIR/STTR Workshop Series
SBIR/STTR workshops are designed to provide attendees with the tools and information they need to write more competitive SBIR and STTR proposals.
TriTech SBDC retains counselors with experience with the SBIR/STTR application process, who can provide you with guidance in assessing your company's eligibility, identifying funding opportunities, registering your company in the necessary electronic systems, and structuring your research proposal. Along with your primary TriTech counselor, TriTech SBIR/STTR counselors can guide you in creating a strategy for using SBIR/STTR funds to accelerate the growth of your company.
To obtain a referral for SBIR/STTR counseling, talk with your primary TriTech counselor, or contact us at http://www.tritechsbdc.org/.
TriTech SBDC
TriTech Small Business Development Center (SBDC) works with high technology, rapid growth companies that have a very high impact on their local economies. TriTech offers consulting in areas such as identifying capital resources, commercializing new technologies, marketing products and services, and becoming investor ready. TriTech's mission is to make a measurable economic impact for the business community by increasing the profitability of enterprises. Economic growth depends upon entrepreneurs translating ideas and innovation into viable commercial enterprises.Most importantly TriTech provides expert business counseling, value added referrals, meaningful workshops and events all at no cost to the entrepreneur!
(NEW!) Writing and Assembling a Competitive SBIR or STTR proposal - Workshop #2
If you are two months or less from your grant deadline OR if you have written a proposal in the past, and want to improve your grant-writing skills, this half-day seminar should help you refine and improve the proposals you write, now and in the future.
This half-day workshop is designed to help you organize your writing process, to make it as efficient as possible, and to make sure that the technical reviewers understand why your proposal is responsive to the solicitation, why it is innovative and why it should be among the small number of proposals that are funded.
We will focus on agencies with deadlines that occur in the next two months, and address topics such as the following:
How to read the solicitation and decide what information belongs in which section of the proposal
How to structure the proposal, decide on page limits before writing the proposal
How to structure the general objective, specific objectives and the workplan
Dealing with intellectual property issues
How to decide the level of detail needed in the technical background section
Budget basics - direct costs, indirect costs, "fee"
Commercialization plans for Phase I and Phase II proposals
Analysis of successful SBIR Phase I proposals
Who should attend: CEO's, CSO/CTO's, and other senior scientific/technical staff of US-based Small Business Concerns who are considering writing an SBIR or STTR grant proposal, and who have identified one or more federal Solicitations or Requests for Proposals that may be appropriate for their small business. The deadline for submission of these proposals should be less than 2 months away. Preferably, you have attended the workshop Grant Writing Skills, Part 1.
This is a workshop! Bring a laptop and/or other tools that allow you to write outlines or sections of your proposal.
Facility notes:
            - Strongly desired to have internet access for workshop participants. If that is not possible for particular venues, please advise the workshop leader, so that workshop participants can download required forms prior to the workshop.
            - Need projector, computer hookup for workshop leader presentation, demo.
            - Optimal setting is one in which each participant has a desktop and access to electrical outlet.
            - Half-day (3h); can be followed by half-day consulting and/or group Q&A session
            - Maximum number of attendees at single workshop: 20. (A lot of one-on-one interaction is anticipated).
This workshop is designed to help the SBIR or STTR applicant create a proposal for the Department of Defense in which the technical and program reviewers can readily understand why your proposal is responsive to the solicitation, why it is innovative and why it should be among the small number of proposals that are funded.

Speaker: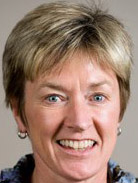 Molly B. Schmid, Ph.D. - TriTech SBDC
Molly B. Schmid, Ph.D. is Vice President of the Inland Empire network of the Tech Coast Angels and a member of the TCA Board of Directors. She has specific expertise in early stage biotechnology companies, stemming from her own roles in scientific management, project leadership, and business development in three biotechnology companies. Her career has been about equally split between academia and industry. Most recently, she was Professor and Entrepreneur-in-Residence at Keck Graduate Institute of Applied Life Sciences and Adjunct Professor at the Drucker School of Management in Claremont CA, where she taught courses in drug discovery and entrepreneurship, and chaired the intellectual property committee.
Light appetizers and beverages will be served.

Parking
Parking is available in the Engineering Parking Structure, which is located on the corner of East Peltason and Anteater Drive. Entrance into the Engineering Parking Structure is on Anteater Drive. Please visit http://www.parking.uci.edu/maps/imap.cfm to view a campus map for more information.
Parking permits are required 24 hours a day, 7 days a week, and parking regulations are enforced. Short term parking permits may be purchased from the vending machine located on East Peltason Drive between Campus Drive and Pereira Drive. Long term parking permits can be purchased from the main parking office between 8:00 a.m. to 5:00 p.m. Monday through Friday.
Parking permits must be displayed in the windshield at all times. The automated kiosk in Lot 16 takes $1 and $5 bills and all coins except pennies. Parking is $2 per hour or $10 for all day.
Have questions about Writing and Assembling a Competitive SBIR or STTR Proposal?
Contact OCTANe
When & Where

Colloquia Room
2430 Engineering Hall
Irvine, CA


Monday, August 26, 2013 from 3:00 PM to 5:00 PM (PDT)
Add to my calendar
Organizer
Website:http://www.octaneoc.org/organizer/octane-2/