Humanities Guåhan welcomes poet, editor and award-winning storyteller, Teresita Perez, for our next Art + Ideas workshop!
About this event
Second Draft: Learning to "Listen" to What Others Are Writing
FREE Two-Part ONLINE Writers Workshop:
Saturday, July 11 - 10:00 a.m. to 12:00 p.m.
AND
Saturday, July 18 - 10:00 a.m. to 12:00 p.m.
*Open to participants 18 years old and over in Guam, the Marianas and Micronesia
*Registration is required and spots are limited
In light of multiple calls for submissions that are circulating for Pacific writers, the workshop, Second Draft, comes at an ideal time to re-envision your work from multiple reader viewpoints and to learn to navigate those perspectives.
This two-part workshop will help you find a balance between a variety of reader expectations and your own wishes and goals for your writing enabling you to produce a second draft of your text. You will interact with Ms. Perez and other writers through small breakout groups and larger group discussion.
This workshop will help you prepare your writing for submission to local and regional publications such as Detours Guåhan, Queernesia: An Anthology of Indigenous Queer Oceania, Storyboard: A Journal of Pacific Imagery and other regional Pacific publications. You will also get a chance to hear from representatives from Detours Guåhan and Queernesia on their upcoming calls for submissions and publications.  
Teresita Perez is the award-winning re-teller of CHamoru Legends: A Gathering of Stories, published by the University of Guam Press, and the lead editor of Local Voices, a FestPac2016 anthology. She is the president of Ta Tuge' Mo'na, a Guam nonprofit organization that supports literary communities in Guam and contributes to the development of a written literary tradition that expresses local and regional perspectives. Perez teaches academic writing at the University of Guam.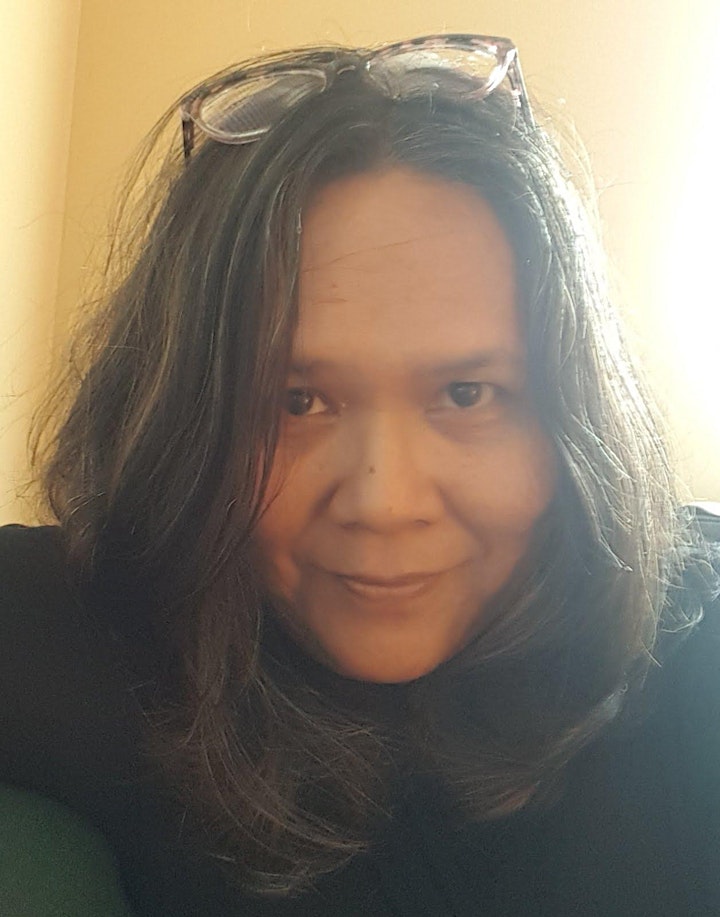 Upcoming Publications & Calls for Submission: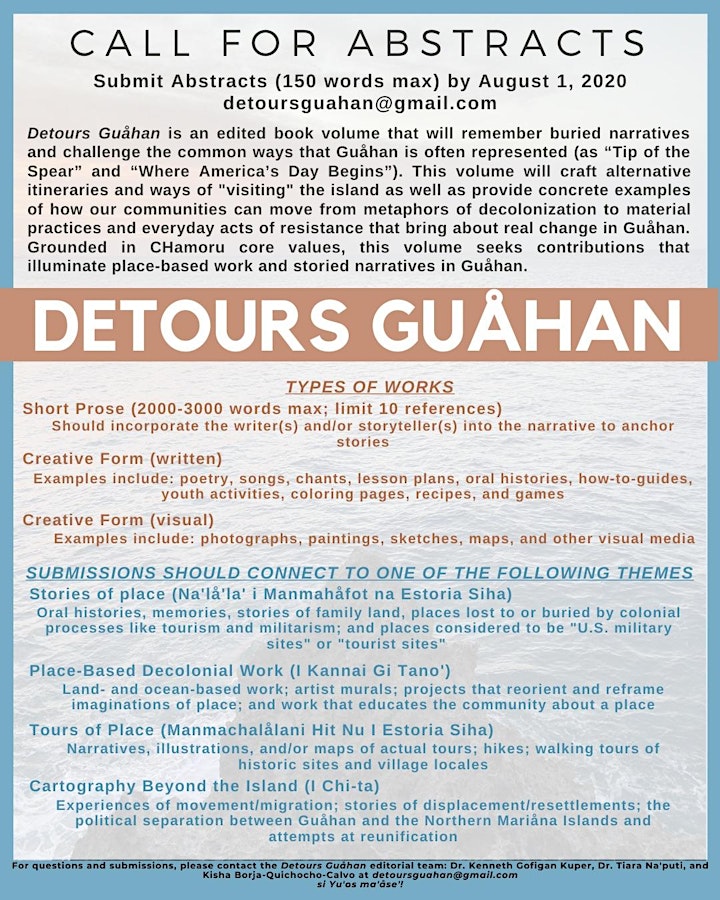 WORKSHOP REGISTRATION REQUIRMENTS
Participating in Second Draft will require one act of preparation on your part: upon registering for the workshop, please email a copy of a first draft of a piece of writing that you are considering for publication to:
info@humanitiesguahan.org
with the subject line "Second Draft [Your Name]"
Your draft may be sent as either a Word or PDF document and must be fewer than 3,000 words. You may choose an excerpt of a longer piece or several short works. Your registration will only be confirmed upon receipt of your first draft, at least 3 days before the first workshop.
The use of a computer and a reliable internet connection is required, and participants are encouraged to find a quiet space for the duration of the workshop.
Click the green button above to register!
This workshop is part of Humanities Guåhan's Art + Ideas series. Stay tuned for future Art+Ideas workshops!
Art+Ideas explores the intersection of the creative arts—filmmaking, the visual and performance arts, traditional art making, poetry, creative nonfiction, culinary arts—and the humanities. Through an ongoing series of immersive and experiential workshops, along with readings, conversations and presentations with students, teachers, scholars, writers, artists, chefs and the larger public, Humanities Guåhan will engage our community around timely topics and ideas relevant to Guam and the Asia-Pacific region through creative and artistic forms of expression and interpretation.
Workshops will take place online in accordance with social distancing guidelines during the COVID-19 pandemic.
Art+Ideas is supported in part by a grant from the National Endowment for the Arts, The Guam Council on the Arts and Humanities Agency, Government of Guam, and the Office of the Governor.
Organizer of Writers' Workshop: Second Draft with Teresita Perez
At Humanities Guåhan, we foster community engagement and dialogue, inspire critical thinking, celebrate diversity and enrich lives by presenting and supporting public humanities programs for the people of Guam. Humanities Guåhan is an independent nonprofit organization affiliated with the National Endowment for the Humanities.