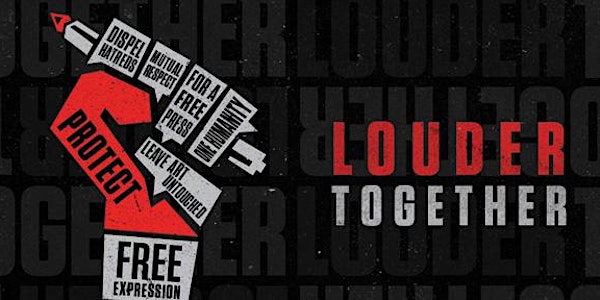 Writers Resist: #Louder Together
When and where
Location
New York Public Library 5th Ave at 42nd St New York, NY, NY 10018
Description
Stand with PEN America to defend free expression, reject hate crimes and uphold truth in the face of lies and misinformation!


WRITERS RESIST: Louder Together for Free Expression is a literary protest on the steps of the New York Public Library's Schwarzman Building at 42nd St. that will bring together hundreds of writers and artists and thousands of New Yorkers on the birthday of civil rights icon Martin Luther King, Jr. American poet laureates Robert Pinsky and Rita Dove will each offer hope and inspiration with "inaugural" poems.
FEATURING: Meena Alexander, Indran Amirthanayagam, Laurie Anderson, Moustafa Bayoumi, Erin Belieu, Amy Brill, Rosanne Cash, Alexander Chee, T Cooper, Michael Cunningham, Eisa Davis, Mónica de la Torre, Alex Dimitrov, Rita Dove, Charlotte Druckman, Melanie Dunea, Eve Ensler, Storm Ervin, Jeffrey Eugenides, Angela Flournoy, Masha Gessen, Allison Glock, Amy Goodman, Jeff Gordinier, David Haskell, Tom Healy, A.M. Homes, Brad Hoylman, Siri Hustvedt, Mary Karr, Michael Klein, Jaime Manrique, Colum McCann, Jill McDonough, Rick Moody, Honor Moore, Morley, Kathleen Ossip, Robert Pinsky, Robert Polito, Maria Popova, Francine Prose, Kevin Prufer, Sofia Quintero, Jason Reynolds, Jess Row, Esmeralda Santiago, Hirsh Sawhney, Bob Shacochis, Brenda Shaughnessey, Deborah Solomon, Andrew Solomon, Art Spiegelman, Terese Svoboda, Craig Teicher, Charlie Vazquez, Jonathan Wells, Meg Wolitzer, Zachary Wood, Jacqueline Woodson, Monica Youn, Emanuel Xavier, Peter Zilahy and more to be announced.
Our PARTNERS include: Arts & Democracy, Asian American Arts Alliance, Authors Guild, Bowery Poetry, Bronx Writers Center, Cave Canem, Center for Fiction, Community of Literary Magazines and Presses, Courage Campaign, Daily Kos, Dennin Arts Management, Dramatists Guild of America, Free Press, New York Writers Coalition, Revolution Books, Theater Communications Group, The Nation, The New School Creative Writing Program, The Other Stories Podcast, Tin House, and Words Without Borders.
WRITERS RESIST: #LouderTogether FAQ
What time should I arrive?
Please arrive at 1:45pm.
How long will the rally go?
We expect the formal program of readings will begin at 2:00pm and run for a little over an hour. Thereafter those who wish to will march down to Trump Tower to present our First Amendment petition.
How many people do we expect?
We have over 1,500 online RSVPs. We anticipate this will be a well-attended event.
What about the cold?
The current forecast is for a high of 39 degrees and partly cloudy. Please come prepared for cold weather. We will have coffee and hand/foot warmers. If you get chilled you will be able to go inside the library to warm up.
What about restrooms?
The library will be open and we can use the facilities there.
What are the security arrangements?
We are working with the local NYPD precinct who will ensure adequate police presence.
Will there be a Livestream?
Yes, on Facebook.com/penamerican.
What's the hashtag?
#LouderTogether
Where can I get more information?
https://pen.org/writersresistnyc
Can I invite people?
You can invite anyone – please do continue to spread the word and use this link: writersresistnyc.eventbrite.com.
Sign the free expression pledge!
After the readings and performances, a group of PEN America leaders and any who wish to join will walk the blocks to Trump Tower together to present PEN America's free expression pledge on the First Amendment signed by over 110,000 individuals to a member of the President-elect's team. We are confident the reading at the library and the subsequent march, as two distinct but powerful events to uphold free expression and human rights for all, will be powerful.
---

Join a National Campaign:

Poet, feminist activist, and VIDA co-founder, Erin Belieu, launched WRITERS RESIST to inspire a unified vision for the future of Democracy. WRITERS RESIST events are planned in NYC, Houston, Austin, New Orleans, Seattle, Spokane, Los Angeles, London, Zurich, Boston, Omaha, Kansas City, Jacksonville, Madison, Milwaukee, Bloomington, Baltimore, Oakland, Tallahassee, Newport, Santa Fe, Salt Lake, and Portland (Oregon AND Maine) and many other cities.