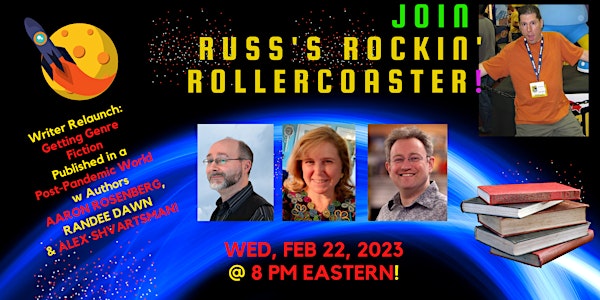 Writer Re-Launch: Getting Genre Fiction Published in a Post-Pandemic World
Host Russ Colchamiro interviews authors Aaron Rosenberg, Randee Dawn & Alex Shvartsman about adjusting to a post-pandemic publishing world
About this event
AARON ROSENBERG is an award-winning, #1 bestselling author. He has written original novels and short stories, tie-in fiction, children's books, educational books, and roleplaying games. Aaron is a founding member of Crazy 8 Press and lives in New York.
RANDEE DAWN is a Brooklyn-based entertainment journalist who scribbles about the glam world of entertainment by day, then spends her nights crafting wild worlds of fiction. Her debut novel, Tune in Tomorrow, about a fantastical TV reality show, published in August (Solaris). She writes about the wacky world of show business for Variety, The Los Angeles Times, Emmy Magazine and Today.com and is the co-author of The Law & Order: Unofficial Companion.
ALEX SHVARTSMAN is the author of other 120 short stories, published in Analog, Nature, Strange Horizons, and elsewhere. He won the WSFA Small Press Award for Short Fiction in 2014 and was a two-time finalist (2015 & 2017) for the Canopus Award for Excellence in Interstellar Fiction. His political fantasy novel Eridani's Crown was published in 2019. His translations from Russian have appeared in F&SF, Apex, and Samovar. Alex has edited over a dozen anthologies, including the long-running Unidentified Funny Objects series, and is the editor-in-chief of Future Science Fiction Digest. He resides in Brooklyn, NY.
RUSS COLCHAMIRO is the author of Crackle and Fire, Fractured Lives, and Hot Ash, the first three novels in his ongoing Sci-Fi noir series featuring hardboiled private eye Angela Hardwicke. He is currently working on the fourth Hardwicke novel.
A member of Crazy 8 Press, Mystery Writers of America, and Private Eye Writers of America, Russ is also the co-author and editor of the noir novella collection Murder in Montague Falls, editor of the Sci-Fi mystery anthology Love, Murder & Mayhem, has contributed short stories to more than fifteen anthologies, including various Hardwicke mysteries, and is the author of the Sci-Fi adventure novels Crossline, Finders Keepers, Genius de Milo, and Astropalooza.
Russ also hosts his popular Russ's Rockin' Rollercoaster podcast, interviewing a who's who of science fiction, crime, mystery, and horror authors.
He lives in Northern New Jersey with his wife, two ninjas, and black lab, Jinx, who may be an alien herself.