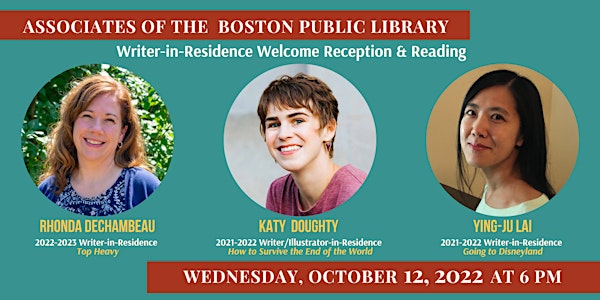 Writer-in-Residence Welcome Reception & Reading 2022
Celebrate Associates of the Boston Public Library Writers-in-Residence Rhonda DeChambeau, Katy Doughty, and Ying-Ju Lai!
When and where
Location
Boston Public Library - Abbey Room 700 Boylston Room Boston, MA 02116
About this event
Please join us for a reception welcoming the 2022-23 Associates of the Boston Public Library Writer-in-Residence, Rhonda DeChambeau, and celebrating outgoing 2021-22 Writer/Illustrator-in-Residence Katy Doughty, and 2021-22 Writer-in-Residence Ying-Ju Lai. The authors will read from their respective manuscripts and reflect on their writing journeys. A reception with the authors will follow.

Rhonda DeChambeau, of East Bridgewater, Massachusetts, has been selected as the 2022-2023 recipient of the Associates of the Boston Public Library Writer-in-Residence annual fellowship. She writes for children and young adults, and her projects span from picture books, novels for middle grade readers, and poetry, to young adult novels. Family connections are at the heart of almost all of the stories she tells. When she isn't writing, Rhonda works as a human resources professional for the Department of Veterans Affairs. She has a degree in English from Harvard University, and she graduated in 2019 with her Masters in Fine Arts in Writing for Children and Young Adults from Vermont College of Fine Arts. Rhonda is a lifelong Massachusetts resident, where she lives with her husband and two kids.
Rhonda's proposed young adult novel, Top Heavy, features fifteen-year-old Esme, a powerful dancer who feels like she's going to capsize under the weight of her own chest. Told in verse, this book will examine heart-wrenching teenage struggles with body image, money, a fractured friendship, and threats to hard-fought dreams.

Katy Doughty of Medford, Massachusetts, just completed her year as the 2021-22 Writer/Illustrator-in-Residence. After receiving her BFA in Illustration from the Rhode Island School of Design, she moved to the Boston area, where she works as a research coordinator at Massachusetts General Hospital. Her work has been published in The Nib, The Lily, and Womanly Magazine. She has a particular interest in the intersection of research, storytelling, and art. Katy is also a Master of Public Health candidate at Boston University, as well as an ESOL teacher.
Katy spent the year writing and drawing her nonfiction young adult graphic novel, How to Survive the End of the World, which deals with the potential of an extinction level event for humanity. It weaves together perspectives from the fields of biology, engineering, geology, religion, and astronomy, taking the reader on a reflective, hopeful and humorous journey that examines various "end of the world" scenarios.
Ying-Ju Lai, of Brookline, Massachusetts, just completed her year as the 2021-2022 Writer-in-Residence. Ying-Ju grew up in Taipei, Taiwan, before moving to New England for college. She earned a BA in Psychology from Wesleyan University and a MFA in creative writing from Boston University in 2014. She works as a project manager at Harvard T.H. Chan School of Public Health. Her work has appeared in Ploughshares, Literary Hub, and WBUR. She is the recipient of grants from the Sustainable Arts Foundation and Brush Creek Foundation for the Arts.
Ying-Ju spent the year writing her young adult novel, Going to Disneyland. This coming-of-age story is centered on sixteen-year-old Jiajia "Jacqueline" Liu, a "parachute kid" whose parents are wanted by the Chinese government for fraud and bribery. Jiajia's father suddenly appears in the United States, resulting in an adventurous and eye-opening cross-country journey during which Jiajia must come to grips with her parent's behavior and her own privilege.

PLEASE REGISTER FOR THIS FREE EVENT
This event takes place in the Abbey Room at the Boston Public Library's Central Library in Copley Square. Enter the McKim Building from the Dartmouth Street entrance and take the grand stairs to the second floor. The room will be on your right. Seats are available on a first-come, first-served basis on the night of the event. So that we can plan accordingly, please register in advance for this free event.
If you have questions, please contact the Associates of the Boston Public Library at hello@associatesbpl.org or (617) 536-3886.
ABOUT THE ASSOCIATES OF THE BOSTON PUBLIC LIBRARY WRITER-IN-RESIDENCE PROGRAM
The Associates of the Boston Public Library Writer-in-Residence program provides an emerging writer with the financial support and office space needed to complete one literary work for children or young adults. Now in its 19th year, the program has helped to launch the careers of several talented young adult authors, including Elaine Dimopoulos, Natalie C. Anderson, Annie Hartnett, Jennifer De Leon, and Anna Staniszewski. The program winners are selected in a blind judging process based on the quality of the writing submissions. The author stipend is generously funded by an anonymous donor. To learn more about the program, please visit: http://www.writer-in-residence.org.