#Write2TheEnd Book Party, Meet the Author - THE LAST TO SEE ME, M Dressler
Event Information
Location
Kim's Home
FREE - Private event, please pre-register and you will receive the address via email.
Saint Joseph, MI 49085
Description
A ghost, a coast, and a lighthouse....
Benito, California, with its stately charm and old houses, will remind local readers of St. Joseph, Michigan.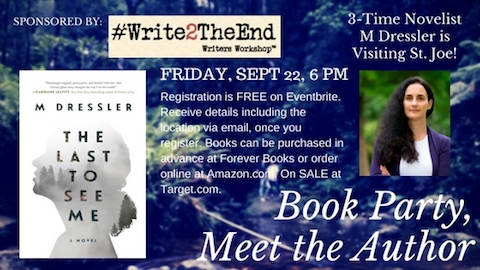 Purchase THE LAST TO SEE ME in advance at FOREVER BOOKS, do your best to read it before September 22nd (makes for a much more engaging discussion and then you'll have no worries about spoilers), and BRING IT TO THE EVENT at Kim's house for Mylène (pronounced "Milan," like the city) to sign.
Description from Target.com where the book is currently ON SALE for only $15.31: For fans of Lauren Oliver and Kazuo Ishiguro, The Last to See Me is a spellbinding American ghost story deftly weaving past and present into an unforgettable narrative about a young woman's fight for a life of her own—long after her life is over. Over one hundred years ago, Emma Rose Finnis was born and died in the remote northern California town she now haunts. When she was alive, she was a lowly chambermaid and worse, a Finnis. Now, no one remembers her hardworking life and her grand dreams—because there are none left to remember. In a world where phantoms are considered "unclean," the spirits of her town have already been removed. All except Emma Rose. But when a determined hunter arrives with instructions to extinguish her once and for all, Emma Rose refuses to be hounded from her haunt, the stately Lambry Mansion. She's earned her place and she'll keep it—even if it means waging a war on the living. After all, she's got nothing left to lose. The same might not be said for those who still enjoy the luxury of a breath . . .
From Kim: Dressler writes like she's tasting every word before she puts it on the plate, er ... the page, and the Lambry mansion is almost another character in the book. And speaking of characters, between plucky and petite (I don't know who that sounds like!) real estate agent Ellen, the specter herself, feisty Emma Rose Finnis, and the intense and ever-looming ghost hunter, Philip Pratt, you'll find yourself eagerly consuming these pages.
We hope you'll join us for this fun evening of wine, discussion, and delicious appetizers (perhaps including a treat or two from BajaGringo!). Email Kim at kjgane(@)ganepossible(.)com with any questions, or call 269.487.6024.
Date and Time
Location
Kim's Home
FREE - Private event, please pre-register and you will receive the address via email.
Saint Joseph, MI 49085