Sales Have Ended
Registrations are closed
Thank you for registering, we look forward to seeing you on June 27th! If you have any immediate questions, please contact Jeffrey Peng at jeffrey.peng@uoit.ca or at (905) 721-8668 ext. 6522
Sales Have Ended
Registrations are closed
Thank you for registering, we look forward to seeing you on June 27th! If you have any immediate questions, please contact Jeffrey Peng at jeffrey.peng@uoit.ca or at (905) 721-8668 ext. 6522
Description
PCK understands how difficult it is for early stage companies to get into the patent system. IP protection is an important part of any business plan or strategy. This topic should definitely not be ignored.
Start up companies are invited to a hands on session on writing a Provisional Patent Application. Learn the basics, save money and meet industry leading patent professionals Andrew Currier and Damian Rolfe of PCK Perry + Currier, Toronto.

Andrew is a recognized leader in intellectual property, combining experience in industry, law and academia before co-founding PCK. Andrew's industry experience includes General Counsel for a publicly-traded flat-panel display company, IP counsel for a Silicon Valley start-up, and engineer for the automotive industry. In law, Andrew practised for several years with three of Canada's national firms. In academia, Andrew held a teaching appointment as Adjunct Professor at Western University in London Ontario, teaching patent law from 2000-2007. Cited by the Supreme Court of Canada, he is also co-author (with Stephen Perry) of Canadian Patent Law (2nd ed. Butterworths, 2014) the first text on Canadian patent law by practitioners in over thirty years.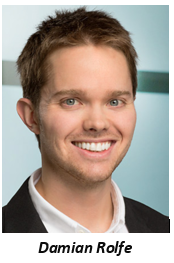 Damian completed his J.D. at the University of Toronto's Faculty of Law after interning at the Intellectual Property Law Clinic for startups at Communitech in Kitchener-Waterloo. During his studies, Damian also interned at the Canadian Internet Public Policy and Public Interest Clinic in Ottawa, a public interest clinic focused on internet and privacy law, and the Structural Genomics Consortium, a non-profit focused on spurring innovation in the pharmaceutical industry. Before attending law school, Damian graduated from the University of Waterloo with a degree in Chemical Engineering. During his co-op program, Damian worked in various engineering departments in the oil, pharmaceutical, and chemical industries. In his capstone project, Damian designed an expansion plant for a district cooling company using industrial chillers and eutectic salt thermal energy storage.At the firm, Damian continues his support for the startup community as a service provider at Communitech providing intellectual property services. Damian also assists with patent and trade-mark prosecution at the firm, supports the firm's litigation group, and is a regular contributor to the PCK IP Reporter blog
Who should attend?
Start up companies, high tech or otherwise

Founders, CEOs, CTOs

Researchers and innovators


Students
Refreshments provided.
This Community Event is open to members of the public
Questions?
Contact:
University of Ontario Institute of Technology
Jeffrey Peng
Student Liaison Officer
UOIT Brilliant Entrepreneurship
jeffrey.peng@uoit.ca
905.721.8668 ext. 6522