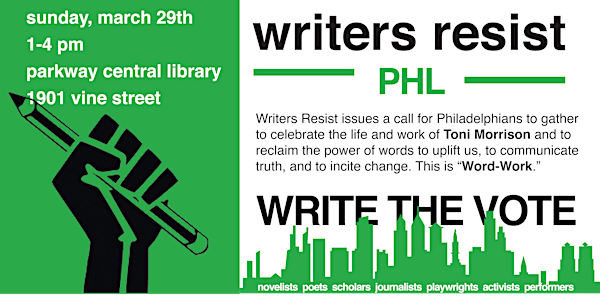 Write the Vote! Writers Resist Philadelphia 2020 Inspired by Toni Morrison'...
Event Information
Location
Parkway Central Library
1901 Vine Street
Philadelphia, PA 19103
Description
For generations, Toni Morrison's life and work has guided us as writers, readers, and community members. She modeled literary citizenship when public dialogue was halting, uncertain, or unwilling; she reminded us that we determine who can speak and who can claim the mantle of humanity.
Today, along with HeadCount.org, Writers Resist issues a call for writers to gather to memorialize one of America's greatest writers and to reclaim the power of words to uplift us, to communicate truth, and to incite change. Join us for the Writers Resist 2020 flagship event in Philadelphia, as novelists, poets, scholars, journalists, playwrights, activists, and performers bring the spirit of Morrison alive for our time.
Soon. we'll announce a full line-up of readers and partnering organizations.
On March 29, 2020, join Writers Resist as we come together as writers, readers, citizens, and community members to celebrate, reflect on, and find inspiration in the life and work of Toni Morrison—and to collectively resist peril. Only in Philadelphia do we add another profound layer to this day of civic action: Frances Ellen Watkins Harper's poems on the separation of enslaved mothers from their children inspired Morrison's great novel Beloved. Come listen to Philadelphia actor Diane Leslie perform Harper's work, along with readings by contemporary literary stars.
We ask you to invite everyone who shares our determination to engage in what Morrison termed "Word Work:" using language to celebrate our differences, reaffirm our dignity, and embrace our humanity.
Date and time
Location
Parkway Central Library
1901 Vine Street
Philadelphia, PA 19103