Event Information
Refund Policy
Contact the organizer to request a refund.
Eventbrite's fee is nonrefundable.
Whether a beginning, new, or vet author, or even a self-proclaimed "non-writer", you have a story you haven't told. Let's tell it together!
About this Event
"Write the Story You Haven't Told"
Two-Day 6-Hour Sessions Writing Workshop
Taught by National Bestselling and Award-Winning Author, Joylynn M. Ross
There are literary gurus, professionals, experts, and even authors who may try to convince you that writing is fun, writing is easy, that you can write a book quick, and all kinds of other stuff to make you believe spilling words onto paper is a piece of cake. Below is what Sheri Salata, who was Executive Producer of The Oprah Winfrey Show and Co-President of Harpo Studios and the Oprah Winfrey Network--and who is a master storyteller--had to say about that: "Don't let anyone tell you writing a book is easy."
It's not, and that is why author, editor, and ghostwriter, Joylynn M. Ross, is here to help you navigate the process.
In her over 22-year career in the literary industry, Joylynn has written in multiple genres under the names Joylynn M. Jossel, JOY, N. Joy, and BLESSEDselling Author E. N. Joy. Her latest release is a non-fiction publishing reference written under the name Joylynn M. Ross titled Act Like an Author, Think Like a Business: Ways to Achieve Financial Literary Success. As the main instructor at the annual Path To Publishing "Act Like an Author, Think Like a Business" Conference held every September in Las Vegas, Nevada, Joylynn has served on almost every corner of the literary industry map; literary agent—with clients who have book deals with Simon & Schuster, Random House, and Urban Books, to name a few, an editor (for both publishing houses and freelance), a literary consultant, a ghostwriter (for both publishing houses and freelance), a writing and publishing coach, and literary educator. So, who better to chauffeur writers and authors along their literary journey?
Joylynn's title, If I Ruled the World (JOY), earned a book blurb from Grammy Award-Winning Artist, Erykah Badu. An All Night Man (Joylynn M. Jossel), an anthology she penned with New York Times Bestselling Author Brenda Jackson, earned the Borders Bestselling African American Romance Award. Her Urban Fiction title, Dollar Bill (JOY), appeared in Newsweek and has been translated to Japanese. Her children's book, The Secret Olivia Told Me (N. Joy), received an American Library Association Coretta Scott King Honor. Scholastic Books acquired the book club rights, and the book has sold over 100,000 copies to date.
With over 30 publications in print and over three-quarters of a million books sold (12,500 which were sold of a single title from the trunk of her car as a self-published author), there are still stories Joylynn hasn't told. She's not the only one. Everyone has a story inside of them; one they desire to tell but don't know where to start, one that has been buried so deeply they are afraid to start, or one they've started but need help finishing.
Bill Clinton, years back, right after he had his first memoir published, said, "Anybody over fifty owes it to his family to write down everything that's happened during his life and pass it on."
Although this statement rings loud with truth, a person shouldn't wait until they're 50, as tomorrow isn't promised. So, let's start writing that story today, regardless of age, so that tomorrow our words will live to free ourselves of the story or stories that are inside of us, as well as, perhaps, free others—as words have the power to do that, you know.
Workshop Outline:
Day One:
-Getting the story idea out of your head and onto paper, as well as determining why you want to write this story, and then determine how you want to tell the story
-Determine desired length
-Develop main characters or persons you'll highlight in the story and determine their conflicts (internal/external), stakes, goals, motivations, etc.
Day Two:
-Choose the point of view in which you want to tell the story and establish setting/starting point and the structure
-Create an outline (even if you're a pantser--write by the seat of your pants)
-Fill in the meat of the story
-Time permitting: Brainstorm titles and summaries
Who is this workshop for?
This workshop is for beginning writers, vet writers, authors of all genres, and self-proclaimed "non-writers". You don't have to be a writer to be the author of your own story. Wherever you are on your literary journey, Joylynn will meet you there, then help get you to your final destination.
Whether it's to publish and share with the world, to keep private for your own personal deliverance and healing, or to share with your family, write your story!
It can be fiction, nonfiction, an essay, a personal narrative, business brand story, articles, blogs, compiling journal entries or recipes . . . whatever it is and however you choose to share it, let's write and tell our stories together.
What are the measurable results and objectives?
A completed or fleshed out working outline and/or draft; dedicate time to be creative and immerse in the written word; ease the anxiety and fear of writing; facilitate the creative process of writing
Cost: $297 Includes two days of instruction, a spiral bound author planner ($49 Value), copy of Act Like an Author, Think Like a Business: Ways to Achieve Financial Literary Success ($19.95 Value), and a half-hour literary consulting call with Joylynn, good for up to 60 days after date of course ($100 Value). Registered attendees of the Path To Publishing "Act Like an Author, Think Like a Business" 2020 Conference receive $50 off the writing course registration. PayPal your $247 to joylynnross@aol.com or CashApp $JoylynnRoss.
Seating is limited to only 12, and here's why:
"Because words are so personal for me," says Joylynn, "and because I've worked with thousands of writers and authors in my over 22-year literary career (content development editor, ghostwriter, copy-editor, book coach, write-behind artist, literary agent, literary consultant, literary educator, and author), I've never been one to even consider offering a writing course where everything seems so blanket; where I'm teaching every author to do the same thing.
"I know that when it comes to penning our stories and messages, there is no one-size fits all, so when I received the assignment, instruction, and revelation to run a writing course like no other that exists--structured for each writer to still receive my one-on-one attention--I didn't hesitate to say 'yes' to the call.
"When I'm working with an author and their manuscript--be it fiction or nonfiction--in any capacity, I fully take on that piece of work. Meaning, I become the author, I become their characters, and I become so vested in making sure the message comes across clearly, that by the end of my day after working on the manuscript, I'm sometimes physically, mentally, and often spiritually drained. Through other authors' works I've been raped, molested, beat, abused, cheated on, betrayed, lied about, murdered, lied to, misunderstood, as well as uplifted, encouraged, motivated, inspired, incited, educated, empowered, and so much more. I never wanted to lose this personal connection I have with each author and their work, which is why I'd personally frowned upon ever holding a group writing course.
"So, I move forward with this assignment with the clear understanding that I'm not the boss of this course, but instead, I'm a steward over the messages being brought to me, and it's my job to make sure that those stories and messages are relayed in excellence and become fruitful and multiply."
***Your story—your words—can be told safely. You will not be required to share unless you choose to.***
The seat meant just for you is available, so register now!
Testimonials
"After having attended Joylynn's two-day 'Write the Story You Haven't Told' workshop in Los Angeles, California, I now have everything I need to sit and write my autobiography, which once completed, will be my first big step into the world of my dream career, which is to help others pen their stories. My consulting time was very valuable, as I obtained insight, ideas and resourceful information from Joylynn. I am so glad I took advantage of the generous offer. It made a positive impact on my Business Plan"—Yvette Duran, Personal Narrative Expert
"Mrs. Joylynn is very knowledgeable and easy to work with and talk to. I soak up as much information as I can whenever I connect with her. I've attended her 'Write the Story You Haven't Told' workhop, her annual 'Act Like an Author, Think Like a Business' Conference, and I'm currently working with her one-on-one through literary consulting. I have both the confidence and courage, not to mention the tools and resources, to achieve all my literary goals."—Ebony Little, Upcoming Author of Longing for Moore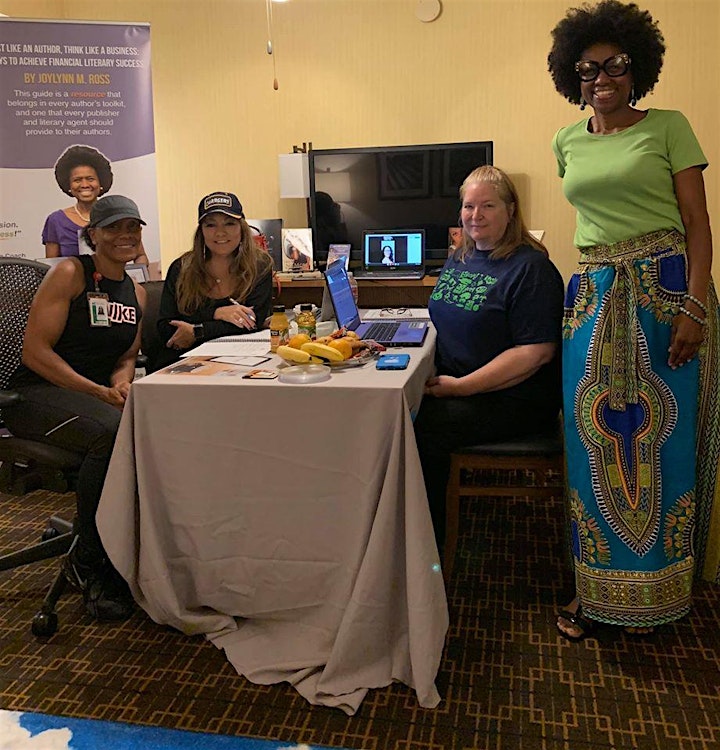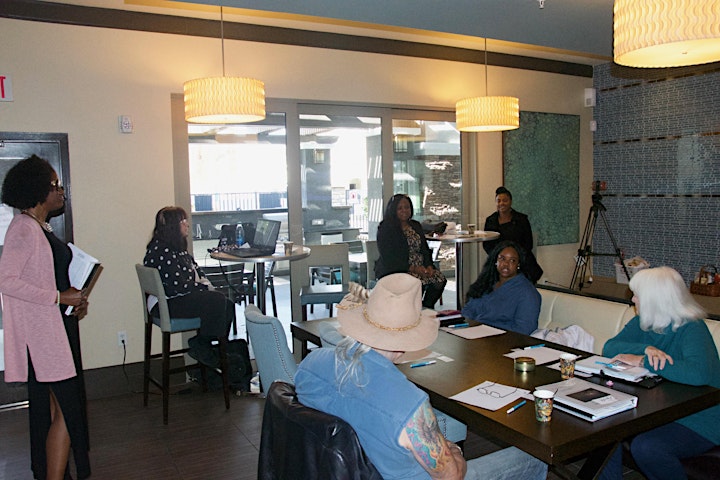 Date and Time
Location
Refund Policy
Contact the organizer to request a refund.
Eventbrite's fee is nonrefundable.