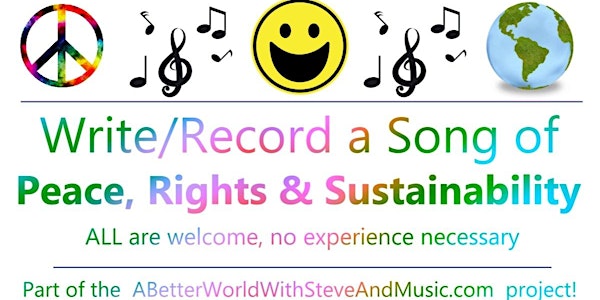 Write & Record a song of Peace, Rights, Sustainability! Open to ALL
Location
Deer Park Branch Library
4020 East Galbraith Road
Cincinnati, OH 45236
We will write and record a song of Peace, Rights or Sustainability and when it's ready we will spread it far and wide.
About this event
All are welcome even if you have never written or recorded a song!
We started a song of Hope, so let's finish that or get another one going!!!
All types of music, even spoken word as long as it has words or lyrics about Peace, Rights and so forth!
This is for all of us, all are equal, this is NOT a "professional" songwriting group or one for people that feel they would want to steer the process, this is about all of us.
More info can be found at https://ABetterWorldWithSteveAndMusic.com
and when you're there it would be helpful if you'd read this page also https://abetterworldwithsteveandmusic.com/who-holds-the-rights-to-what-is-created/
There is no charge for being a part of this.
This is at the NEW BIG DP LIBRARY in the old TJ MAXX store, it is closer to Walgreens than the old library.
You can bring instruments but remember, this is a library. The room is designed to stop SOME noise from bothering others there but it is not soundproof, so if you bring anything please know how to play at a reasonable level!
I will have a laptop with a recording program on it and we can build the basics with drums and other instruments on that as a guide to getting our lyrics down, then can either record other instruments there or we can send music files over the internet.
I'm using Eventbrite to hopefully kick into gear the music making and will probably only list a few of the meetings, so bookmark the project site or better yet sign up for the mailing list at https://ABetterWorldWithSteveAndMusic.com
I'll do whatever I can to help anyone wanting to be involved.
Remember, ALL are welcome, no experience necessary, it's free, JOIN IN WITH US!
PS, please note, I am organizing this event, the library isn't, so please direct any questions specific to the event to me, and anything library related to them.