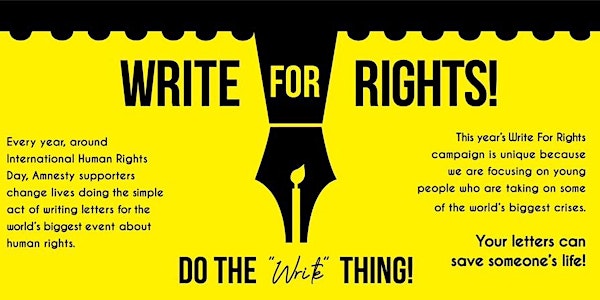 Write for Rights Sacramento
You're invited to take part in the largest advocacy writing event in the world! Come eat, take action, and bring colleagues & friends.
When and where
Location
Urban Roots Brewery & Smokehouse 1322 V Street Sacramento, CA 95818
About this event
WHAT HAPPENS AT THE EVENT?
Every winter, millions of participants worldwide write letters, emails and tweets on behalf of people around the world persecuted or jailed for their identity, beliefs or words.
Cases were chosen from many countries of the world. The cases are people who have no voice with their government and are persecuted or jailed.
We will advocate for them by writing to officials in their country and in some cases, will also be able to write directly to the person or their family.
No prior knowledge or skills required; all materials will be provided including sample letters.
FREE EVENT - Lots of good food and drink available for purchase at Urban Roots if you wish, but it is not required.
Add your voice for those who need your help
Tuesday January 7, 2020
drop in anytime between 4:30-7:30 PM
@Urban Roots Brewery and Smokehouse (in the back Barrel Room)
See sample cases, past successes: @Amnesty International Sacramento
See bonus activities below
or email amnestysacramento@gmail.com
Bonus Activities: (optional)
1. Bring at least two friends or colleagues with you to participate and get a free regular Urban Roots side dish for your table (see the event organizer before you order).
2. We will have a crafts table for kids!
3. Create poetry or art (with others or by yourself) before you come based on one of the themes or cases below. Bring it along to share....we will post it on our newsletter and social media!
Your words have power!
Your words can change lives.
Write a letter, save a life.
Use your pen to show some love.
Make a difference in someone's life.
Write like someone's life depended on it.
Add your voice to those who need your help.
Speak out for those who have no voice.
Or base it on one of this year's cases. See examples here