About this Event
On the 15th of December, we are bringing activists together to sign petitions, write letters to authorities, and send messages of support. Our goal is to take over 1,000 actions!
All letter-writing materials and case information will be provided. There will also be delicious snacks from ASRC Catering, as well as tea, coffee, and soft drinks.
The event will feature special presentations by humanitarian lifesaver Simon Lewis and Uyghur activist Nuria Khasim Yu, and a panel discussion on the future of human rights with youth activists from the Centre for Multicultural Youth, School Strike 4 Climate, Seed and Amnesty International.
12pm Opening
1:30pm 'A Crime to Save Lives' with Simon Lewis
3pm 'The Oppression of the Uyghurs' with Nuria Khasim Yu
4pm Panel Discussion on 'Human Rights and Youth Activism'
What is Write for Rights?
Sometimes a letter can change someone's life. That's the premise of Write for Rights, Amnesty's annual letter-writing campaign and the world's biggest human rights event.
Every December, Amnesty supporters across the globe will write millions of letters for those whose basic human rights are being attacked. They are people like you, continuing a long tradition of writing letters to right some of the world's biggest wrongs. And it's not just letters – we encourage petitions, emails, Tweets, Facebook posts, photos, postcards.
Who are we writing for?
In 2019 we're throwing our might behind the children and young people who are firefighting some of the world's biggest crises. Many have stepped in where adults have failed to lead, and are facing terrible danger as a result.
From top left to bottom right: Marinel Ubaldo (Philippines), Yasaman Aryani (Iran), Magai Matiop Ngong (South Sudan), Ibrahim Ezz El-Din (Egypt), Emil Yulia Ostrovko (Belarus), Grassy Narrows Youth (Canada), Nasu Abdulaziz (Nigeria), José Adrián (Mexico), Sarah Mardini and Seán Binder (Greece), and Yiliyasijiang Reheman (China).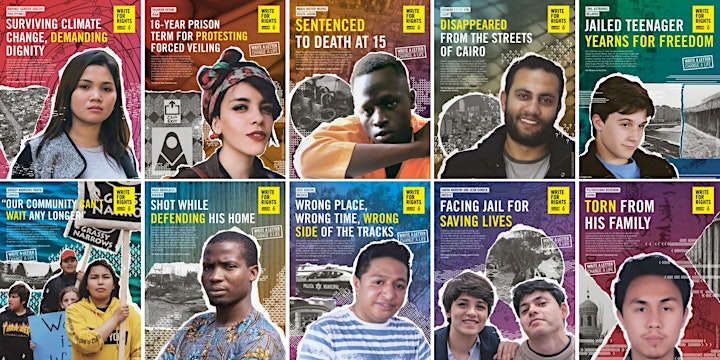 Contact
For more information about Write for Rights 2019, check out the Amnesty International Australia website.
We are looking for volunteers to promote the event and assist on the day with petitioning, counting actions and setting up. If you are interested in volunteering, please contact MJ Hilhorst at vic.social@amnesty.org.au.