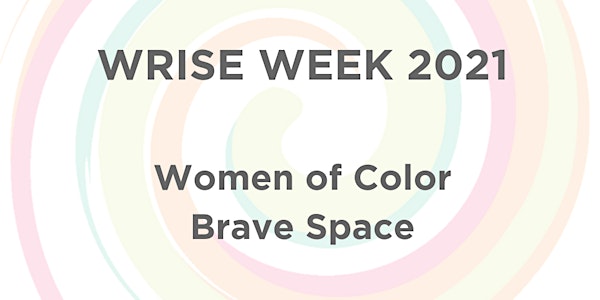 WRISE Week - Women of Color Brave Space
This is a virtual space for historically excluded groups to connect with each other directly
About this event
During WRISE week we wanted to continue an effort started with our Leadership Forum, to provide a space for historically excluded groups to connect with each other directly and have time for honest conversations about their own experiences.
These sessions will be facilitated and are intended for attendees that identify as members of these groups only.
We also know there are individuals that don't identify with these groups, but care deeply about eradicating the systems and structures that have created the need for spaces like this and want to be a part of the solution. With that in mind we are adding breakout rooms in each of these spaces specifically for those that might fall into that description - white people, straight people, etc.
Our hope is to create a safe space for these conversations to happen and for the members of these communities to feel supported. We know that can be challenging and everyone has different definitions of what feels safe, so we also want to acknowledge and encourage the need to continue learning from each other and challenging ourselves to engage in the teaching and growing outside of these spaces as well, so to that end we are adopting terminology we've seen used elsewhere and that resonated for us - calling them Brave Spaces.