Description
WRISTBAND/PACKET PICK-UP INFO: You can pick up your wristbands & gift cards at Rizzo's (3658 N Clark St) anytime from 3pm-8pm
*Please note the first gift card expires at 5pm & the second expires at 7pm

CRAWL SCHEDULE/WHERE THE $5 GIFT CARDS ARE VALID:

3pm-5pm: Rizzo's, Casey Moran's, Full Shilling, and Trace (Brickhouse will also be accepting gift cards if all other bars are at capacity)
5pm-7pm: Rizzo's, Casey Moran's, Brickhouse, Sandlot, and Merkle's
7pm-9pm: Rizzo's, John Barleycorn, Moe's Cantina, Roadhouse 66, and HVAC
WRISTBANDS/LINES/COVER:

You MUST wear your wristband during the crawl!
Crawlers will NOT need to pay cover at any of the participating bars during their scheduled times!
*If there is a line at a certain bar you can either wait in that line or move on to a different bar.

PARTICIPATING VENUES:
Rizzo's: 3658 N Clark
Casey Moran's: 3660 N Clark
Full Shilling: 3724 N Clark
Trace: 3714 N Clark
Brickhouse: 3647 N Clark
Sandlot: 3477 N Clark
Merkle's: 3516 N Clark
John Barleycorn: 3524 N Clark
Moe's Cantina: 3518 N Clark
Roadhouse 66: 3478 N Clark
HVAC: 3530 N Clark

WHAT'S INCLUDED: Tickets include Admission, Three $5 Gift Cards to Use on the Crawl, Giveaways & MORE!
PHOTO CONTEST: Enter to win our PHOTO CONTEST by posting pictures to Facebook or Instagram using "#AfternoonStPatsCrawl" Our panel of judges will go through the pictures and winners will be contacted after the crawl! Be a Wrigley Afternoon St. Pat's Crawl Champ, and post a picture from every bar!

You've got all day to celebrate St. Patrick's Day! Sleep in and join us for some afternoon shenanigans in the historic Wrigleyville neighborhood at the Wrigley Afternoon St. Pat's Crawl!
WHY: St. Patrick's Day is a long day. No need to wake up early to join the amateurs. Take your time, and join in on some afternoon St. Patrick's Day fun.
WRISTBANDS: You MUST wear your wristband during the crawl!
INCLUDED PRE-PARTY: Join us at Public House on Friday, March 15th. Mention that you are there for "Wrigley Afternoon St. Pat's Crawl" at the host stand between 9pm and 1am to receive a drink ticket on us!
FREE TICKETS/RAISE MONEY FOR YOUR CAUSE: See below for more info.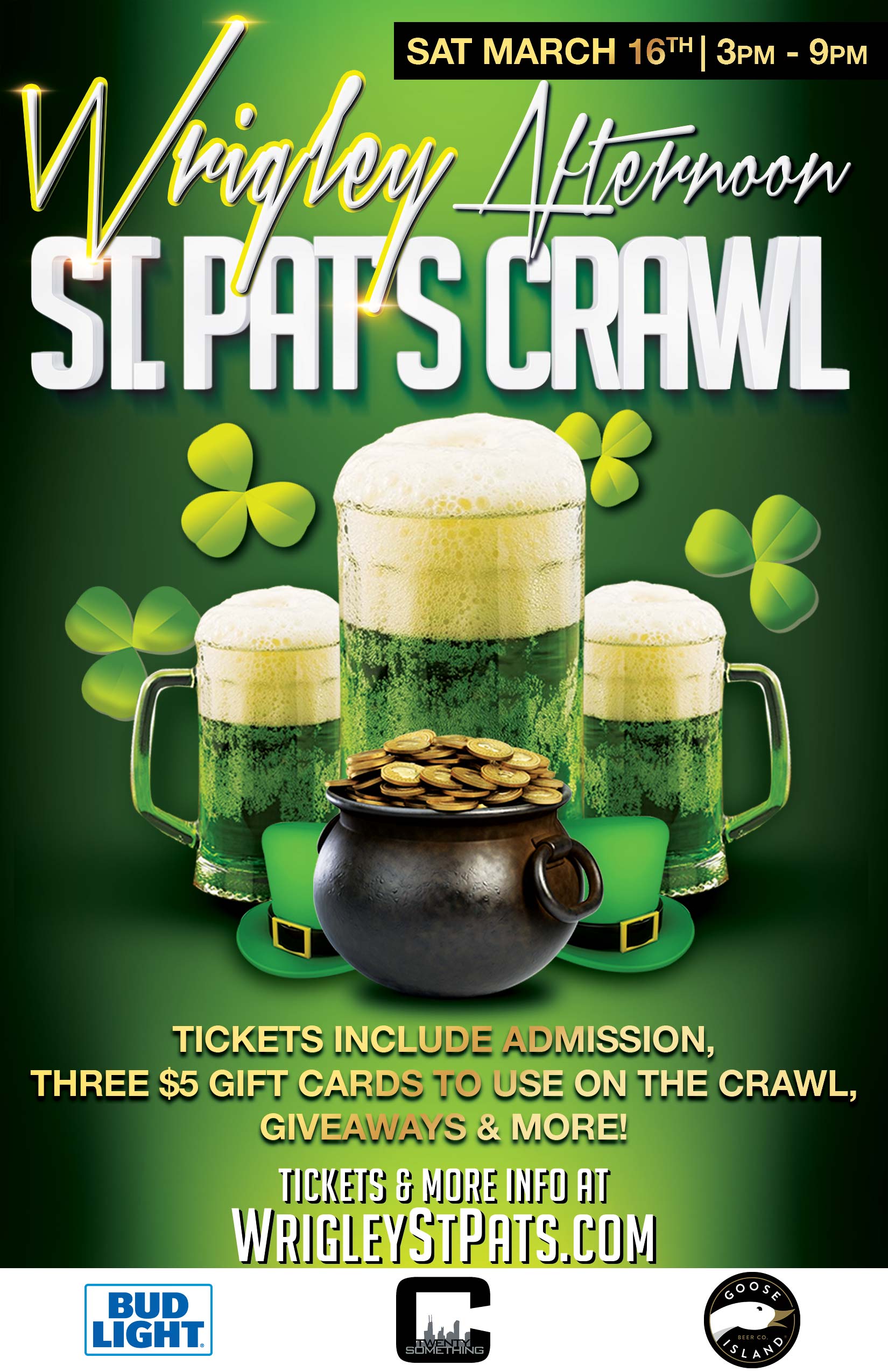 FREE STUFF!
All attendees will also receive the following Freebies*: 2 FREE rides from Via using promo code 'CTS2' – Get $7 in DoorDash cash from DoorDash – $10 in FREE food at your favorite restaurants like Freshii, Protein Bar, Rockit & more from Ritual – 5 FREE on-demand dog walks from Rover with promo code CHICAGOFREEBIES – $50 in FREE food & drink from Spring Rewards! *All offers valid for first time users only and subject to change without notice. Click HERE for more info!
SPECIAL THANKS TO OUR SPONSORS: Bud Light and Goose Island ... this would not be possible without your support!
SPONSORSHIP OPPORTUNITIES: For questions, sponsorship opportunities, and press inquiries, please email Info@WrigleyStPats.com.

FREE TICKETS/RAISE MONEY FOR YOUR CAUSE:
-Fundraising Opportunity: Are you trying to raise money for a certain cause? Email Info@WrigleyStPats.com for more info!
-Celebrate your birthday on the crawl and your ticket is free! Email Info@WrigleyStPats.com for more info (restrictions apply)
-Want to earn a free ticket and some cash for spreading the word? Email Info@WrigleyStPats.com for more info!
FINE PRINT: All Guests must be 21+ with valid government issued ID. We will crawl rain or shine! NO REFUNDS! If you cannot find your ticket please contact Eventbrite.com directly, please do NOT email us as there is nothing we can do. Must be 21 years old to participate; valid government issued ID required. Participating venues and advertised times are subject to change. Best Bar Crawls, LLC. promotes safety and urges all participants to drink responsibly. Participating venues reserve the right to refuse entry to guests who are deemed intoxicated (or otherwise unfit) upon arrival. No refunds will be given. Gift cards must be used for food in accordance with state and local liquor laws. Participants must bring their Print At Home Ticket to the registration venue. No refunds. All sales are final. If a venue is at capacity then you may have to wait or proceed to another venue. Do not be late for registration. Prices are subject to change while supplies last. For further Terms and Conditions of this event and ticket purchase please see "Ticket Purchase and Event Terms and Conditions" in checkout before purchasing these tickets; which shall also be binding and shall be incorporated by reference as though fully stated herein.
*Unfortunately the Eventbrite system does not allow us to restrict people who are underage from buying tickets. If you are not 21 and purchase a ticket, you will not be allowed into the event.*