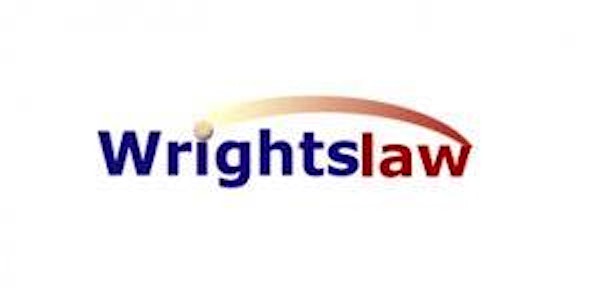 Wrightslaw Special Education Law and Advocacy Training
Wrightslaw Special Education Law & Advocacy Conference with Wayne Steedman, Esq. Tuesday, October 4, 2022 8:30 am to 4:30 pm
When and where
Location
Metro Technology Center Business Conference Center 1900 Springlake Drive Oklahoma City, OK 73111
About this event
Wrightslaw Special Education Law & Advocacy Conference with Wayne Steedman, Esq.
Tuesday, October 4, 2022 8:30 am to 4:30 pm
One-day in-person special education law and advocacy programs focus on four areas: special education law, rights and responsibilities, tests and measurements to measure progress & regression, SMART IEPs and introduction to tactics & strategies for effective advocacy
Wrightslaw programs are designed to meet the needs of parents, educators, health care providers, advocates and attorneys who represent children with disabilities regarding special education. The program is not disability specific.
Conference registration includes a Wrightslaw highlighter pen, training bag and the three Wrightslaw books which retail for over $60 - Wrightslaw: Special Education Law, 2nd Edition, Wrightslaw: From Emotions to Advocacy, 2nd Edition and Wrightslaw: All About IEPs (ISBN: 978-1-892320-20-9, 192 pages) by Pete Wright, Pam Wright, and Sue O'Connor. 
How Can I Register?
$40 registration 
 School Districts may use district level Project 615 funds to cover costs
 Parents may apply for a scholarship to cover the cost of registration
 It is important to note that tickets are on a first-come, first-serve basis. The best option to secure your ticket is online via Eventbrite.  Space is limited!
Refund Policy: Although there are no refunds you can make arrangements for someone to attend in your place. You need to email sooner-success@ouhsc.edu with that update.  
Special Accommodations: Please specify in registration if you need Spanish translation
8:30-9:00am Registration
9:00-10:30
Introductions
IDEA History, Book Overview, US Supreme Ct Cases
Section 1400 Findings, Purpose
Section 1401 Definitions: Disability, Special Education, Related Services, LD, etc.
10:30-10:45 Break
10:45-12:00
Section 1412 Extended School Year, Child Find, Least Restrictive, Private Placements
Understanding Tests and Measurements, and the Bell Curve, Standard Scores, Scale Scores, % ranks, Grade Equivalent, Age Equivalent, Determining progress v. regression using Bar Graphs
12:00-1:00 Lunch
1:00-2:30
Section 1414 Evaluations and IEPs
Section 1415 Due Process, Rules of Procedure, Discipline
Section 504, ADA, FERPA, ESSA
Episodic Conditions, Allergies, Epilepsy, etc.
Recent Cases + OCR, USDOJ
The Parent as the Special Ed Manager and Expert
Developing the Master Plan
Knowing the Rules of the Game
Recognizing and Avoiding the Fatal Obstacles
How to Deal with Conflict, a Healthy and Normal event
2:30-2:45 Break
2:45-4:00
Crisis, Emergency, Help
Organization of the Child's File
SMART IEPs
Tactics and Strategies
Rule of Adverse Assumptions
Private Evaluations
Paper Trails
The Letter to the Stranger
5 Ws + H + E
Preparation for Meetings
Meeting Strategies
4:00-4:30 Questions and Answers
Special Thanks to Partners:
Sooner SUCCESS
Parent Promise
Oklahoma Department of Human Services
How Can I Apply For A Scholarship?
A limited number of scholarships are available for parents of children with disabilities with financial need.  The scholarship will waive or refund the registration fee for selected recipients.
The deadline to apply for a Scholarship is Friday, September 23, 2022. 
For more information: Call 405-271-2710 or email sooner-success@ouhsc.edu
Limited parent scholarships are provided in partnership with Pervasive Parenting Center C.P.R.C.
Will Childcare Be Provided?
No.  There will not be any accommodations for children at the conference.
However, Caregivers planning to attend the Conference may be eligible to receive an Educational Voucher.
$50 for a half day or $100 for a full day. Limited availability.
Guidelines for Caregivers to receive Lifespan Respite Grant Vouchers for Educational Events:
Caregivers are fulltime, unpaid caregivers providing care 8 or more hours in a 24 hour period;
Care recipients need alternative caregiving during the educational event;
Caregivers must be registered for the event; and
Caregivers must complete an application prior to the educational event.
For more information and questions on Educational Vouchers please contact: respite@ouhsc.edu or call 405-271-2710
What If I Still Have Questions?
Registration or scholarship questions: Contact Lori Wathen at 405-698-6970 or lori-wathen@ouhsc.edu