Description
ADD SOME MUSCLE TO YOUR CHILD'S IEP
AND CHANGE THEIR FUTURE FOREVER!
---
***** SPECIAL BREAKING NEWS *****
On Feb. 22nd and March 22nd the Supreme Court handed down two landmark special education law rulings that will have a significant impact on your child's education, how their next IEP is written and the services they're entitled to under the law. With the changes these two decisions are bringing to your child's school there's never been a more crucial time to attend this conference. A more detailed discussion of these Supreme Court cases can be found at the bottom of this page.
---
Have you ever found yourself frustrated and wondering:
Can the school DO that?

What are my rights as a parent?

How can I get more services (Speech, OT, PT, Tutoring, Social Skills) for my child?

What can I do for my child who's fallen behind in Reading / Math?

How can I get Extended School Year (ESY) services?

What does Extended School Year services mean?

Can the school tell me they don't have the money?

What can I do when the school won't follow my child's IEP?

Should the school pay for outside evaluations?

What is the school required to do by law?

Can the school suspend my child for "behavior problems"?

Can the school deny my child summer programs and services?

How can I be a better advocate for my child?

How can I find out how my child is REALLY doing in school?

Can the school tell me my child needs medication?

What do NCLB, IDEA, IEP, IEE, AYP, LRE, AI, OHI & MET mean (and should I care)?

Does my child qualify for mainstreaming or inclusion (and what's the difference)?

I think my child needs more help but the school says he's just not trying, what do I do?
This conference will get you answers to these questions and a whole lot more!
This is a Special Education Law and Parent Advocacy conference conducted by one of the leading Special Education experts in the country - Pete Wright, Esq.. Mr. Wright argued, and won, one of the landmark Special Education cases at the United States Supreme Court in Florence County School District Four v. Shannon Carter, 510 U.S. 7 (1993) (for more info on Pete Wright - click here).

This one-day special education law and advocacy program will focus on four key areas:
special education law, rights and responsibilities

tests and measurements to measure progress & regression

SMART IEPs

introduction to tactics & strategies for effective advocacy
Wrightslaw programs are designed to meet the needs of parents, educators, health care providers, advocates and attorneys who represent children with disabilities regarding special education. The program is not disability specific.
Agenda
Registration
9:00-10:30 IDEA
IDEA History, Book Overview, US Supreme Ct Cases

Section 1400 - Findings, Purpose

Section 1401 - Definitions: Disability, Special Education, Related Services, LD, etc.
10:30-10:45 Break
10:45-12:00
Section 1412 - ESY, Child Find, LRE, Private Placements

Understanding Tests and Measurements, and the Bell Curve, Standard Scores, Scale Scores, % ranks, Grade Equivalent, Age Equivalent, Determining progress v. regression using Bar Graphs
12:00-1:00 Lunch
1:00-2:30
Section 1414 - Evaluations and IEPs




Section 1415 - Due Process, Rules of Procedure, Discipline

Section 504, ADA, FERPA, ESSA

Episodic Conditions, Allergies, Epilepsy, etc.

Recent Cases + OCR, USDOJ
The Parent as the Special Ed Manager and Expert
Developing the Master Plan

Knowing the Rules of the Game

Recognizing and Avoiding the Fatal Obstacles

How to Deal with Conflict, a Healthy and Normal event

Crisis, Emergency, Help

Organization of the Child's File
2:30-2:45 Break
2:45-4:00 Tactics and Strategies
Rule of Adverse Assumptions

Private Evaluations

Paper Trails

The Letter to the Stranger

5 Ws + H + E

Preparation for Meetings

Meeting Strategies
4:00-4:30 Questions and Answers
* tenative schedule, schedule subject to change
Conference fee includes coffee, tea, a boxed lunch, a Wrightslaw highlighter pen and the three Wrightslaw books which retail for $62.85 - Wrightslaw: Special Education Law, 2nd Edition, Wrightslaw: From Emotions to Advocacy, 2nd Edition, and Wrightslaw: All About IEPs.
CEU's : 0.6 CEUS available for an additional $25
A limited number of partial scholarships are available for this event please contact Steve Bockmann at events@centriahealthcare.com for details
Refunds: No refunds. Substitutions are allowed.
Attending This Special One Day Conference Will Be One Of The Most Impactful Things You'll Ever Do For Your Child's Education!
Click either picture below for a downloadable .PDF version of the flyer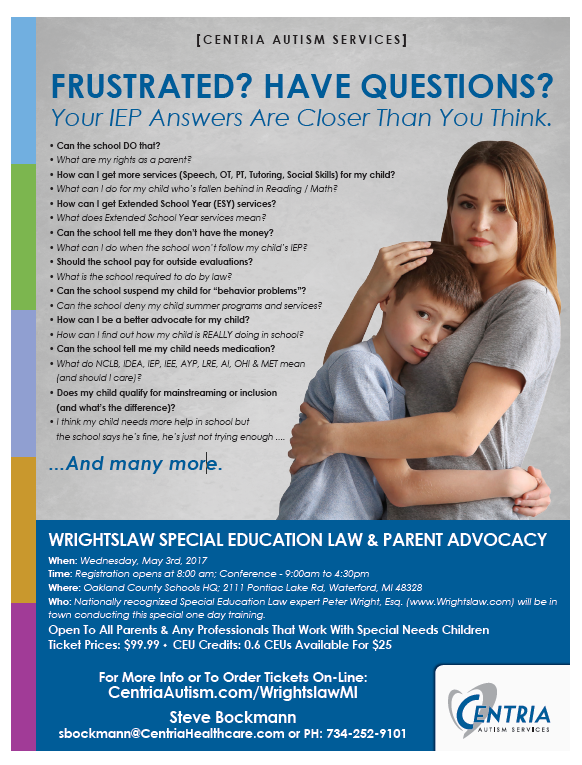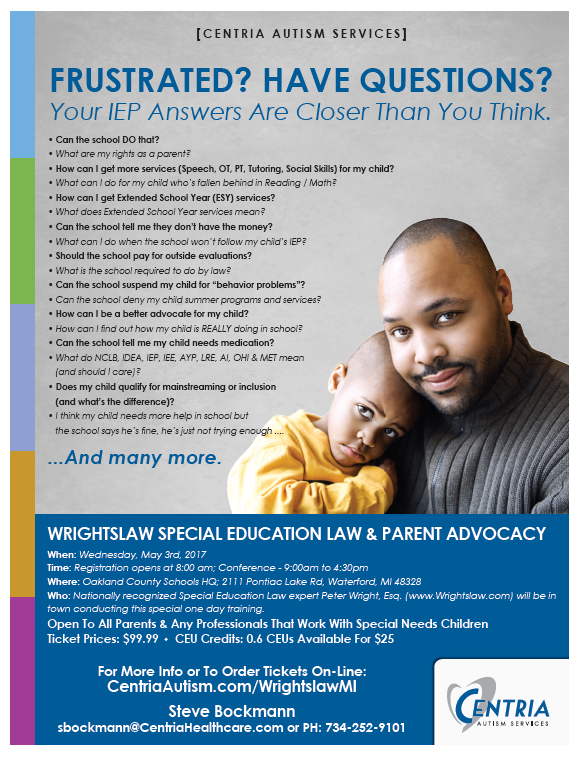 ---
---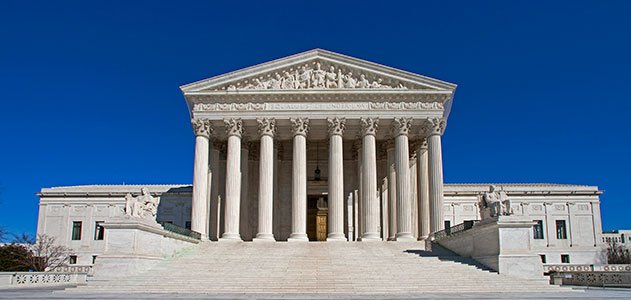 THE SUPREME COURT DECIDED TWO LANDMARK SPECIAL EDUCATION CASES EARLIER THIS YEAR
THESE CASES MASSIVELY CHANGED THE RULES GOVERNING YOUR CHILD'S EDUCATION & IEP
Below find a brief summary of these two cases written by Peter Wright. Join us on May 3rd to find out from Pete directly and in detail how these decisions can be used to dramatically change your child's education!
Breaking News! - On March 22, 2017, the Supreme Court in Endrew v. Douglas County unanimously rejects the "de minimis" standard (read the Decision) for one that "is markedly more demanding than the 'merely more than de minimis' test applied by the 10th Circuit." In his opinion, Chief Justice Roberts says "a student offered an educational program providing 'merely more than de minimis' progress from year to year can hardly be said to have been offered an education at all." Click here to see Peter Wright's discussion and analysis of the SCOTUS decision.

Breaking News! - On February 22, 2017, the Supreme Court issued a unanimous decision for child and parents in Fry v. Napoleon. For Peter Wright's discussion about the case, click here.